Silicon Laboratories Positions Itself for Internet-of-Things Growth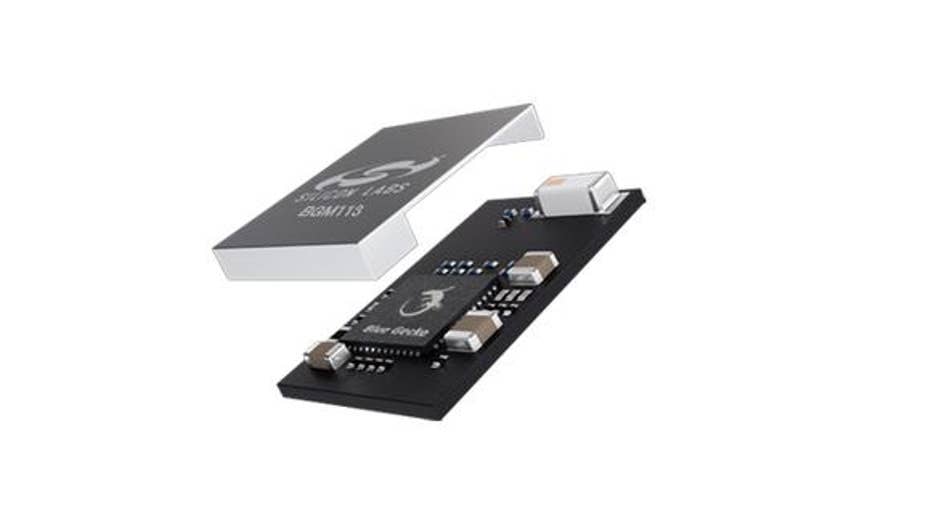 Silicon Labs' new BGM113 Blue Gecko Bluetooth module. IMAGE SOURCE: SILICON LABORATORIES.
Silicon Laboratories announced first-quarter 2016 results Wednesday morning, and the fabless-semiconductor specialist was rewarded with a 2.9% jump in share price when all was said and done in the regular trading session. But while Silicon Labs' quarter might not look particularly impressive at first glance -- as revenue and earnings continued to fall on a year-over-year basis -- the company also made significant progress in positioning itself to capitalize on the burgeoning Internet-of-Things space.
Let's take a closer look at what Silicon Labs accomplished in Q1.
Silicon Labs results: The raw numbers
| Metric | Q1 2016 Actuals | Q1 2015 Actuals | Growth (YOY) |
| --- | --- | --- | --- |
| Sales | $162 million | $163.7 million | (1%) |
| Net income | $5.8 million | $6.4 million | (8.9%) |
| GAAP earnings per share | $0.14 | $0.15 | (6.7%) |
Data source: Silicon Laboratories.
What happened with Silicon Labs this quarter?
On an adjusted basis, which excludes items such as stock-based compensation and acquisition costs, net income came in at $42.2 million, or $0.51 per diluted share.
These results came in well above Silicon Labs' guidance provided in February, which called for revenue of $156 million to $162 million, and adjusted earnings per share between $0.42 and $0.48.
IoT revenue climbed 5.5% sequentially from Q4, to $70.9 million, exceeding expectations and setting a new quarterly high mark for the company.
Infrastructure revenue also set a new company record, rising 3.3% sequentially to $31.6 million.
Broadcast revenue fell 3.1% sequentially, to $38.4 million
Access revenue fell 6.7% sequentially, to $21.1 million.
Adjusted gross margin was 59.6%, down from 60% in the same year-ago period, but still slightly above expectations given favorable tape-out expenses during the quarter.
Operating income fell slightly, to $25 million, or 15.5% of total revenue.
Multiple new products were launched, notably:
The pre-certified BGM113 Blue Gecko Bluetooth module for small-footprint, low-energy short-range wireless applications, making it ideal for radio-frequency applications in smartphone accessories, wearable sports and fitness products, wireless locks, and point-of-sale devices.
The IoT-centric multiprotocol Wireless Gecko system-on-a-chip families, aimed at providing customers a one-stop-shop approach to multiprotocol IoT connectivity.
A new isolated gate driver family of products, which offers the industry's highest noise immunity for power supplies, solar inverters, and electric and hybrid vehicles.
The company repurchased just under $18.5 million in shares during the quarter, leaving roughly $82 million remaining in Silicon Labs' 2016 repurchase authorization.
Cash flow from operations totaled $42 million, up $18 million from last year's first quarter.
Subsequent to the end of the quarter, Silicon Labs entered into an agreement to sell a number of non-strategic patents, which will contributor $5 million to second-quarter revenue with no associated impact to cost of goods sold.
What management had to saySilicon Labs CEO Tyson Tuttle stated:
Looking forwardIncluding the $5 million in patent-sale revenue, Silicon Labs expects current-quarter revenue of $168 million to $173 million, the midpoint of which represents 3.4% year-over-year growth. Including an expected $0.09-per-share after-tax benefit related to the patent sale, that should translate to adjusted (non-GAAP) earnings between $0.61 and $0.67, up from adjusted earnings of $0.56 per share in last year's second quarter.
To be fair, excluding the patent sale, the midpoints of both ranges would have meant continued year-over-year declines in revenue and earnings. But as Silicon Labs continues to enjoy relative success with its solutions catering toward IoT customers, I think investors can still be pleased with the company's position today.
The article Silicon Laboratories Positions Itself for Internet-of-Things Growth originally appeared on Fool.com.
Steve Symington has no position in any stocks mentioned. The Motley Fool recommends Silicon Laboratories. Try any of our Foolish newsletter services free for 30 days. We Fools may not all hold the same opinions, but we all believe that considering a diverse range of insights makes us better investors. The Motley Fool has a disclosure policy.
Copyright 1995 - 2016 The Motley Fool, LLC. All rights reserved. The Motley Fool has a disclosure policy.