Showdown at Big D: Can Romo Outdraw Cutler?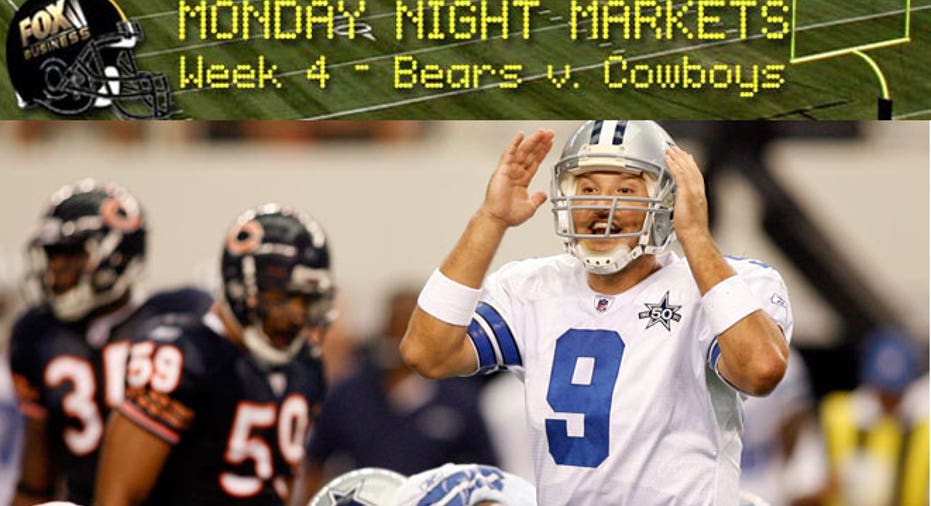 NFL week 4 closes out with the Chicago Bears (2-1) heading down to Texas to take on the Dallas Cowboays (2-1).
The Bears who are trying to keep pace with the 3-1 Minnesota Vikings in the NFC North come in behind QB Jay Cutler whose numbers have been falling off since a week one victory over the Colts with a passer rating of 58.6 through three games and six interceptions, one less than his total in 2011, to only three touchdowns. Adding to that concern has been the questions about Cutler's leadership after he was seen pushing and screaming at OT J'Marcus Webb in the loss to Green Bay.
One of the keys will be the Chicago running game which is hoping to get back RB Matt Forte who is listed as questionable alongside RB Michael Bush. The Bears average 103.7 yards on the ground which is 16th in the league and are coming up against the Cowboys defense which is allowing 113 yards rushing per game. If Cutler can stay on his feet it should open some deep threat opportunities for WR Brandon Marshall and help get the Bear's 28th ranked passing offense out of the basement.
On the defensive side, the Bear's have been savaging opposing quarterbacks and topped the league through three games with 14 sacks led by defensive ends Julius Peppers and Israel Idonije who have 2.5 each. With 34 year old LB Brian Urlacher playing at a high level after knee surgery and CB Tim Jennings' four interceptions, Tony Romo and the Cowboys could be in for a tough night. With the two high ranked defenses keeping the score low, it could come down to special teams. Enter Chicago's dangerous return man Devin Hester who has been somewhat pedestrian so far this season but could be due to break a big one for the Bears.
The Dallas Cowboys are looking to keep pace with the 3-1 Philadelphia Eagles atop the NFC East. QB Tony Romo is completing 64.8% of his passes but is 17th in the league with an 89.3 passer rating. While he has thrown four touchdowns, three of them were in week one and only one in the past two games. Romo will have to get in synch with his receivers especially his favorite target: TE Jason Witten.
Through three games Witten only has 8 catches for 76 yards and should be an important factor in keeping the Chicago pass rush at bay. Another player who will need to step up for Dallas is RB DeMarco Murray. Murray had 131 yards rushing in week one but has only put up 82 yards in the two games since then and the Cowboys are averaging only 76.7 yards rushing per game which is 27th in the league. One of the things to watch for is Romo passing while out of the pocket. Two of Romo's four touchdowns this year have come on the run and his ability to extend plays on the move could be a decisive factor against an aggressive Chicago pass rush.
On the defensive side, the Cowboys are ranked number one allowing only 250 yards per game and only 137 yards per game through the air. One of the key match-ups will be CB Brandon Carr who has the speed and size to try and knock Brandon Marshall off his routes. The Cowboys have seven sacks so far this season and if they can make Cutler hold onto the ball a little longer they can force him into possibly making a game changing mistake.
Fox Business has evaluated the win/loss and stock market statistics over the past 20 seasons of Monday night NFL games and come up with a Monday Night Markets (MNM) score for each team based on their record and the prior week's market activity. Let's take a look at what the markets have to say.
The Dow Industrials ended last week down 1.05% and the S&P 500 was down as well closing out the week with a 1.33% loss, with both indexes now down for two consecutive weeks. The markets were lower after Philly Fed President Charles Plosser warned that the central bank's latest round of easing would likely have little effect in boosting employment and economic growth. This along with a disappointing Midwest Manufacturing Activity report and on-going Eurozone debt concerns offset the positive sentiment from a stronger than expected US Jobless Claims report and China's move to add liquidity to its banking system.
Over the past 20 years, the Bears have played 26 Monday night games and based on our calculations have a Monday night rank of .500 when the Dow closes the prior week down and .417 when the S&P 500 is down giving them a MNM rank for this week of .459.
During the same 20 year period, the Cowboys have played 37 Monday night games and have a rank of .500 when the Dow is down and .600 when the S&P 500 is down giving them an MNM rank this week of .550.
Monday Night Markets picks the Dallas Cowboys at home over the Chicago Bears.
Week 4 FBN Staff Picks:
Bears @ Cowboys
Connel McShane (2-2)
Cowboys at home.
Sandra Smith (1-3)
BEAR DOWN!
Robert Gray (3-1)
Cowboys at home.
The Monday Night Markets (MNM) rank is derived by taking the number of games won during each market condition of up or down during a twenty year period, over the total number of games played. Each result for the Dow and S&P are averaged to determine a final rank between 0 and 1.