Should You Open a Store Credit Card?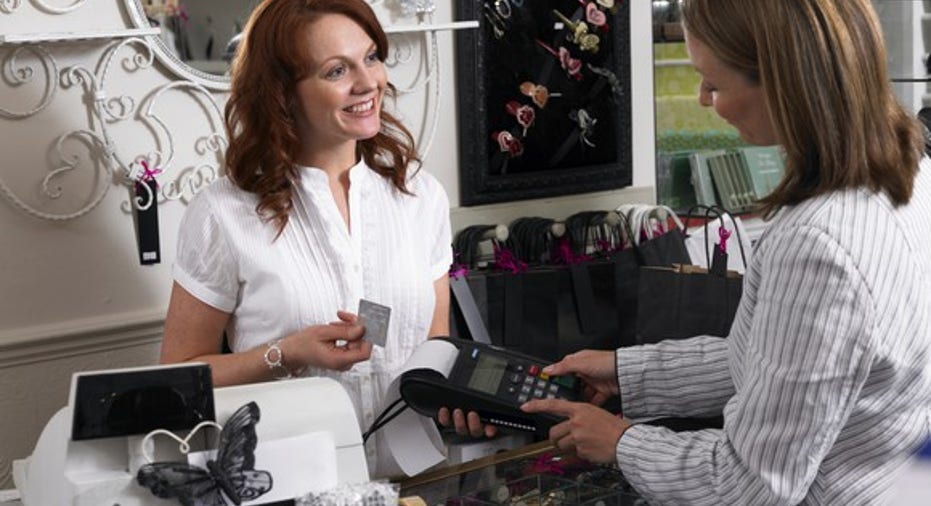 You're loading up on holiday gifts or back-to-school clothes when the cashier rings up your items, flashes a smile, and asks if you'd like to sign up for a store credit card. There's probably even a decent incentive for signing up, like money off your purchase or the opportunity to collect rewards points. But before you jump to fill out that application, consider the advantages and drawbacks of opening a store credit card.
IMAGE SOURCE: GETTY IMAGES.
Store credit cards versus regular credit cards
First, let's review the difference between store credit cards and regular credit cards. Regular credit cards like Visa, MasterCard, and American Express allow you to shop anywhere they're accepted. Store credit cards, by contrast, are often only accepted at the retail locations that bear their names -- though some do allow you to shop at other retailers that share the same parent company.
Sometimes store credit cards are backed by major networks like Visa (NYSE: V), MasterCard (NYSE: MA), and American Express (NYSE: AXP). If you have a Gap Visa card, for example, then you can use it outside the Gap (NYSE: GPS) and its sister stores. But without that co-branding, only that particular retailer -- and perhaps any sister companies it may have -- will accept your card.
Now that we've gotten that out of the way, let's review some of the pros and cons of getting a store credit card. First, the pros.
1. They're easier to qualify for than regular credit cards
If you don't have the strongest credit score or history, then you may have an easier time getting approved for a store credit card than you will for a regular card. As long as you're disciplined and know how to shop within your budget, there's no reason not to enjoy the perks of a store card.
2. They can help you establish a good credit history
Unfortunately, not having much of a credit history can work against you when the time comes to apply for a loan -- or even an apartment or a job. Because store credit cards have less stringent requirements, they can help you start building credit. All you need to do is use your store card responsibly, making sure to pay your bills on time and in full every month.
3. They can help you save money on things you're already buying
It's one thing to spend money on things you don't need just because they're on sale. But saving money on the things you were already planning to buy is another story. Many store cards offer incentives like discounts on purchases, cash back, or rewards programs. As long as you're disciplined enough to limit your purchases to the things you need, a store card could save you a bunch of money year after year.
But store credit cards aren't all rosy. Here are three drawbacks to consider.
1. They're easier to qualify for than regular credit cards
Feeling a bit of dj vu?Yes, the fact that store cards are relatively easy to get was also listed as agood thing, but it's a double-edged sword.If your credit is bad enough that you're having trouble getting approved for a regular card, then perhaps you shouldn't have a credit card in the first place. Unless the store card you're applying for enables you to make essential purchases like food and basic clothing, then it could tempt you to overspend, rack up costly debt, and drive your credit score even lower.
2. They tend to come with higher interest rates
Here's a little secret about credit cards companies: They don't want you to pay your bills in full each month. What they actually want you to do is carry a balance, make minimum payments, and rack up interest for them to collect. The problem with store cards in particular is that their interest rates tend to be notably higher than those of regular credit cards. So while your Visa might come with 12% or 14% interest, a store card might charge you more like 20% if you don't pay your bill in full. This means you'll spend more money to pay off a store credit card than you would a regular credit card.
3. They make it easy to overspend
While this is a problem with credit cards in general, store cards reel customers in by offering promotions designed to make spending seem smart. After all, it's hard to say no when your go-to store is offering 20% off purchases for cardholders. But unless you exercise serious self-control, the lure of the discount could easily prompt you to overspend on things you don't need.
Opening a store credit card can save you money, but it can also tempt you to spend money you don't have. If you do decide to get a store credit card, proceed with caution. Otherwise, you'll negate all the benefits in no time flat.
The $15,834 Social Security bonus most retirees completely overlook If you're like most Americans, you're a few years (or more) behind on your retirement savings. But a handful of little-known "Social Security secrets" could help ensure a boost in your retirement income. For example: one easy trick could pay you as much as $15,834 more... each year! Once you learn how to maximize your Social Security benefits, we think you could retire confidently with the peace of mind we're all after.Simply click here to discover how to learn more about these strategies.
Maurie Backman has no position in any stocks mentioned. The Motley Fool owns shares of and recommends MasterCard and Visa. The Motley Fool recommends American Express. Try any of our Foolish newsletter services free for 30 days. We Fools may not all hold the same opinions, but we all believe that considering a diverse range of insights makes us better investors. The Motley Fool has a disclosure policy.