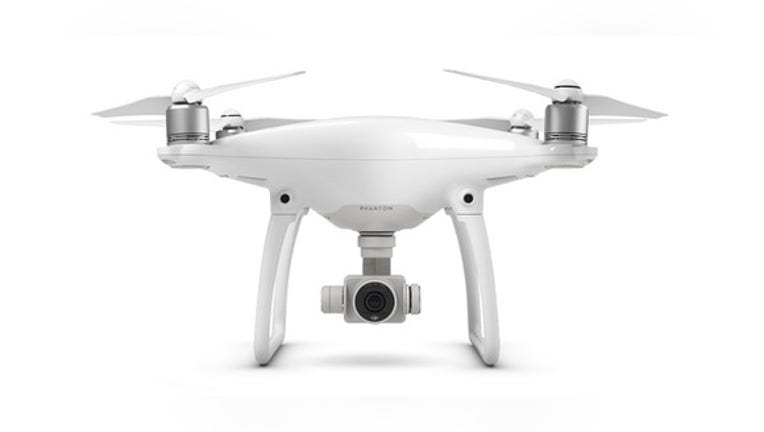 Smartphone giant Xiaomi became China's mostvaluable start-up after its valuation topped $46 billion in late 2014. That's roughly $10 billion higher than Sony's currententerprise value, and the equivalent of about 40 GoPros . Xiaomi competes with Sony in smartphones, wearables, and other electronics, and the company threatens GoPro by producing drones and sellingYi Technology's action cameras.
But as I mentioned in a previous article, Xiaomi's growth is slowing down. Sales rose just 5% to 78 billion yuan ($11.7 billion) in2015, down from 135% growth in 2014. This means that it could struggle to justify its valuation, and other hot Chinese start-ups could soon catch up. One such rising star is Shenzhen-based DJI Innovations, the biggest drone maker in the world, which has an estimated value of $8 billion and big growth numbers under its belt.
DJI's Phantom 4 drone. Image source: DJI.
Meet the 800-pound flying gorilla of drones
DJI was founded a decade ago, but it only achieved global fame after releasing the first version of its flagship drone, the Phantom, in 2013. The Phantom series was a hit among high-end drone buyers, and it helped DJI conquer nearly 70% ofthe global civilian camera drone market last year, according to IDC. The Verge praised the Phantom drones as "simple enough for beginners, but powerful enough to interest serious hobbyists, professional photographers, and filmmakers."
DJI is frequently called the "Apple of drones." It reportedly owns 70% of the consumer drone market and appeals to high-end tech shoppers. Apple even agreed to display DJI's new Phantom 4 drones in big"feature bay" displays at over 400 of its brick-and-mortar stores, serving as DJI's exclusive retailer during the drone's initial launch in March. DJI employees also visited select Apple Stores to provide training sessions to customers.
DJI's sales either tripled or quadrupled every year between 2009 and 2014, when itreported revenue of $500 million and $120 million in net profit. DJI claimed thatits sales would double to $1 billion last year, but ithasn't officially updated that figure yet. The company employs about 5,000 people worldwide and has offices in Shenzhen, Hong Kong, Tokyo, Kobe, Rotterdam, and Los Angeles. DJI was valued at $8 billion after its latest round of funding last May, and expects to cross the $10 billion mark in the near future.
Xiaomi fights back with a very cheap drone
In response to DJI's rapid growth, Xiaomi recently launched theMi Drone, a 4K drone which only costs $460, its entry into drones. That's less than half the price of most DJI drones, which cost over $1,000. The Mi Drone represents another way for Xiaomi to diversify beyond its core smartphone business, which has been ceding market share to low-cost rivals like Oppo and Huawei.
Xiaomi's Mi Drone. Image source: Xiaomi.
Xiaomi's main strategy is to sell devices with high-end hardware at low-end prices via an online model that eliminates brick-and-mortar markups. That causes it to run on paper-thin margins -- its last known operating margin was 1.8% in 2013, and that figure has likely declined due to rising competition in smartphones.
DJI is making 24% profit per drone, but those profits might decline if it has to match Xiaomi's aggressive prices. However, Xiaomi's Mi Drone still lacks HDR, burst shot, time lapse photos, and obstacle detection -- all features which areincluded in DJI's Phantom 4. Ambarella , which provides the image processors for GoPro's cameras, notably also provides the SoCs for Xiaomi's and DJI's drones.
Should Xiaomi be worth more than DJI?
Since Xiaomi generated nearly 12 times more revenue than DJI in 2015, it should logically have a higher valuation. But Xiaomi's sales growth has slowed down to the single digits, while DJI hasn't stopped posting triple-digit growth yet.Xiaomi is currently valued at about 4 times its 2015 sales, while DJI is valued at about 8 times sales. This indicates that investors are willing to pay two times more for DJI than Xiaomi, which is reasonable based on its stronger sales growth.
Moreover, Xiaomi has possibly become unprofitable since 2013, while DJI could be reporting double-digit profit margins for the foreseeable future. It's impossible to assign DJI a traditional P/E value since it's a private company, but we can assume that investors are willing to pay more for DJI since it's churning out sustainable profits.
However, DJI's growth could eventually slow down due to rising competition and new drone regulations, while Xiaomi's more diversified portfolio of mobile devices, consumer electronics, and apps could leave it less exposed to a single market. DJI might face the fate of high-growth single-product companies like GoPro, with sales abruptly peaking, while Xiaomi would merely experience slower growth more comparable to a tech giant like Sony.
Therefore, Xiaomi deserves a higher valuation than DJI based on trailing sales, but that figure should probably be a bit lower based on its mediocre margins. Since Xiaomi has stated that it doesn't need any more funding, its $46 billion valuation should stay the same while its sales and earnings gradually catch up. Meanwhile, DJI's valuation will likely keep rising with additional investment rounds, so it might close the gap with Xiaomi over the next couple of years.
The article Should Xiaomi Be Worth More Than DJI Innovations? originally appeared on Fool.com.
Leo Sun has no position in any stocks mentioned. The Motley Fool owns shares of and recommends Ambarella, Apple, and GoPro. The Motley Fool has the following options: long January 2018 $90 calls on Apple and short January 2018 $95 calls on Apple. Try any of our Foolish newsletter services free for 30 days. We Fools may not all hold the same opinions, but we all believe that considering a diverse range of insights makes us better investors. The Motley Fool has a disclosure policy.
Copyright 1995 - 2016 The Motley Fool, LLC. All rights reserved. The Motley Fool has a disclosure policy.