Should Walt Disney Co. Boost Its Dividend?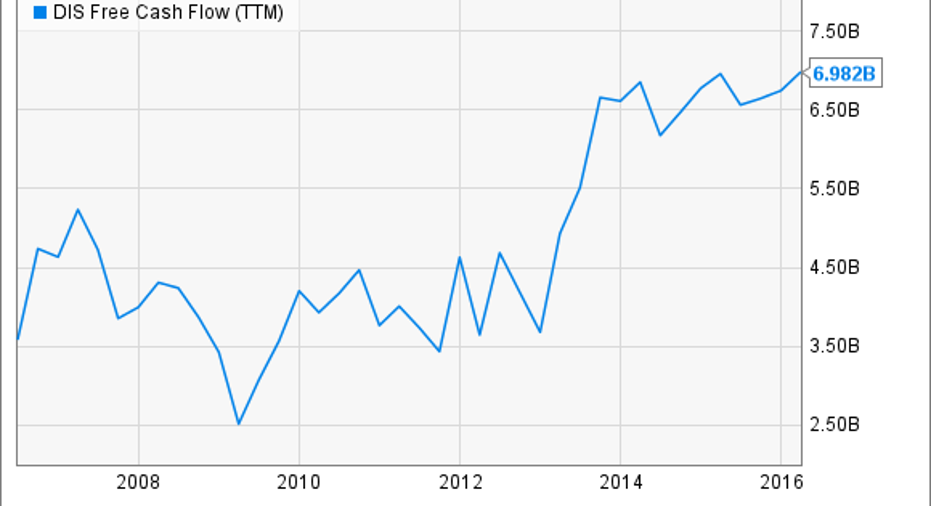 Disney stock has fallen 8% over the past 12 months due to ongoing concerns about its cable business losing subscribers to streaming rivals. The company also missed top and bottom line estimates last quarter due to softness in its cable and consumer products units.
Image source: Pixabay.
But as a longtime Disney shareholder, those things don't bother me too much. Disney is strategically expanding its digital ecosystems around key cable networks like ESPN, which should reduce its dependence on traditional cable, and the decline in consumer product sales was expected due to demand for Frozen merchandise finally waning.
What bothers me about Disney is its paltry forward annual dividend yield of 1.4%, which is significantly lower than the S&P 500's average yield of 2.1%. Looking ahead, can the House of Mouse afford to pay more after the stock's lackluster performance over the past year?
Why Disney can boost its dividend
The easiest way to gauge a company's ability to increase its dividend is by checking the percentage of its free cash flow (FCF) paid out as dividends. Over the past 12 months, Disney paid out 33% of its free cash flow as dividends. Furthermore, Disney's FCF has risen significantly over the past five years, although its yield has generally stayed between 1% to 1.5%.
Source:YCharts
Disney has only raised its dividend annually for five consecutive years. Its decision to switch from annual dividends to semi-annual ones last year indicates that it wants to attract more income investors, but the yield remains too low.
If Disney decided to pay out 60% of its FCF as dividends, assuming that FCF growth remains constant, it could raise its annual payout by 82% to $2.59 per share. That would equal a 2.5% yield at current prices. That's not a spectacular yield by dividend stock standards, but it would be higher than the market average and could make Disney a more appealing "buy and hold" stock for passive income.
Why Disney probably won't hike its dividend
Unfortunately, Disney probably won't raise its dividend for three simple reasons.
First, Disney's payout ratio is in-line with industry standards. Time Warner pays a higher forward yield of 2.2%, but that yield was inflated by the stock's 13% decline over the past 12 months. Time Warner has a FCF payout ratio of 37% -- which is only slightly higher than Disney's. The same can be said about Viacom , which has a FCF payout ratio of 34% but pays a forward yield of 4% because its stock has plummeted 40% over the past 12 months.
Second, Disney will likely argue that it needs to have a lot of cash ready to build new park attractions, fund new movies and shows, or make strategic acquisitions. After all, much of Disney's growth over the past decade can be attributed to billion dollar acquisitions like Pixar, Marvel, and Lucasfilm. These acquisitions also widen its moat against rivals like Time Warner and Viacom.If Disney dedicates too much of its FCF to dividends, it might need to take on more debt to fund future acquisitions.
Lastly, rising interest rates will make financing buybacks with debt (as Disney has been doing) much less appealing than using cash. Well-timed buybacks can boost earnings growth, so it would be logical for Disney to keep prioritizing buybacks over dividends, as it has consistently done over the past decade.
Growth vs. income
Companies generally spend most of their free cash flow on buybacks and dividends when they run out of room to expand. Over the past decade, Disney has reinvested its free cash flow in new overseas theme parks, cruise lines, and buying other studios and IPs. Investors who believe that those efforts are paying off should prioritize those investments over a dividend boost.
I personally believe that Disney still has room to keep growing these businesses. Shanghai Disney could be an excellent springboard into the rest of China, and the Star Wars Cinematic Universe is still in its infancy.
I'll probably never be satisfied with Disney's low yield, but I'm willing to accept lower dividends as long as the company keeps making smart purchases like Marvel and Lucasfilm to diversify its business for long-term growth.
The article Should Walt Disney Co. Boost Its Dividend? originally appeared on Fool.com.
Leo Sun owns shares of Walt Disney. The Motley Fool owns shares of and recommends Time Warner and Walt Disney. Try any of our Foolish newsletter services free for 30 days. We Fools may not all hold the same opinions, but we all believe that considering a diverse range of insights makes us better investors. The Motley Fool has a disclosure policy.
Copyright 1995 - 2016 The Motley Fool, LLC. All rights reserved. The Motley Fool has a disclosure policy.