Should Under Armour Worry About Dick's Sporting Goods' New Clothing Line?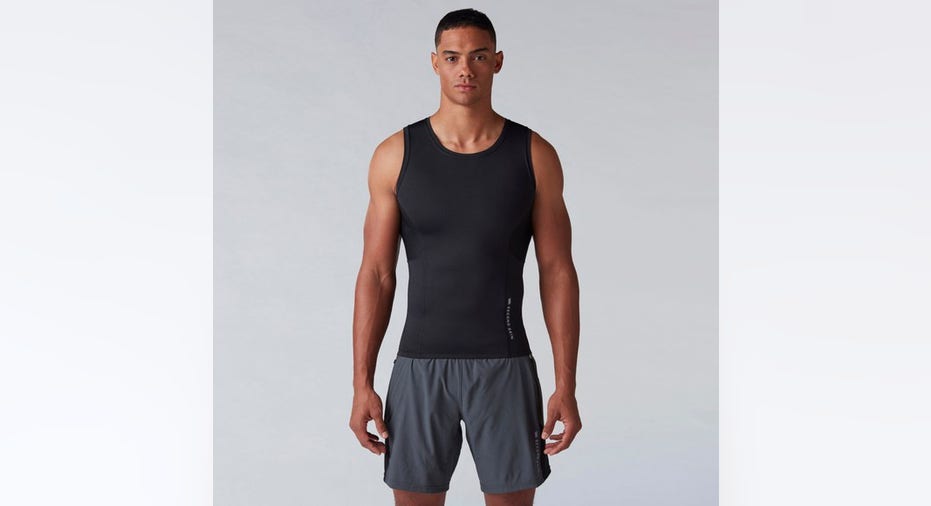 Under Armour (NYSE: UA) has plenty of reasons to be sweating. For the first time in over a decade, its sales grew at a single-digit pace, it posted its first loss as a public company, and sporting-goods outlets are dropping like flies. From Eastern Mountain Sports and Sports Chalet to Gander Mountain and Sports Authority, hundreds of stores where it sold its sportswear apparel are closing their doors amid a tumult in the retail landscape.
And now it has one more reason to worry: Retailer Dick's Sporting Goods (NYSE: DKS) has come out with its own line of compression fit apparel to go head-to-head with Under Armour.
Image source: Second Skin.
A sporting chance
Considering the pervasiveness of Under Armour clothes, it's hard to buy into Dick's argument that its new Second Skin brand of tight-fitting clothes will help fill a gap in what it deems is "an underserved and growing population" of athletes. More believable is it thinks those athletes have been overpaying for their clothes when they buy Under Armour threads, so its intent to sell Second Skin "at more desirable price points" could be a real concern for the apparel maker.
Under Armour is already feeling the competitive pressure of trying to break Nike's stranglehold on the footwear market; Nike owns a 60% share of the space. With Adidas also enjoying newfound popularity, and Skechers trailing close behind, Under Armour wasn't able to kick it into high gear in the first quarter, as footwear sales grew just 2% to $270 million, well below last year's 11% gain.
And though apparel grew 7% to $715 million, Under Armour's North American business is ailing, with revenue falling 1.3% after adjusting for currency fluctuations. And now it's got a partner deciding to compete directly against it.
According to AlliedMarket Research, compression clothing is on track to become a $5.5 billion industry by 2022, with Nike, Adidas, and numerous others seeing the opportunity in compression wear and shapewear sporting goods apparel. Under Armour says it wants to move beyond just being a tight-fitting-shirt company into one that's more athleisure. That might not be so easy.
Image source: Second Skin.
Friend and foe
Dick's Sporting Goods is Under Armour's biggest customer, accounting for 10% of its $4.8 billion in net revenue last year. Worse, because of the decline and fall of competing sporting-goods outlets, a number of stores from which Dick's swept in and acquired, the retailer is the becoming the only game in town, making its competing apparel line all that more compelling -- and dangerous to Under Armour.
Second Skin is currently only available online at the brand's namesake website and on Dick's own e-commerce platform, but later this year it will start appearing in Dick's stores, and that's when Under Armour will really need to worry. When the two brands are displayed side by side, and Dick's apparel is offered at an apparent discount, it could start cutting into sales or hurt margin if Under Armour feels the need to get competitive with Dick's on pricing
And there's a good chance it might have to. Dick's has enlisted more than 200 athletes to help promote the brand as well as "three elite athletes who compete on a national stage," including Hunter McIntyre, Christmas Abbott, and Ryan Hall. While these athletes may not be household names yet (well, in this writer's household, anyway), it still indicates the retailer is serious about making inroads onto Under Armour's turf.
Getting under Under Armour's skin
Importantly, Dick's made a point of saying it is going to have these athletes create social-media content about the Second Skin brand. Notjust posting pictures of the gear, but illustrating "how they rely onSecond Skinwhile training," could bean important differentiator that greatly enhances Dick's marketing.
It should also be noted that while Dick's represented 10% of Under Armour's sales last year, in the first quarter the retailer fell below that threshold. That suggests the apparel company is seeing its shelf space at Dick's come under pressure, especially in light of the success the Dick's is enjoying with its CALIA by Carrie Underwood, Field & Stream, and Walter Hagen golf-related apparel.
Now that the retailer is adding Second Skin to the lineup, Under Armour may just find Dick's Sporting Goods getting under its skin over the hurdle of competing against a top brand.
10 stocks we like better than Under Armour (C Shares)When investing geniuses David and Tom Gardner have a stock tip, it can pay to listen. After all, the newsletter they have run for over a decade, Motley Fool Stock Advisor, has tripled the market.*
David and Tom just revealed what they believe are the 10 best stocks for investors to buy right now... and Under Armour (C Shares) wasn't one of them! That's right -- they think these 10 stocks are even better buys.
Click here to learn about these picks!
*Stock Advisor returns as of May 1, 2017
Rich Duprey has no position in any stocks mentioned. The Motley Fool owns shares of and recommends Nike, Skechers, and Under Armour (C Shares). The Motley Fool has a disclosure policy.