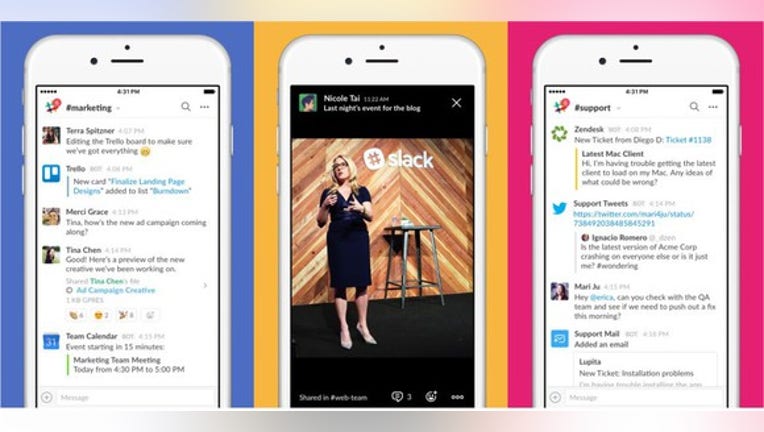 Business messaging start-up Slack raised $200 million during its latest round of funding in April, which gives it a valuation of $3.8 billion. This means that Slack is now worth more than BlackBerry , which has an enterprise value of $2.6 billion. BlackBerry was once the king of business email and messaging, but it's been losing ground to disruptive messaging apps like Slack.
Slack has about 3 million daily active users, while BlackBerry Messenger (BBM) had 190 million registered usersat the beginning of 2015 -- but less than half were monthly active users. But should a seven-year-old start-up really be worth more than a former tech leader which has been around for over three decades? Let's take a closer look at Slack's core business to find out.
Slack's iOS app. Image source: Slack.
How much money does Slack make?
Slack runs on a freemium model, where users can get more features by subscribing to monthly plans which either cost $6.67 or $12.50 per month. It also offers a more robust enterprise package for $48 per month. Nearly a third of its daily active users now pay for the service. That's a more straightforward strategy than BlackBerry's clumsy attempts to monetize BBM, which included selling stickersto users and offering content channels to paid partners.
Slack expects to generate about $64 million inrecurring revenue this year. That would be more than double the $30 million it "expected" to generate in 2015, but the company hasn't released any concrete annual figures yet. However, co-founder and CEO Stewart Butterfield stated last year thatSlack wasn't profitable, and that its losses totaled a "couple hundred thousand dollars" per month.
How do we value Slack?
Since we have a rough estimate of Slack's 2015 sales, we can divide its last valuation by that total to get an EV/Sales ratio of 127 -- which would be extremely high for any private or public company. By comparison, BlackBerry has an EV/Sales ratio of just 1.2.
However, Slack might deserve that high valuation due to its steep growth trajectory. If it doubles its revenue in 2016, it would certainly be much more impressive than BlackBerry's expected growth rate of 3%. That could be easy for Slack, since its daily active user base has tripled within the past six months.
Slack for Apple Watch. Image source: iTunes.
We should also compare Slack to other tech companies which are expected to post comparable sales growth this year, but EV/Sales ratios can vary widely. For example, Chinese online finance marketplace Yirendaiis expected to grow sales 98% this year, but it only trades with an EV/Sales ratio of 2.3. Cybersecurity company Palo Alto Networksis expected to report 47% sales growth this year, but it trades with a much "pricier" EV/Sales ratio of 11.
If Slack had the same EV/Sales ratio as Yirendai, it would be valued at just $69 million based on its 2015 revenue. If it were valued the same as Palo Alto, it would have a valuation of $330 million. But both figures are well below its current valuation of $3.8 billion.
But didn't Microsoft almost pay $8 billion?
Slack's valuation seems to defy fundamental gravity, but Microsoft was reportedly interested in buying the company for $8 billion earlier this year. However, CEO Satya Nadella and co-founder Bill Gates shot down the idea. Instead of buying Slack at more than 260 times its trailing sales, Gates reportedly wanted Microsoft to improve Skype as a communications platform.
This also highlights a long-term challenge for Slack -- if Microsoft improves its enterprise messaging and collaboration offerings with Skype, Yammer in Office 365, and other cloud-based features, it might prevent Slack from becoming more widely adopted. Facebook'sintroduction of Facebook at Work, which enables employees to form workgroups and collaborate online, is another major threat. If Slack spends more heavily to widen its moat against big gorillas like Microsoft and Facebook, its losses could widen.
Should Slack be worth more than BlackBerry?
Slack is a hot tech unicorn, but it shouldn't be worth more than BlackBerry. Assuming that Slack generates $64 million in recurring revenue this year, that would only be equivalent to about 2% of BlackBerry's projected sales for the year.
Slack would need to post several more years of triple-digit sales growth to justify its current valuation, but I'm not confident that it can achieve that with bigger enterprise players all eyeing the same market. That's probably why the company is reportedly already getting ready foran IPO -- it wants to go public before it loses its start-up momentum.
The article Should Slack Really Be Worth More Than BlackBerry Limited? originally appeared on Fool.com.
Leo Sun has no position in any stocks mentioned. The Motley Fool owns shares of and recommends Facebook. The Motley Fool owns shares of Microsoft. The Motley Fool recommends Palo Alto Networks. Try any of our Foolish newsletter services free for 30 days. We Fools may not all hold the same opinions, but we all believe that considering a diverse range of insights makes us better investors. The Motley Fool has a disclosure policy.
Copyright 1995 - 2016 The Motley Fool, LLC. All rights reserved. The Motley Fool has a disclosure policy.