Should Qualcomm, Inc. Pay $30 Billion For NXP Semiconductors?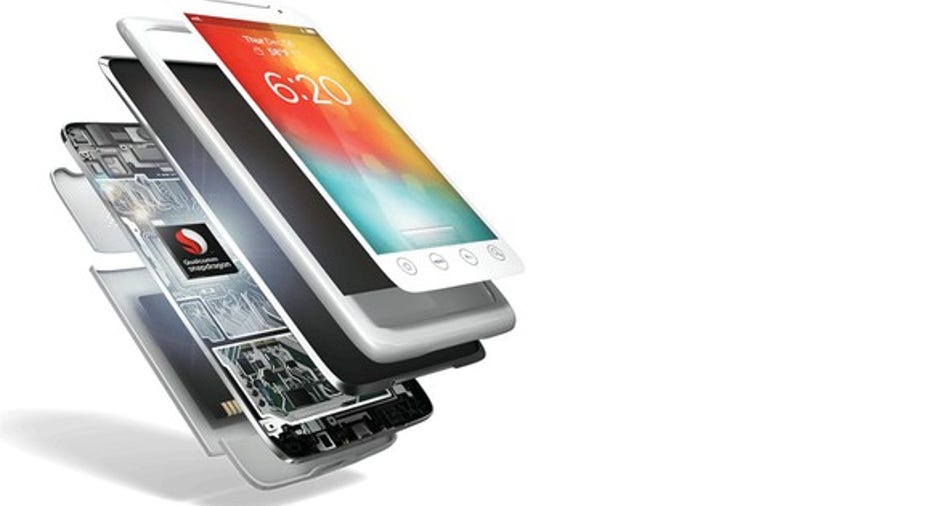 Qualcomm (NASDAQ: QCOM), the largest mobile chipmaker in the world, is reportedly in talksto acquire Dutch chipmaker NXP Semiconductors (NASDAQ: NXPI) for over $30 billion. NXP became the world's largest automotive chipmaker last year after acquiring rival Freescale for nearly $12 billion.
Let's discuss why Qualcomm might be interested in buying NXP, and whether or not it can afford such a massive purchase.
Image source: Qualcomm.
Why Qualcomm needs NXP
Analysts expect Qualcomm's revenue and earnings to eachdecline about 8% this year for two main reasons. First, its chipmaking division -- which generates most of its revenue -- is ceding market share to cheaper mobile rivals like MediaTek and first-party chips from OEMs like Apple, Samsung, and Huawei.
Second, the higher-margin licensing division, which generates most of the company's profits with licensing fees for 3G and 4G technologies, remains under pressure from defiant OEMs and government regulators. These parties believe that Qualcomm's cut (3% to 5% of the wholesale price of each smartphone sold worldwide) makes it too hard to profit from sales of low-margin smartphones.
In response, Qualcomm is diversifying into new markets beyond smartphones and tablets. These adjacent markets include wearables, drones, smart appliances, connected cars, and various other gadgets across the Internet of Things (IoT). To accelerate that expansion, Qualcomm acquired IoT chipmaker CSR for$2.4 billion last year and launched specialized Snapdragon chips for wearables, drones, cars, and other devices.
Image source: Getty Images.
However, other rival chipmakers are eyeing the same markets. Intel, which faces stagnant growth in PC and data center chips, launched itsown IoT division in late 2013. Nvidiahas expanded aggressively into the auto industry with chips for infotainment systems, ADAS (advanced driver assistance systems), and turnkey solutions for autonomous cars.
To widen its moat against these challengers, Qualcomm must make a game-changing move like buying NXP. In addition to making Qualcomm the 800-pound gorilla in connected cars and giving it competitive bundling opportunities, gaining NXP's NFC chip business would boost Qualcomm's content share in iPhones and other devices -- thus reducing the impact of its loss of some iPhone modem orders toIntel in the iPhone 7.
But can Qualcomm afford NXP?
NXP stock currently has a 5-year PEG ratio of 0.7. Since a PEG ratio under 1 is considered undervalued, NXP is considered cheap relative to its growth potential. Buying NXP could add nearly $10 billion to Qualcomm's projected revenues of $23.7 billion next year, giving it a robust third business unit to offset declines at the chipmaking and licensing segments.
However, $30 billion would still be a huge amount for Qualcomm to pay. Qualcomm finished last quarter with $5.9 billion in cash andequivalents and $11.2 billion in marketable securities. It's also shouldering $1.7 billion in short-term debt and $10 billion in long-term debt. Therefore, any deal would require Qualcomm to pay in stock and cash, and take on more debt to make up the difference. However, taking on more debt now, before the Fed further raises interest rates, would likely be a smart long-term move.
But it cannot be ignored that buying NXP would significantly increase Qualcomm's debt -- which was non-existent before itfinanced $10 billion in buybacks with debt last year -- to historically high levels. If it went through with theacquisitionit wouldn't be surprising if Qualcomm suspended its buybacks after buying NXP. However, I doubt that Qualcomm will stop raising its dividend, which has been hiked annually for 13 consecutive years and is easily covered by its free cash flow.
But let's not get ahead of ourselves
Shares of NXP have surged after the rumors initially appeared in the Wall Street Journal. But the subsequent rally boosted NXP's enterprise value to $33 billion, indicating that an acquisition premium has already been priced in.
The Journal also claims that Qualcomm is exploring other deals, and that a potential deal probably wouldn't be struck for at least two to three months. So if the deal falls through, NXP could give up its gains very quickly. Qualcomm would certainly benefit from buying NXP -- but the acquisition buzz is all speculative for now.
A secret billion-dollar stock opportunity The world's biggest tech company forgot to show you something, but a few Wall Street analysts and the Fool didn't miss a beat: There's a small company that's powering their brand-new gadgets and the coming revolution in technology. And we think its stock price has nearly unlimited room to run for early in-the-know investors! To be one of them, just click here.
Leo Sun owns shares of Qualcomm. The Motley Fool owns shares of and recommends Apple, Nvidia, NXP Semiconductors, and Qualcomm. The Motley Fool has the following options: long January 2018 $90 and short January 2018 $95 calls on Apple. The Motley Fool recommends Intel. Try any of our Foolish newsletter services free for 30 days. We Fools may not all hold the same opinions, but we all believe that considering a diverse range of insights makes us better investors. The Motley Fool has a disclosure policy.