Should Investors Worry About These Marijuana Stocks' Horrible Bottom Lines?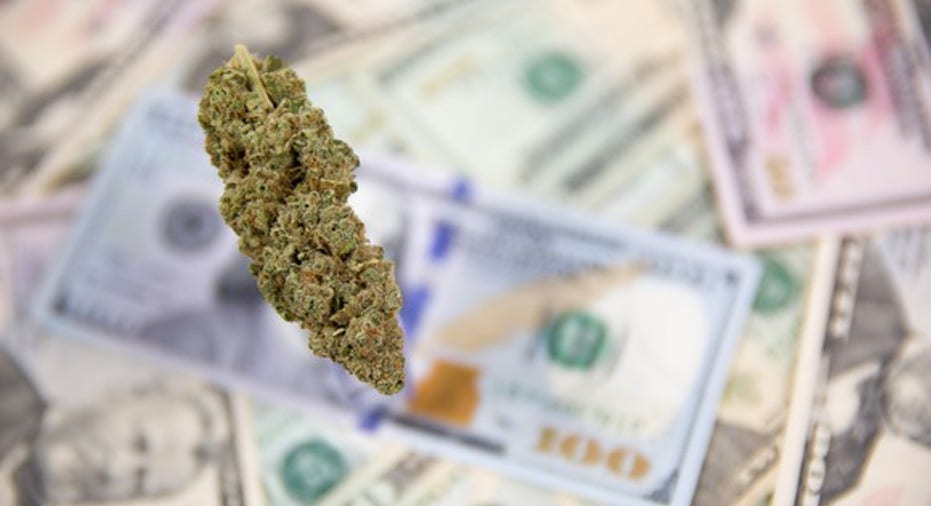 What do GW Pharmaceuticals (NASDAQ: GWPH), Axim Biotechnologies (NASDAQOTH: AXIM), Aurora Cannabis (NASDAQOTH: ACBFF), and Medical Marijuana, Inc. (NASDAQOTH: MJNA) have in common?
One correct answer is that they're all marijuana stocks with relatively large market caps (at least in comparison with other marijuana stocks). Another is that they're all losing millions of dollars.Should investors be worried about the horrible bottom lines for these companies?
Image source: Getty Images.
GW Pharmaceuticals: Eager for Epidiolex approval
GW Pharmaceuticals lost $82.2 million last year. The company also reported multi-million dollar losses in 2013, 2014, and 2015. But things could change for GW in the not-too-distant future.
The company has reported positive results from three late-stage studies of cannabinoid drug Epidiolex in treatingDravet syndrome and Lennox-Gastaut syndrome (LGS). Based on these results, GW Pharmaceuticals plans to submit for U.S. regulatory approval of Epidiolex within the next few months.
Epidiolex could be a game-changer for GW. Some analysts think the epilepsy drug could reach peak annual sales of around $3 billion if approved. Others, however, peg the number at close to $800 million. If the actual number turns out to be more in line with the optimistic view, GW's past huge losses won't be concerning to investors at all.
Axim Biotechnologies: Ambitious plans
Like GW Pharmaceuticals, Axim Biotechnologies is a biotech working on developing marijuana-based drugs. Also like GW, Axim's bottom line didn't look great for 2016. The company reported a loss of $5.8 million.
Axim's pipeline isn't as far along as GW's is. The small biotech's most advanced clinical programs are in phase 2 testing -- one evaluating CanChew hemp chewing gum in treating irritable bowel syndrome, and another evaluating experimental cannabigerol drugAX-1602 in treating psoriasis and atopic dermatitis.
No one can say that Axim doesn't have ambitious plans. The company has stated that it intends to build a $1 billion global portfolio by 2020. There's a long way to go: Axim's revenue totaled $47,059 last year.
Aurora Cannabis: Counting on Canadian legalization
Aurora Cannabis isn't developing cannabinoid drugs like GW Pharmaceuticals and Axim Biotechnologies are. The company is instead one of the top providers of medical marijuana in Canada. For the six-month period that ended Dec. 31, 2016, Aurora reported a net loss of $8.3 million.
Better days could be ahead for Aurora, though. Canada appears poised to legalize recreational use of marijuana in 2018. As is the case with medical marijuana (which is already legal to use in the country), Canada will require providers of recreational marijuana to be licensed. Aurora is one of 35 medical marijuana providers licensed in Canada and should be in a good position to expand its business to provide recreational marijuana in the future.
Could Aurora swing to profitability with legalization of recreational marijuana? Possibly so. The company's location in rural Alberta allows it to operate with relatively low costs. Alberta's corporate tax rates and power costs are the lowest of the Canadian provinces. Aurora also doesn't have to pay for water, since it uses mountain-fed water.
Medical Marijuana: Totally legal already
Medical Marijuana, Inc. isn'ta biotech like GW Pharmaceuticals or Axim Biotechnologies. The company's business model is more similar to Aurora's, but there are distinct differences. Like all these other companies, though, Medical Marijuana lost money in 2016 -- to the tune of $25.9 million.
If Axim succeeds, Medical Marijuana will reap the benefits. Medical Marijuana owns a 43% stake in the biotech. It also markets the CannChew chewing gum that Axim is evaluating in clinical studies. Medical Marijuana's top product, however, is its cannabidiol (CBD) hemp oil. It remains to be seen what impact a potential launch of CBD Epidiolex by GW Pharmaceuticals might have on Medical Marijuana's sales.
While some U.S.-based marijuana stocks could be at risk if federal officials crack down on states that have legalized marijuana, that shouldn't be the case for Medical Marijuana. Its products contain only substances that are excluded from the U.S.Controlled Substances Act, so they can legallybe used in the country already.
Least worrisome?
Although all four of these companies are losing money now, my hunch is that Aurora Cannabis could be the closest to turning the corner to profitability. Canadian legalization of recreational marijuana should open up an enormous market to several companies. Aurora should be able to grab its fair share of that market.
The chances for GW Pharmaceuticals also seem pretty good. It's not a certainty that Epidiolex will win regulatory approval, but I wouldn't bet against it. If Epidiolex generates even close to the sales levels that some predict, GW probably won't post losses for too much longer.
10 stocks we like better than GW PharmaceuticalsWhen investing geniuses David and Tom Gardner have a stock tip, it can pay to listen. After all, the newsletter they have run for over a decade, Motley Fool Stock Advisor, has tripled the market.*
David and Tom just revealed what they believe are the 10 best stocks for investors to buy right now... and GW Pharmaceuticals wasn't one of them! That's right -- they think these 10 stocks are even better buys.
Click here to learn about these picks!
*Stock Advisor returns as of April 3, 2017
Keith Speights has no position in any stocks mentioned. The Motley Fool has no position in any of the stocks mentioned. The Motley Fool has a disclosure policy.