Should Investors Bet on a Nokia Recovery?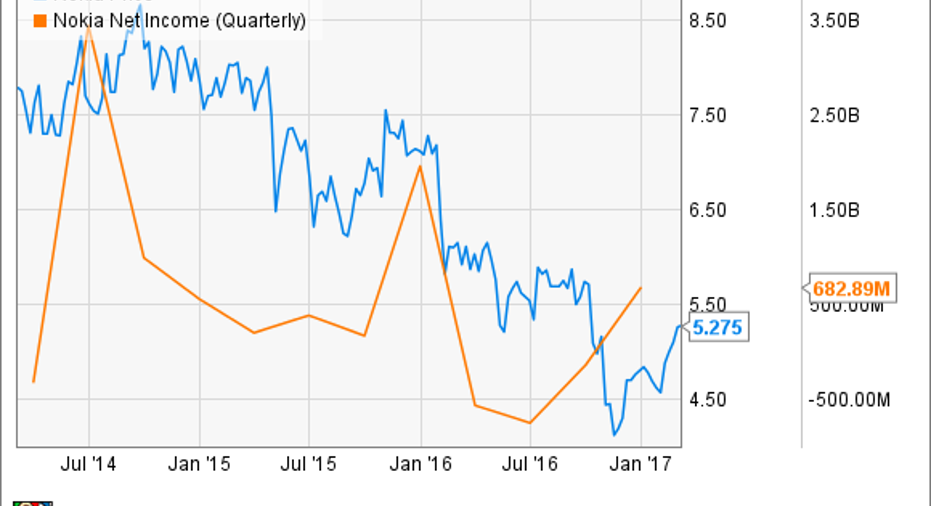 Shares of beleaguered networking company Nokia (NYSE: NOK) have rallied off of multiyear lows. Full-year 2016 results were recently provided, showing revenue falling again and profitability proving elusive. However, a few areas of activity are providing hope that the company and its shareholders could enjoy better times in the near future.
Image source: Nokia.
A new ally in Alcatel-Lucent
Nokia completed a merger with communications equipment and service provider Alcatel-Lucent last year. Nokia itself has evolved into a communications service provider over the years, but with the combination with its new business partner, the company's future now hinges on its network business more than ever.
The reason for the deal? Nokia wants to take the lead in building the technology for tomorrow's networks. Specifically, the company is betting on new 5G mobile networks, the closely related Internet of Things development, and the cloud.
The company's capabilities were on display at Mobile World Congress in Barcelona last month. Highlights included the showcasing of 5G FIRST, the first 5G network modem that will begin shipping out later this year. Also on display was new network technology that can help mobile communications providers bridge the gap between current 4G networks and the future 5G one.
The extent to which Nokia has hung its fate on mobile and cloud communications can be seen from its full-year 2016 revenue breakdown. After combining with Alcatel-Lucent, more than 90% of the new company's revenue comes from broadband and IP network solutions.
| Business Segment | 2016 Revenue |
| --- | --- |
| Network business | 21.80 billion euros |
| Technology division | 1.05 billion euros |
| Other | 1.15 billion euros |
Data source: Nokia 2016 earnings results.
Now that Nokia's transformation into a networking company is complete, emphasis on cost control and cost-cutting has begun. While the bottom line for full-year 2016 was red -- a 912 million euro loss, to be exact -- the new sales from the acquisition and subsequent cost management helped the fourth-quarter bottom line rise to a 658 million euro profit.
Image source: Getty Images.
Boosting outlook from a long-forgotten favorite
For many of us, Nokia may still be synonymous with mobile phones prior to the advent of the smart phone. While that business segment still exists (it falls under Nokia Technologies division in the above chart), it has evolved into a licensing business model rather than an in-house affair.
Nokia's phone business is now licensed out to a company called HMD Global Oy, which was founded by old Nokia execs. That means Nokia receives royalty payments, an incredibly profitable business model compared with its other segments. Here are the operating level profits for each segment:
| Business Segment | 2016 Operating Profit |
| --- | --- |
| Network business | 1.94 billion euros |
| Technology division | 579 million euros |
| Other | (341 million euros) |
Data source: Nokia 2016 earnings results.
Even though the technology division makes up less than 5% of total revenue, it accounts for about one-quarter of operating-level profit. As a result, investors should pay attention to that mobile phone segment.
At Mobile World Congress, Nokia's attractively priced smart phones were featured, but it was the minimalist throwback 3310 that stole the show. (Remember those old internet memes like "If a Nokia 3310 hits Chuck Norris, the Nokia wins"?) For those who are ready to ditch high-tech connectivity for near-indestructible build and up to a month of battery life on standby mode, the reincarnated 3310 is for you.
Image source: Nokia.
What that means for investors is that, even though phones aren't Nokia's M.O. any longer, the company could get a boost if the hype is real and it sells a lot of those new 3310s. The new lineup of low-priced smart phones could give the likes of Apple and Samsungsome competition as well.
A value play, or value trap?
Even with renewed interest in its old business of phone making, most of Nokia's efforts revolve around next-gen networks and cost savings now that the Alcatel-Lucent merger is finished. That ugly "Other" line item running an operating loss, for example.
Data by YCharts.
However, early efforts could be paying off. As of last quarter, net profits are back in the black and much of the company's efforts around 5G networks won't even begin to yield any return until next year at the earliest. Investors interested in a value play should take a look, but expect a bumpy ride.
10 stocks we like better than NokiaWhen investing geniuses David and Tom Gardner have a stock tip, it can pay to listen. After all, the newsletter they have run for over a decade, Motley Fool Stock Advisor, has tripled the market.*
David and Tom just revealed what they believe are the 10 best stocks for investors to buy right now... and Nokia wasn't one of them! That's right -- they think these 10 stocks are even better buys.
Click here to learn about these picks!
*Stock Advisor returns as of February 6, 2017
Nicholas Rossolillo owns shares of AAPL. The Motley Fool owns shares of and recommends AAPL. The Motley Fool has the following options: long January 2018 $90 calls on AAPL and short January 2018 $95 calls on AAPL. The Motley Fool has a disclosure policy.