Should Investors Be Worried About TripAdvisor's Q1 Earnings and Revenue Misses?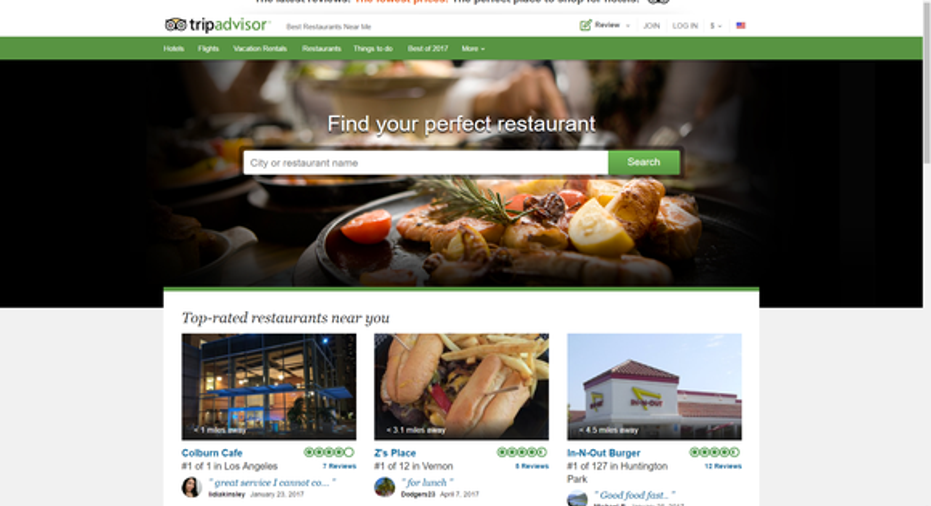 It wasn't a particularly good trip forTripAdvisor(NASDAQ: TRIP). The company's Q1 earnings, published earlier this month, revealed that it grew revenue less than expected. Meanwhile, adjusted net profit cratered by nearly 30% on a year-over-year basis. Both figures missed the average analyst projections, and the earnings whiff was the company's fourth in the past five reported quarters.
No investor likes to see a company fall short of expectations. Let's dig in a little to see if this is part of a worrying, long-term trend, or just a little air turbulence for the online travel agency (OTA).
Beyond advice
We should realize that much is expected of TripAdvisor, and the wider OTA space, from investors. After all, the travel industry has been booming this decade; the growth of worldwide tourism has consistently outpaced global GDP for six years in a row.
Yes, TripAdvisor and some of its peers haven't met expectations recently, but if we zoom out a little we see they're still growing at enviable rates. Over the past five years, TripAdvisor's revenue has nearly doubled, rising from $763 million in fiscal 2012 to almost $1.5 billion last year.
That compares well with the duopoly at the top of the OTA segment,Priceline Group(NASDAQ: PCLN) andExpedia(NASDAQ: EXPE). Priceline's annual revenue similarly ballooned across the same stretch of time, from nearly $5.3 billion to $10.7 billion. The same applies to Expedia, from just over $4.0 billion to $8.8 billion.
Priceline and Expedia, however, have had productive and revenue-growing assets for many years; the same can't really be said of TripAdvisor. After all, the company started as an accommodations-review site, with minimal sources of income.
Sensibly enough, it decided to pivot somewhat, tacking on booking services to its site just over three years ago, in a rollout that was only completed last year. Meanwhile, it subsequently launched a subscription marketing platform for hotels and restaurants.
IMAGE SOURCE: TRIPADVISOR
No good business transition is cheap, quick, or easy, and expanding in these very sensible directions has increased costs and dampened profitability. Selling, general, and administrative expenses have accelerated more rapidly than revenue, rising from $429 million in 2012 to over $1.1 billion last year.
That dynamic probably won't change in the near future. Unlike Priceline and Expedia, which are strongly identified with booking services, TripAdvisor is still associated with user reviews. To shift this perception, it's gearing up for a brand advertising campaign to boost consumer awareness of its booking services.
This Fool's take
So once TripAdvisor's brand identity morphs into more or less a traditional OTA, I think the company will start to produce results at or higher than the market's expectations.
The thing is, many investors seem to be anticipating that future, too. Despite a sharp pull-back in TripAdvisor's share price following the company's disappointing Q4 and fiscal 2016 earnings release in February, the stock is still expensive compared with Priceline and Expedia. TripAdvisor currently trades at a forward P/E of 33, with its five year P/E-to-growth ratio standing at almost 7.
Those figures for its two monster rivals are 21 and 1.4, and 21 and 1.3. That's a big difference.
While TripAdvisor's future is brighter than its recent earnings might indicate, investors still might be better served holding off on buying the stock -- or perhaps loading up on Priceline and/or Expedia instead. TripAdvisor is not exactly a bargain, even though the company is dynamic and loaded with potential.
10 stocks we like better than TripAdvisorWhen investing geniuses David and Tom Gardner have a stock tip, it can pay to listen. After all, the newsletter they have run for over a decade, Motley Fool Stock Advisor, has tripled the market.*
David and Tom just revealed what they believe are the 10 best stocks for investors to buy right now... and TripAdvisor wasn't one of them! That's right -- they think these 10 stocks are even better buys.
Click here to learn about these picks!
*Stock Advisor returns as of May 1, 2017
Eric Volkman has no position in any stocks mentioned. The Motley Fool owns shares of and recommends Priceline Group and TripAdvisor. The Motley Fool has a disclosure policy.