Should I Buy Netflix Stock in 2017?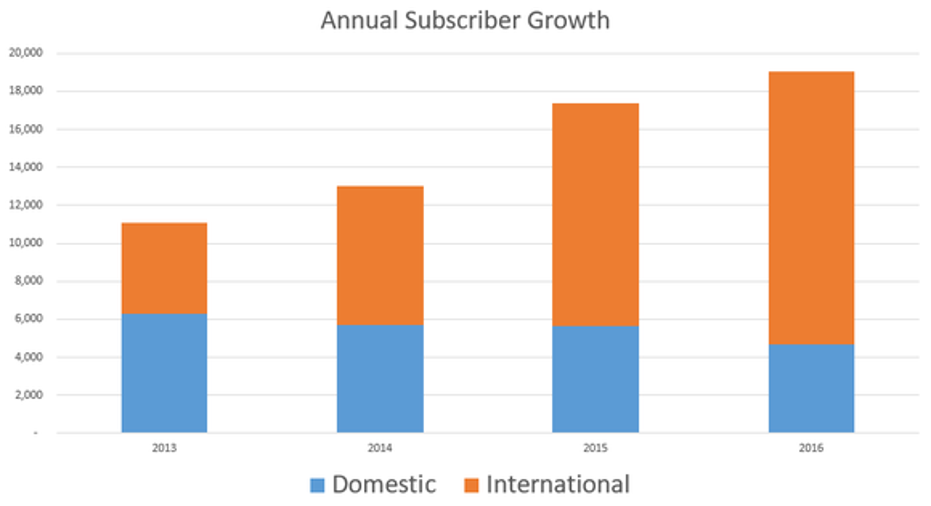 2017 is shaping up to be a critical period for Netflix's (NASDAQ: NFLX) business. Following several years of heavy investment spending, the streaming video giant is finally beginning to cash in on its dominant global market position.
And its growth prospects look as strong as they ever have. Netflix will pass 100 million subscribers this year -- up from 75 million users at the end of 2015 -- thanks to a big assist from international markets.
Yet at over $60 billion in market capitalization, the stock isn't cheap. That valuation raises the risk that a management misstep or growth slowdown will be met with a huge price decline. Other caution flags for prospective investors include negative cash flow, spiking content costs, and surging competition.
Image source: Netflix.
Why you should buy Netflix stock
The bullish thesis rests on the fact that Netflix is leading the charge in a global shift away from broadcast television toward internet TV. And given its latest results, the industry seems much closer to the beginning of this move than to the end. Subscriber additions jumped to a 19 million user pace last year from 17 million in 2015. That marked Netflix's fourth consecutive year of accelerating growth gains.
Data source: Netflix. Chart by author.
The company didn't have to sacrifice profitability to achieve those impressive results, either. In fact, they occurred while Netflix raised prices in its core U.S. market and across many of its biggest international geographies. Despite a few bumps along the way, TV fans generally took the extra fees in stride, which suggests they're seeing plenty of value in the increasingly exclusive package of content that Netflix is offering them.
With pricing power on its side, and with the international segment set to grow quickly over the next decade while maturing toward the U.S. division's huge profit margin, there's a clear path for Netflix to generate sharply higher earnings over the long term.
In discussing the fundamental disruption occurring in the TV industry today, CEO Reed Hastings and his team predict that the internet TV era is "likely to be very big and enduring," in the same way that, say, radio was for five decades before linear TV took over in the 1950s and 1960s. "Changes of this magnitude are rare," executives explain. The same can be said about Netflix's stock, which offers a rare front-row seat from which investors can watch a massive realignment of the home entertainment sector.
Why you should not buy Netflix stock
On the other hand, this stock isn't for you if you're hunting for obvious bargains. Shares are priced at over 300 times the $187 million of net income that the streamer generated over the past 12 months.Sure, profit margins are set to double in 2017, but it will take years of market-thumping growth in this metric before Netflix earns the valuation premium that Wall Street has assigned to the stock.
Ditto if you're the type of investor who can't handle stomach-churning volatility. Netflix shareholders frequently endure sharp short-term losses, including a 15% dive in one day last July. And it was only a few years ago that the stock lost 70% of its value following its Qwikster debacle. The long-term ride has been profitable for patient investors, but it likely damaged many portfolios along the way as nervous shareholders cashed out after big declines.
Even the most steadfast shareholders will want to keep an eye on Netflix's falling cash balances, given that management expects to burn through $2 billion in 2017 compared to $1.7 billion last year. That spending boosted the brand by creating a more exclusive-content-focused portfolio of shows and movies for subscribers. It has also contributed to spiking costs for TV content across the industry, which could threaten management's long-term profit plans if it gets out of hand.
10 stocks we like better than NetflixWhen investing geniuses David and Tom Gardner have a stock tip, it can pay to listen. After all, the newsletter they have run for over a decade, Motley Fool Stock Advisor, has tripled the market.*
David and Tom just revealed what they believe are the 10 best stocks for investors to buy right now... and Netflix wasn't one of them! That's right -- they think these 10 stocks are even better buys.
Click here to learn about these picks!
*Stock Advisor returns as of February 6, 2017
Demitrios Kalogeropoulos owns shares of Netflix. The Motley Fool owns shares of and recommends Netflix. The Motley Fool has a disclosure policy.