Should Gilead Sciences Acquire NewLink Genetics?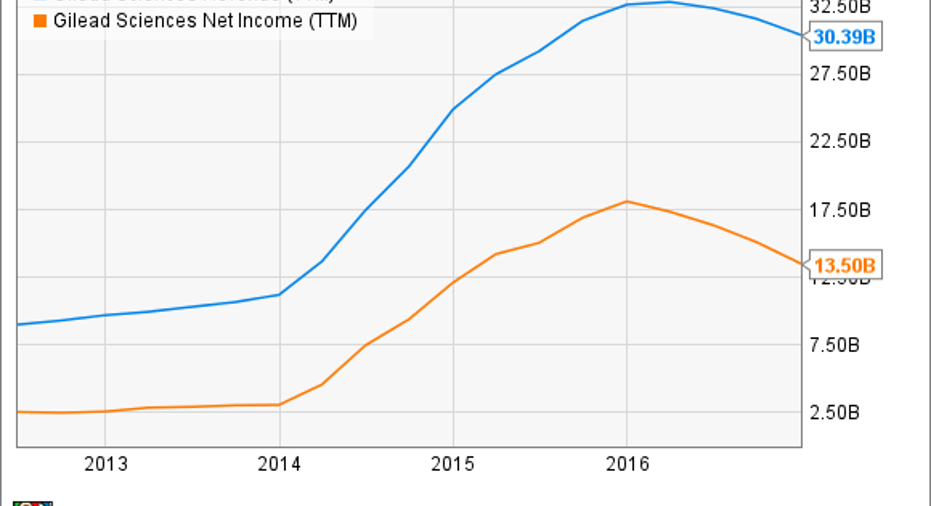 Gilead Sciences (NASDAQ: GILD) sales (and its share price!) are nose-diving because of stiff competition for its top-selling hepatitis C drugs, and that's got everyone wondering if management will uncork its cash flow and make some acquisitions to rekindle growth.It's anyone's guess what management might do with its financial firepower, but I think it ought to be kicking tires at NewLink Genetics (NASDAQ: NLNK).
Tough times
It wasn't that long ago when Gilead Sciences could do no wrong.
IMAGE SOURCE: GETTY IMAGES.
The company launched Sovaldi in December 2013 and Harvoni in October 2014 -- two of the most remarkable drugs ever developed. Those two drugs reshaped hepatitis C treatment by delivering 90%-plus functional cure rates with fewer side effects and shorter treatment duration than prior therapies.The drugs were so effective and safe that doctors rushed to prescribe them, sending Gilead Sciences' sales and profit skyrocketing between 2014 and 2016.
GILD Revenue (TTM) data by YCharts
Since then, however, Gilead Sciences has become a victim of its own success. Sovaldi and Harvoni were the only game in town when they launched, and they were priced accordingly. Now, however, AbbVie (NYSE: ABBV) and Merck & Co. (NYSE: MRK) market competing drugs offering similar cure rates and lower prices, and that's forced Gilead Sciences to cut its own prices to maintain its market share. Because of the pricing pressure, thecompany's worldwide sales and net earnings declined 7% and 18%, respectively, in 2016.
Falling short
A few years ago, Gilead Sciences boasted an intriguing cancer drug pipeline that included Zydelig, a promising drug for treating chronic lymphocytic leukemia.
Management hoped Zydelig could serve as a foundation for a robust cancer drug franchise, but unfortunately, it hasn't panned out that way. Zydelig won FDA approval in 2014, but safety concerns made it less attractive than Imbruvica, a competing drug that launched around the same time.
Eventually, Zydelig's safety concerns led management to shutter development of it in other indications, and Zydelig's become a niche drug with only $168 million in sales last year.
Gilead Sciences says it hasn't given up on its ambition to become a top player in cancer treatment, but in my view, there's little in its internal pipeline that could be considered a needle mover.
Why NewLink Genetics?
Assuming Gilead Sciences' remains committed to cancer, I think they ought to focus on acquiring companies working on next-generation cancer fighting drugs, such as IDO inhibitors.
Indoleamine 2,3-dioxygenase (IDO) is a natural protein that suppresses the immune system, and sometimes cancer cells hijack it to survive. IDO-inhibitors disable the protein, thereby removing cancer cells' ability to evade detection. So far, trial results suggest that inhibiting IDO could be a very important weapon in the fight against different types of cancer.
Currently, the most advanced IDO-inhibitor in development isIncyte's (NASDAQ: INCY) epacadostat. However, NewLink Geneticsis developing two IDO-inhibitors: indoximod and GDC-0919; andits valuation is a fraction of Incyte's.
NewLink Genetics recentlyreported results from a study evaluating indoximod alongside Merck & Co.'s Keytruda, a checkpoint inhibitor, and that data showed that 73% of patients with advanced melanoma responded to the one-two combination. The result was impressive considering that Keytruda won approval as a monotherapy in this indication after delivering a 33% response rate.
Despite the solid showing, many industry watchers believe that epacadostat delivers a better blend of efficacy and safety because it targets IDO directly. Unlike epacadostat, indoximod disables IDO via cell signaling.
While it's true that indoximod might not be as robust of an IDO-inhibitor as epacadostat (no head-to-head studies are planned, nor are they likely to happen), NewLink's GDC-0919 does work similarly to epacadostat, and results are expected later this year from an early stage trial that's being conducted with collaboration partner Roche Holdings(NASDAQOTH: RHHBY) in patients with solid tumors.
Admittedly, epacadostat is further along in development, but Incyte's market cap is $24 billion, and historically, Gilead Sciences' has avoided paying premium valuations for acquisitions. Since NewLink Genetics market cap is only $537 million, and it has two IDO-inhibitors in the works, I feel like it's a bigger bargain.
If Gilead Sciences were to make this deal, it would take on the risk of trial failures. It would also have to share GDC-0919's success with Roche. Nevertheless, at this price, I'd be willing to accept those trade-offs.
10 stocks we like better than NewLink GeneticsWhen investing geniuses David and Tom Gardner have a stock tip, it can pay to listen. After all, the newsletter they have run for over a decade, Motley Fool Stock Advisor, has tripled the market.*
David and Tom just revealed what they believe are the 10 best stocks for investors to buy right now... and NewLink Genetics wasn't one of them! That's right -- they think these 10 stocks are even better buys.
Click here to learn about these picks!
*Stock Advisor returns as of April 3, 2017
Todd Campbell owns shares of Gilead Sciences.His clients may have positions in the companies mentioned.The Motley Fool owns shares of and recommends Gilead Sciences. The Motley Fool has the following options: short June 2017 $70 calls on Gilead Sciences. The Motley Fool has a disclosure policy.