Should Ford Motor Company Investors Be Happy With Lincoln's Progress?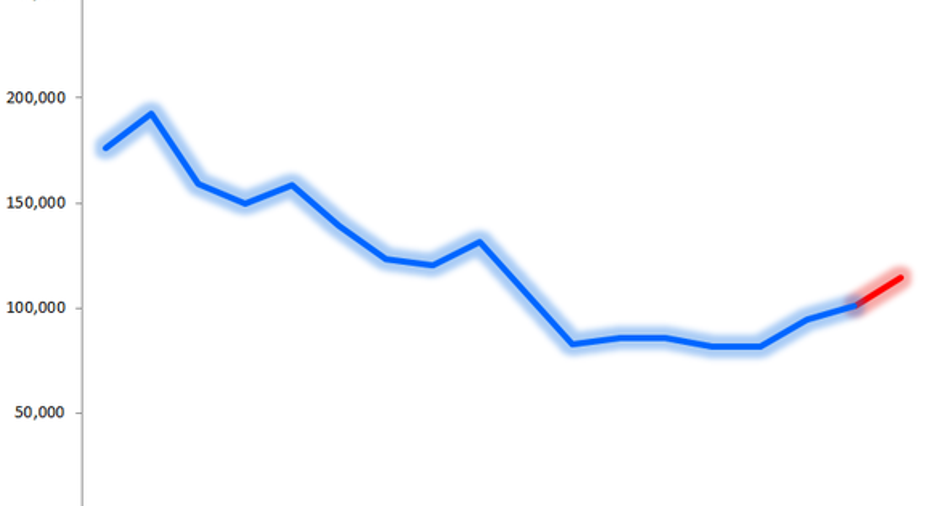 Ford/Lincoln's MKC in a Chinese store. Image source: Ford Motor Company.
A couple of yearsago, there were numerous reasons to be a Ford Motor Company bull. It was easy to see how Ford could grow its bottom line at a rapid clip: Its sales in China were accelerating, Ford Credit was highly profitable, the turnaround in Europe was gaining traction, and sales of SUVs and trucks were gaining momentum globally. Another reason to be bullish was the potential turnaround of the Lincoln brand, but investors were cautious, thinking it could take a decade to bear fruit.
The decade timeline might end up being correct -- we'll just have to wait and see -- but the progress Lincoln has made in the past couple of years is encouraging, and often overlooked.
A quick look at sales
Lincoln's best two sales years in history were in 1989, with 200,315 units, and 1990, with a peak of 231,660 units. Starting in 1999, though, the sales graph looks like an endless staircase lower.
Information source: GoodCarBadCar.net. Author estimated 2016 using 13% YTD gain.
Finally, 2014 marked the start of a turnaround, and 2015 was the first time in more than a decade that Lincoln posted consecutive annual sales gains. Looking at 2016, sales are up 13% year to date, which puts Lincoln on pace to extend that streak to three consecutive years.
The all-new MKC debuted in 2015, and drove sales higher for the brand. It then passed the baton to the redesigned MKX, which has posted a 72% year-to-date jump in sales and became the brand's best-selling vehicle through June at just over 15,000 units.
It goes beyond sales, too. Looking at the past half-decade of J.D. Power and Associates' Customer Service Index rankings, Lincoln has dramatically improved. In 2012, Lincoln was graded "Below average," and ranked 10thamong luxury brands. 2013 also brought a "Below average," with a slightly improved ranking of eighth. Since then, though, Lincoln has scored "Above average" each of the past three years, with rankings of fourth, fourth, and fifth, sequentially.
What's next?
In three words: differentiation, Continental, and China. In an attempt to further improve its customer service and differentiate itself from other luxury brands, Lincoln is adding the luxury segment's only standard pickup and delivery service across all 2017 nameplates.
The details are simple: Lincoln's service valet will pick up a customer's vehicle at an agreed-upon location and take it to the dealership for service, while leaving the customer with a Lincoln of equal or greater value to use as a loaner. The valet will return the customer's vehicle when the service/repair work is complete.
The results of a test at a select group of dealers since May 2015 were very positive. Ninety-eight percent of customers indicated they would be more likely to complete service from that Lincoln dealer going forward, and 98% also noted they would recommend Lincoln and the service to a friend. Ninety-three percent also commented that they would likely purchase another Lincoln, which is a very high loyalty rate in the automotive industry. The recent average loyalty rate for all auto brands in the U.S. market has typically hovered around 50% or lower.
Lincoln's Continental. Image source: Ford Motor Company.
The next two factors, the Lincoln Continental and China, almost go hand in hand. When speaking about Lincoln's two peak years in 1989 and 1990, the driving force was largely the popularity of the redesigned Continental.
Chances are that the Continental won't be able to bring Lincoln back to its glory days in the U.S. immediately, especially at a time when consumers are increasingly trading in sedans for SUVs, but it will rope in a higher average-transaction price than the MKS sedan it replaces, and should help Lincoln gain traction in China -- a luxury market it needs to crack.
Lincoln's sales in China during the first half of 2016 reached 12,450 units, nearly tripling the amount during the same time period last year, and already topping 2015's full-year sales mark of 11,630. Chinese consumers have received the Lincoln brand well, and Ford continues to open Lincoln dealerships -- 45 dealerships are currently operating in China. Furthermore, if the Continental takes off in China, Ford could pull the trigger to produce the vehicles in China, which removes a 25% import tax on the vehicles.
Why it matters
The rule of thumb for luxury vehicles has been that while the segment accounts for roughly 10% of sales, it generates 30% of industry profits. In an industry where margins aren't remarkable, luxury vehicles offer a fatter bottom line and incremental sales to a mainstream brand. If Lincoln continues to improve its sales in the U.S., differentiate its brand with new pickup services, and crack the Chinese luxury market, this Lincoln turnaround will be on the fast track.
The article Should Ford Motor Company Investors Be Happy With Lincoln's Progress? originally appeared on Fool.com.
Daniel Miller owns shares of Ford. The Motley Fool owns shares of and recommends Ford. Try any of our Foolish newsletter services free for 30 days. We Fools may not all hold the same opinions, but we all believe that considering a diverse range of insights makes us better investors. The Motley Fool has a disclosure policy.
Copyright 1995 - 2016 The Motley Fool, LLC. All rights reserved. The Motley Fool has a disclosure policy.