Should Dick's Sporting Goods Bother With Sports Authority's Assets?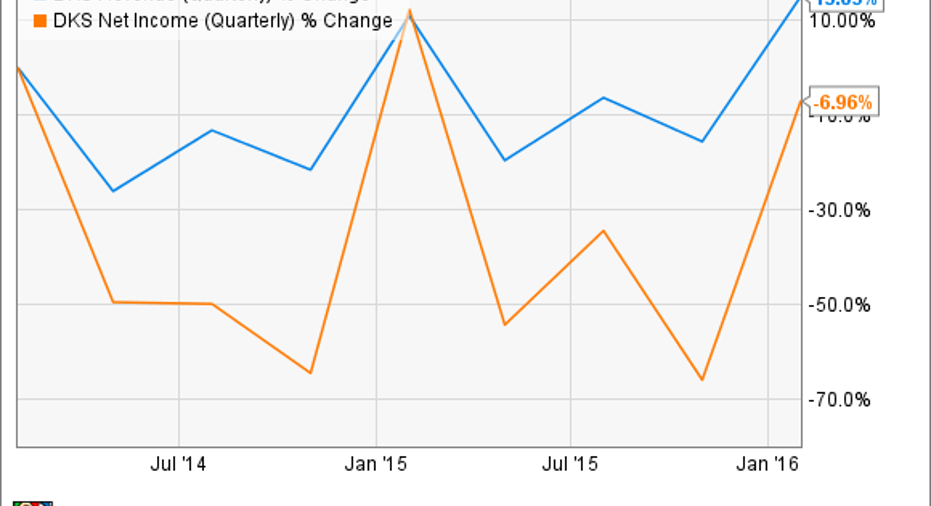 Image credit: Dick's Sporting Goods.
Since filing for chapter 11 bankruptcy protection in March, athletic retailer Sports Authority has garnered quite a bit of attention. Rather than reorganize operations under bankruptcy, the company has decided to close down and put itself up for sale. While shoppers flock to closing stores in search of deals, rivals of the defunct business have started submitting letters of interest to buy up remaining assets. Dick's Sporting Goods , the largest sporting-goods retailer in the country, is reportedly one of those rivals showing some interest in the sale. What would this look like for Dick's Sporting Goods, and would it be a good idea?
Creditors of Sports Authority have claims against the company exceeding $1.5 billion. Items up for sale include inventory, 450 owned or leased stores, and the company website. It is yet unknown if the business will get chopped up into pieces or if creditors will seek to sell all of the business in one convenient package to the highest bidder. There is nothing up for sale that Dick's doesn't already have, so what is there to begained?
Location, location, locationThe only benefit I see in a purchase for Dick's is the acquisition of new locations. Although the company is the largest sporting-goods retailer, it claims only about 10% of total market share for the sporting-goods industry. The other top five sporting-goods retailers, which includes Sports Authority, make up 23% of the market. Dick's currently operates nearly 650 stores nationwide, and over 100 specialty store concepts, mainly Field & Stream and Golf Galaxy. It could see value in adding some of the 450 Sports Authority locations that would potentially open up new geographical markets.
While there is quite a bit of overlap in locations of the two chains, Dick'sdoes not havestores in Alaska, Hawaii, and Montana and could gain access in those markets from acquisitions. Sports Authority also has a higher concentration of stores in the largest US markets. For example,Dick's could pick up thetwo Sports Authoritystoresin New York City where its store count is currently zero, increase its presence in the greaterLos Angeles area, increase itsChicago store count from two to six, and add access to the Houston market with thefive Sports Authoritystores there. The addition of theextra store count could also help with the "buy online pickup in store" push. Dick's cites this initiative as one of the ways it has grown its online business. Adding locations in new marketscould woo over more customers and help the company continue to grow Internet sales.
Over the past few years, Dick's has been expanding its store front count quite aggressively. During 2015, the company added 41 new Dick's Sporting Goods and six new specialty stores, with expenditures on construction totaling $370 million. In 2014, it added 45 Dick's Sporting Goods and seven specialty stores, with those expenditures totaling $349 million. This is another year of planned expansion. Back in March, during its last earnings report, the company stated plans to add 36 new Dick's Sporting Goods and 11 Golf Galaxy and Field and Stream stores, with expenditures on those estimated at $420 million. Perhaps a favorable purchase price of the defunct Sports Authority assets would be a way for the company to expand at a discount to current expansion estimates.
Are these expansion efforts paying off? The new store additions represent more than a 15% increase in store count in two years. Revenue has risen by the same amount during that time, but profit has fallen by 7%, in large part because of those expansion efforts.
DKS Revenue (Quarterly) data by YCharts
Despite the fall in profit, the company clearly has shown the ability to generate new sales with its new stores. I think a favorable price for any Sports Authority real estate might help them realize gains in profit later, if the price tag was less than what the company is currently paying for new build outs.
Should Dick's Sporting Goods even bother?While a deal could possibly work out between Dick's and Sports Authority's creditors, it might be advisable for the larger chain to stay away.Sports Authority, by its own admission, is waving the white flag because it operates a business that's struggling with increased competition because of the advent of the online shopping experience.
Could Dick's end up making a badinvestment should it take on the extra real estate? Yes, it could. But Dick's has taken steps to address this matter. Online sales have been a big part of the company's investments each year and a key driver for growth. E-commerce sales grew almost 12% for the company in 2015, and more than $1 out of every $10 of revenue was earned online. Meanwhile, same-store sales decreased 0.2%. Seeing headwinds to store sales growth, the company plans to invest as much as $55 million to enhance customers' shopping experience and support online sales initiatives.
With this push into e-sales, which carries lower overhead than a bricks-and-mortar store and gives customers more flexibility as to when and where they shop, a purchase of all Sports Authority assets suddenly look less attractive.Apartial purchase that expanded its footprint into new locations for the purpose of online sales and in-store pickup would be more advisable. Perhaps Dick's would be betteroff funneling even more money into online sales and advertisingin lieu of store expansion.
What an ideal purchase would look likeA deal that balancedphysicaland online growth goalswould end up being the best case for Dick's Sporting Goods. If an agreement with Sports Authority creditors could be worked out where partial real estate was assumed in markets Dick's currently has no presence in, it would make sense for the company to pull the trigger as it already has store expansion plans in place. This approach could possibly help the largest sporting-goods chain continue its physical growth at a discount, while also helping expand its "buy online pickup in store" campaign. Investors can expect more news as the auction date of May 16 nears.
The article Should Dick's Sporting Goods Bother With Sports Authority's Assets? originally appeared on Fool.com.
Nicholas Rossolillo has no position in any stocks mentioned. The Motley Fool has no position in any of the stocks mentioned. Try any of our Foolish newsletter services free for 30 days. We Fools may not all hold the same opinions, but we all believe that considering a diverse range of insights makes us better investors. The Motley Fool has a disclosure policy.
Copyright 1995 - 2016 The Motley Fool, LLC. All rights reserved. The Motley Fool has a disclosure policy.