Shortage expected after floods smother Hawaii staple crop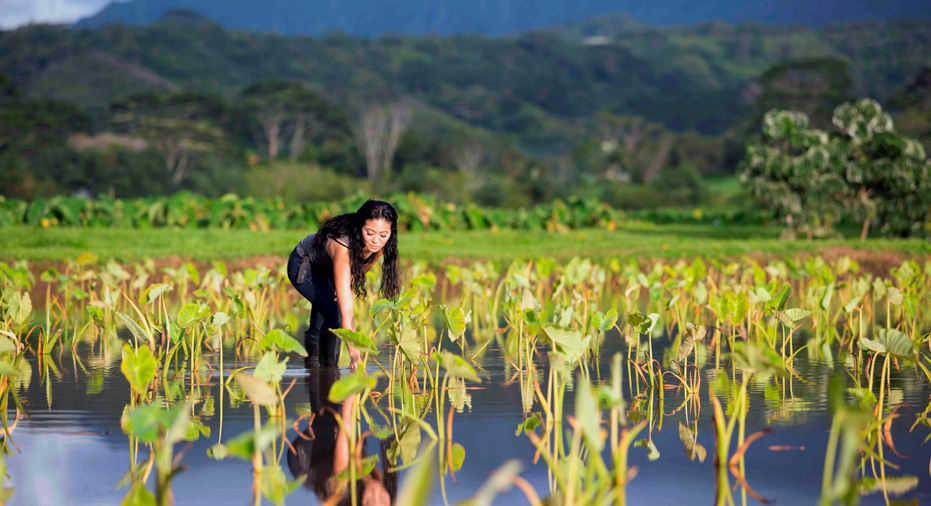 Farmers on the Hawaiian island of Kauai say their state should brace for a shortage of its taro crop, a staple of the traditional Hawaiian diet, after record-breaking rains flooded their fields.
The deluge hit the north shore community of Hanalei particularly hard. The region grows most of Hawaii's taro, a starchy root vegetable used to make poi. The purple, glutinous dish is a traditional part of Hawaiian cuisine, sold at grocery stores and served in homes and restaurants statewide.
The state's taro crop was valued at $2.5 million last year, according to the U.S. Agriculture Department.
Farmers say last month's floods smothered their taro patches with mud and silt, which turns their crop watery and spongey. They suspect they'll suffer from dramatically reduced yields for at least a year.
The downpour also destroyed seven Kauai homes and badly damaged 65, the state said in a preliminary assessment. It triggered dozens of landslides, including more than 12 on a 2-mile (3-kilometer) stretch of the area's main artery, a highway traveling through coastal communities.
Agriculture Secretary Sonny Perdue has designated the entire island a disaster area, which makes local farmers eligible for federal assistance, including emergency loans.
Bino Fitzgerald, owner of the Hanalei Poi Co., which both farms and buys taro to make poi, expects a shortage of the crop to emerge as soon as this summer. The company sells its poi across Hawaii at stores like Costco, Safeway, Walmart and the local supermarket chain Foodland.
"So get your poi fix now," he said.
Taro is perhaps the most important crop in Hawaiian culture. More than part of a meal, it's a member of the family: According to legend, the taro plant and the boy who became the first human were born to the same parents. This gives taro and humans common ancestors.
Hanalei's taro fields are a defining part of the landscape on Kauai's north shore. They evoke a time when taro farming and fishing dominated island life, before sugar plantations diverted stream water and industrialization encouraged migration to cities.
The mid-April floods sent brown mud and water cascading into these fields.
The muck is packed with nitrogen, so it's as though a big kick of fertilizer walloped taro patches. It's nourishing for the taro's stalk and leaves but makes its corm, or underground bulb, watery and spongey. The Hawaiian term for this is "loliloli."
The perfect taro is heavy and dense and mashes into smooth poi. Loliloli taro produces lumpy poi.
Taro also can be cut into cubes and simmered in stews or sliced thin and fried to make a snack similar to potato chips.
Newly planted taro won't be ready for harvest for another year to 14 months. Many farmers are still cleaning their fields and won't be able to replant for months, delaying a robust harvest even further.
The floods also took out some of the irrigation systems that bring a steady flow of fresh water to Hanalei's taro fields, many of which are part of a national wildlife refuge for endangered native water birds.
"Rivers have cut new channels to where they want to flow compared to where they had been before, feeding these old, old irrigation ditches, said Fitzgerald, whose company farms 25 acres and manages another 40 farmed by others. The Hanalei Poi Co. also buys taro from 12 area farmers.
Hanalei Valley frequently floods, but last month's deluge was on another scale. Fitzgerald said his mother's shop has gotten 6 inches (15 centimeters) of water in past storms. This time, it got 5 feet (1.5 meters).
The rain may enter the national record books. Preliminary data taken from a rain gauge in Waipa, next to Hanalei, indicates 49.69 inches (126.21 centimeters) of rain fell in the 24 hours through midday on April 15. If a national panel of experts certifies this number, it will smash the existing record for a single 24-hour period of 43 inches (109.22 centimeters) marked in Alvin, Texas, in 1979.
Lyndsey Haraguchi-Nakayama said damage from the flooding was the worst her family has seen — including her 96-year-old grandfather. It did more harm to their 55-acre farm than Hurricane Iniki, a Category 4 storm that slammed Kauai in 1992.
Newly planted fields are washed out. Older fields that survived are suffocating under silt.
Many of the family's tractors are unusable, and all of their trucks are a loss. Her grandparents' home — a farmhouse occupied by her family for over 100 years — looks like a drunken driver slammed into its walls, she said.
She said she doesn't cry in front of her children because she wants them to know the family will pull through.
"You can't stop a huge flood. You can't stop a hurricane from coming. There will always been challenges in life," Haraguchi-Nakayama said. "I just want them to know it's OK to be devastated, but we're going to be as positive as possible."