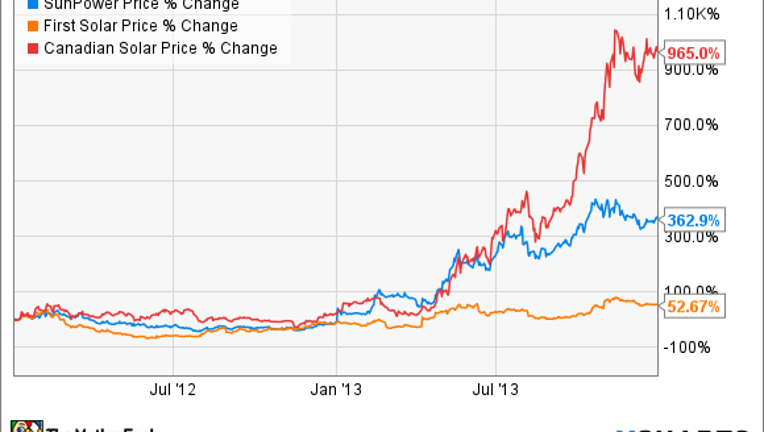 Investors on Wall Street have become more and more pessimistic about solar energy stocks over the last two years as hard times hit many of the industry's leaders. And as more investors shorted shares of SunPower (NASDAQ: SPWR), First Solar (NASDAQ: FSLR), and Canadian Solar (NASDAQ: CSIQ) , the stocks fell. That short-selling didn't help, but the decline was primarily due to the companies' deteriorating finances and the expectations for a bad year for solar power in 2017.
But as 2017 progresses, the news for the solar industry is getting better. Based on the latest data, demand for solar is expected to rise from now through 2020, and consolidation in the industry will leave fewer competitors with scale, which should allow the survivors to produce better margins. Here's why the short interest in solar stocks could be good for investors buying into the industry today.
Image source: Getty Images.
The big short
The chart below shows just how much investors have bet against solar stocks. Currently, 34% of SunPower shares are sold short, and First Solar and Canadian Solar have large short interests as well.
SPWR Short Interest data by YCharts
Broadly, you can see that the short interest has been rising. Eventually, that bearishness may come back to haunt investors, particularly if 2017 earnings are better than expected.
Why short-sellers might be wrong
There are a few signs emerging that could be working against the short-selling thesis.
The global solar industry isn't going to contract as projected in 2017, it's going to expand. As recently as November, GTM Research thought the solar industry would contract 10% in 2017 from the 78 GW in 2016. But GTM Research now predicts 85 GW of solar will be installed in 2017, about 10% growth. That should mean more demand for all solar components in the supply chain.
Suppliers are consolidating as weaker players file for bankruptcy or sell off assets. This will give remaining players more pricing power and higher capacity utilization.
High-quality, high-efficiency products are now commanding a premium, which will lead to better financial performance long-term.
Investors betting against the leading solar stocks are fighting all of these trends. There will certainly be more bankruptcies this year, but betting against SunPower and First Solar, in particular, doesn't seem like a wise move. SunPower is controlled by French oil giant Total, which is unlikely to let its solar arm fail, and First Solar has around $2 billion in cash on the balance sheet.
Is a short squeeze around the corner?
The last time solar stocks traded like this was 2012. The market was flush with solar panels, prices for panels and projects were falling, and there were a number of high-profile bankruptcies. Early 2017 felt a lot like that.
But as 2012 wore on and we moved into 2013, the industry recovered and began to grow profitably again -- and stocks recovered quickly. I don't know if gains of nearly 10 times (as Canadian Solar delivered) are in store again, but they aren't out of the realm of possibility if finances recover and short-sellers have to buy back their stock.
The high short interest is worth noting for investors if financial performance for solar companies improves in 2017. There could be a lot of upside considering the pessimism priced into the stock. And a short squeeze isn't out of the question either.
10 stocks we like better than SunPowerWhen investing geniuses David and Tom Gardner have a stock tip, it can pay to listen. After all, the newsletter they have run for over a decade, Motley Fool Stock Advisor, has tripled the market.*
David and Tom just revealed what they believe are the 10 best stocks for investors to buy right now... and SunPower wasn't one of them! That's right -- they think these 10 stocks are even better buys.
Click here to learn about these picks!
*Stock Advisor returns as of April 3, 2017
Travis Hoium owns shares of First Solar and SunPower. The Motley Fool has no position in any of the stocks mentioned. The Motley Fool has a disclosure policy.