Short-Sellers Are Piling Onto Fitbit, Inc.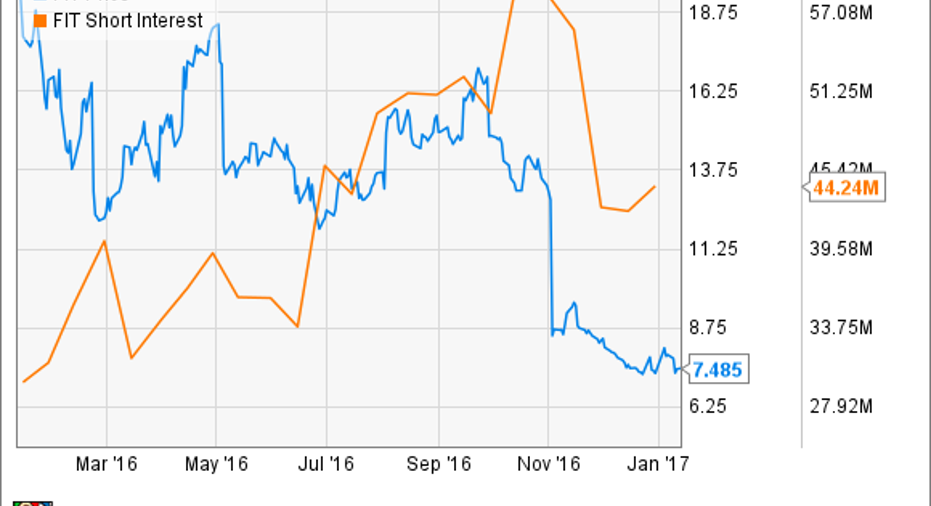 Image source: Fitbit.
Times are tough for Fitbit (NYSE: FIT), and investor pessimism is on the rise. According to a report by financial analytics company S3 Partners (via Business Insider), short interest in Fitbit has utterly skyrocketed in the first couple of weeks of the year. "Short sellers have added more than 20 million shares over the first two weeks of 2017, bringing the total amount of shares on loan to close to 50% of float," according to S3.
Should investors be concerned about the shorts piling on?
Not what you'd expect
Interestingly enough, all the short-selling activity so far in 2017 hasn't really affected share prices negatively; Fitbit shares are up a modest 2% year to date. Perhaps just as interesting is the fact that Fitbit's plunge between November and December of last year coincided with a meaningful decline in short interest, just about the opposite of what you'd expect.
There are a few possible ways to read both of those observations. For starters, the sell-off at the end of 2016 seems largely driven by long investors selling out their positions, potentially in response to a string of negative developments that hit Fitbit in the tail end of 2016. The company issued particularly weak guidance for the fourth quarter in November, and there are numerous pieces of evidence that the company may have suffered weak demand over the holiday shopping season, leading to potentially elevated levels of channel inventory sitting on shelves at retailers.
However, it's actually somewhat encouraging that shares have held up relatively well thus far in 2017 in light of significant increases in short interest.
Shares could already be bottoming out
Here's the thing about the recent surge in shorts: They might be too late. I happen to believe that Fitbit is in the process of bottoming out, and investor pessimism may be in the process of peaking as we speak. With investor sentiment being as bad as it is right now, a little bit of good news can potentially trigger a powerful short squeeze.
To be clear, Fitbit is facing some very real headwinds right now, and investors probably don't have a lot to look forward to when the company reports fourth-quarter earnings (expected in late February). The most potential for relief could come in the form of full-year 2017 guidance. If Fitbit forecasts strong sales for this year, bears could be in store for some pain.
But shares have now become incredibly cheap, trading at just 16.3 times earnings. That's a non-trivial discount to the broader market, which is currently trading at around 26 times earnings. Fitbit's price-to-sales ratio is now just 0.7.
And we're talking about a company that's still putting up healthy top-line revenue growth (up 23% in the third quarter). Furthermore, Fitbit is solidly profitable, unlike many tech companies that have gone public in recent years. At least it actually has a price-to-earnings ratio, unlike some of its young peers. It's true that the bottom line is under pressure as Fitbit invests heavily in its product pipeline -- notably its smartwatch ambitions -- but the fact that Fitbit generates black ink does give it some more flexibility when times are tough, since it's not hemorrhaging cash.
Don't get me wrong -- I'm far from a Fitbit bull and the company definitely needs to improve on execution, but it's hard to imagine shares going much lower than current prices.
10 stocks we like better than Fitbit When investing geniuses David and Tom Gardner have a stock tip, it can pay to listen. After all, the newsletter they have run for over a decade, Motley Fool Stock Advisor, has tripled the market.*
David and Tom just revealed what they believe are the 10 best stocks for investors to buy right now... and Fitbit wasn't one of them! That's right -- they think these 10 stocks are even better buys.
Click here to learn about these picks!
*Stock Advisor returns as of January 4, 2017
Evan Niu, CFA has no position in any stocks mentioned. The Motley Fool owns shares of and recommends Fitbit. The Motley Fool has a disclosure policy.