Shopify Results in 3 Charts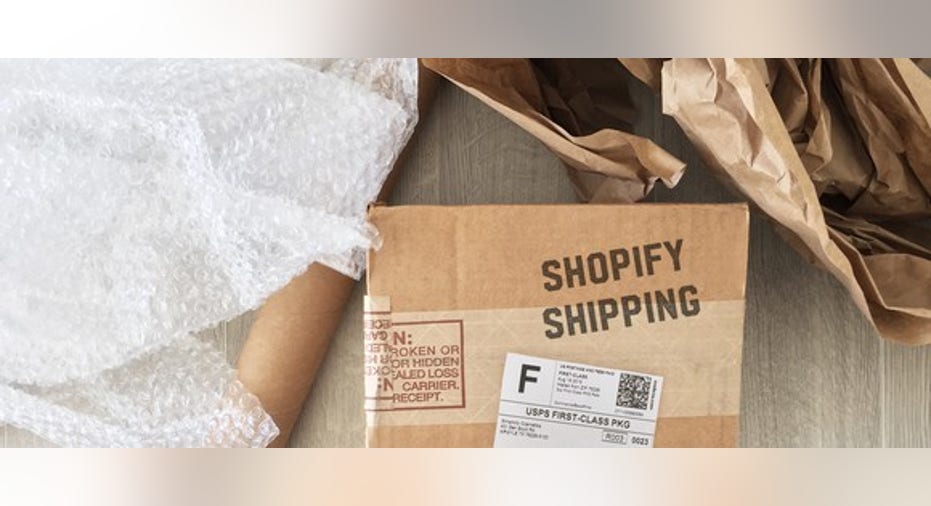 Shopify Inc. (NYSE: SHOP) recently reported its first full-year results since the company went public in May of 2015. It grew its revenue 90% year over year, and the gross merchandise volume, the amount of merchant orders processed on the platform, by 99%. This e-commerce enabler is worth looking into, as its market cap of $5.35 billion is small in comparison to tech-titanAmazon's $405 billion valuation; it may provide an opportunity to invest at an early stage into a high-growth company taking advantage of the move to online shopping.
Shopify helps businesses create an online web presence across multiple platforms to conduct e-commerce. If you, as an entrepreneur, wanted to sell products, your first thought might not be to run out and rent retail space in a mall; it might make more sense to forgo the real estate and sell your products online. To do this, you would engage with a company like Shopify to help create your website, make sure customers can access it through desktop and mobile devices, and give you a suite of tools to manage the business.
Image source: Shopify blog.
Subscription solutions
The bread and butter of Shopify's business is its subscription-solutions platform. Businesses pay Shopify a monthly subscription fee for its e-commerce solution, starting at only $29 per month, a price right for even the most economically sensitive customer.
To put this number in perspective, Shopify's sweet spot is working in the space of small to medium-size businesses. Two years ago, it introduced Shopify Plus for larger businesses; at the time the monthly subscription fee was $1,000 per month. Today the fee for Shopify Plus has a ceiling of $40,000 per month, based on a percentage of gross merchandise volume. As an investor, don't be put off by the low introductory price: The Shopify product is sticky, and customers pay more as their businesses grow.
SMB = small to medium-size businesses. Image source: Shopify.
Shopify exited 2016 with 377,500 merchants using its subscription product, up from 325,000 merchants at the end of the third quarter. From subscriptions alone, these merchants account for a recurring revenue stream of $18.5 million per month going forward. That nets out to just over $49 per merchant each month.
The subscription-solutions business operates with a software-as-a-service (SaaS) business model. It has a 79% gross margin, which gives the company a tremendous amount of cash each quarter to utilize for research and development as well as sales and marketing. At the end of 2016 the company had $404 million in cash, cash equivalents, and marketable securities, and no long-term debt.
Merchant solutions
The merchant-solutions business consists of services related to payments processing (Shopify Payments) and shipping logistics (Shopify Shipping) that merchants pay for based on sales volume. As a merchant's business grows, it ships greater volume and pays greater fees to Shopify. The entire process is integrated into Shopify's software, making it seamless for the end customer. Shopify's gross margin (30%) is much lower for merchant solutions, as the company has higher costs to pay third parties to handle things like shipping and logistics.
Overall revenue growth for both sides of the business added up to an impressive 90% for 2016 over 2015:
GMV = gross merchandise volume. Image source: Shopify.
Tracking the monthly recurring revenue
The overall revenue growth of the company is important, yet I would rather think of the monthly recurring revenue (MRR) as the key metric to track, as it offers investors information on the more profitable area of growth for the company. The MRR shows us the number of merchants the company has as subscribers multiplied by their average monthly spend for the subscription:
Growth in monthly recurring revenue. Image source: Shopify.
By quarter, the MRR has grown as follows:
YOY = year-over-year. Data source: Shopify earnings press releases.
Foolish conclusions
Although it is impossible to know how Shopify's stock price will fluctuate, it would seem a reasonable bet that consumers will continue to migrate to online shopping. If you are willing to make that bet, Shopify could be a way to invest in a trend that should cause all boats in the space to rise.
If Shopify can continue to bring new merchants to its platform, I feel confident it will be a success. Although the company does not issue formal guidance around MRR, it does issue total revenue guidance for 2017 of $580 million to $600 million, or 52% growth at the midpoint of the range. Growth in the merchant-solutions business should take care of itself as people buy more and more products online from Shopify merchants.
By tracking the MRR each quarter, we will have a valuable insight into the company's primary growth engine. That growth engine, accompanied by its stellar 79% gross margin, will be the key metric to drive the stock price higher.
10 stocks we like better than ShopifyWhen investing geniuses David and Tom Gardner have a stock tip, it can pay to listen. After all, the newsletter they have run for over a decade, Motley Fool Stock Advisor, has tripled the market.*
David and Tom just revealed what they believe are the 10 best stocks for investors to buy right now... and Shopify wasn't one of them! That's right -- they think these 10 stocks are even better buys.
Click here to learn about these picks!
*Stock Advisor returns as of February 6, 2017
Frank DiPietro owns shares of, and The Motley Fool owns shares of and recommends, Amazon and Shopify. The Motley Fool has a disclosure policy.