Sherwin-Williams Earnings Spring Forward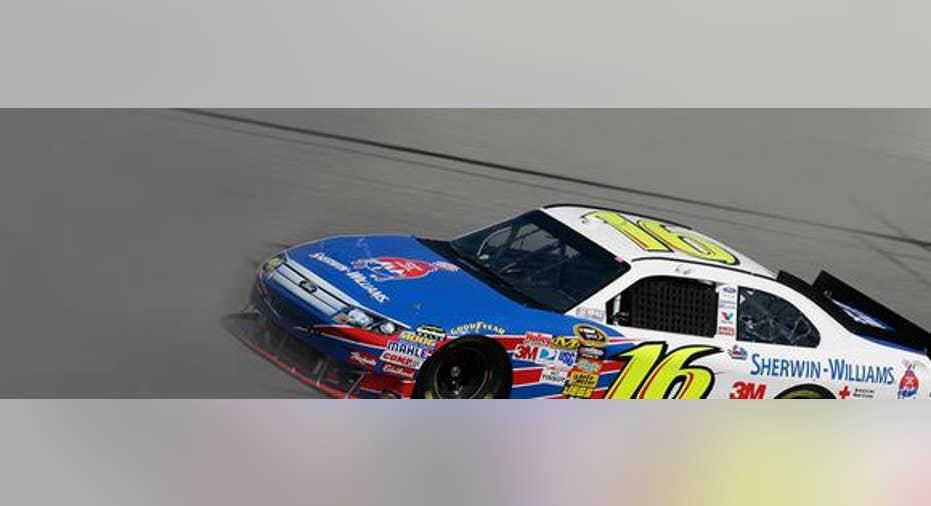 Image: Sherwin-Williams.
Those who have seen the healthy showing in the housing market shouldn't be surprised that paint-maker Sherwin-Williams has climbed to new all-time record highs recently. Between its partnerships with Lowe's , and its impending purchase of rival Valspar , Sherwin-Williams has aimed to maximize its presence in the home-improvement space.
Coming into Thursday's first-quarter financial report, Sherwin-Williams investors were looking forward to continued strength, although they were also somewhat nervous about the company's warnings about a potential slowdown in 2016. So far, though, things appear to be going well for the paint maker based on its latest numbers. Let's look more closely at Sherwin-Williams, and what its latest numbers say.
Sherwin-Williams keeps investors happy Sherwin-Williams' first-quarter results continued its streak of satisfying its shareholders. Revenue of $2.57 billion was 5% higher than in the year-ago period, and easily beat the $2.48 billion consensus forecast among investors. Net income was up an even healthier 12%, to $147.1 million. After allowing for acquisition costs, adjusted earnings of $1.81 per share were $0.19 higher than most investors had expected to see from Sherwin-Williams.
Looking more closely at Sherwin-Williams' numbers, the company saw its usual disparity between its domestic and global businesses. The key paint stores group saw extremely strong growth, with overall revenue gains of 10.5% stemming from a 9.4% rise in comparable-store sales. Segment profit was up more than 40% from a year ago, and profit margins for the segment jumped by more than 3.5 percentage points.
The consumer group also posted solid gains, with revenue climbing 7.5%, and profits rising more than 15%. Sales of special HGTV Home paint at Lowe's stores were primarily responsible for the consumer group's gains.
On the other hand, the global finishes group saw dollar-based sales fall 3%, and the Latin America coatings group suffered a nearly 25% plunge in dollar-denominated revenue. Yet the finishes business actually managed to post an increase in earnings, even with currency-based headwinds that cost the company $3 million in lost profit during the quarter. Latin America remains more challenging, but there, too, the U.S. dollar played a major role in the segment, reversing a year-ago profit to post a small loss in the most-recent quarter.
Sherwin-Williams CEO John Morikis went through some of the factors that led to the paint-maker's success. "We continued to invest in our business by opening 13 net new locations in the Paint Stores Group in the first three months [of 2016]," Morikis said. The CEO also highlighted a combination of strong sales and cost controls in driving profitability.
Can Sherwin-Williams keep up the pace?Sherwin-Williams gave an improved outlook that initially had investors excited. The company believes that its second-quarter results will feature an increase in sales in the low- to mid-single-digit percentages, which is consistent with the roughly 3% rise that the consensus forecast is predicting. Earnings of $3.95 to $4.15 per share for the quarter could be slightly weaker than the $4.10 per share that investors expect, but the figures include $0.15 per share that will come because of Sherwin-Williams' pending takeover of Valspar.
For the full year, Sherwin-Williams thinks things could work out even better. The company boosted its earnings range by $0.30 per share, with the new forecast calling for between $12.50 and $12.70 per share of earnings for 2016. Low-single-digit percentage sales growth won't be a surprise, but Sherwin-Williams is doing a good job of squeezing as much profit as possible from its revenue.
Of course, what's more important is whether the Valspar acquisition will go as well as Sherwin-Williams wants. The potential for synergies definitely exists, but many believe that the true impetus for the deal is more about the global business. Valspar got nearly half of its revenue from overseas in 2015, and its exposure to the Chinese market is especially enticing. If the deal doesn't work out as well as people hope, however, then recent share-price gains could reverse themselves quickly.
Investors had a change of heart about Sherwin-Williams, initially sending the stock up by 3% to a new all-time record before falling back and giving up about 1% on the day. Nevertheless, with so many ways to take advantage of a favorable economic environment, Sherwin-Williams seems well-poised to keep succeeding into the future.
The article Sherwin-Williams Earnings Spring Forward originally appeared on Fool.com.
Dan Caplinger has no position in any stocks mentioned. The Motley Fool recommends Sherwin-Williams. Try any of our Foolish newsletter services free for 30 days. We Fools may not all hold the same opinions, but we all believe that considering a diverse range of insights makes us better investors. The Motley Fool has a disclosure policy.
Copyright 1995 - 2016 The Motley Fool, LLC. All rights reserved. The Motley Fool has a disclosure policy.