Sherwin-Williams Co Jumps 13% in January as Valspar Deal Moves Closer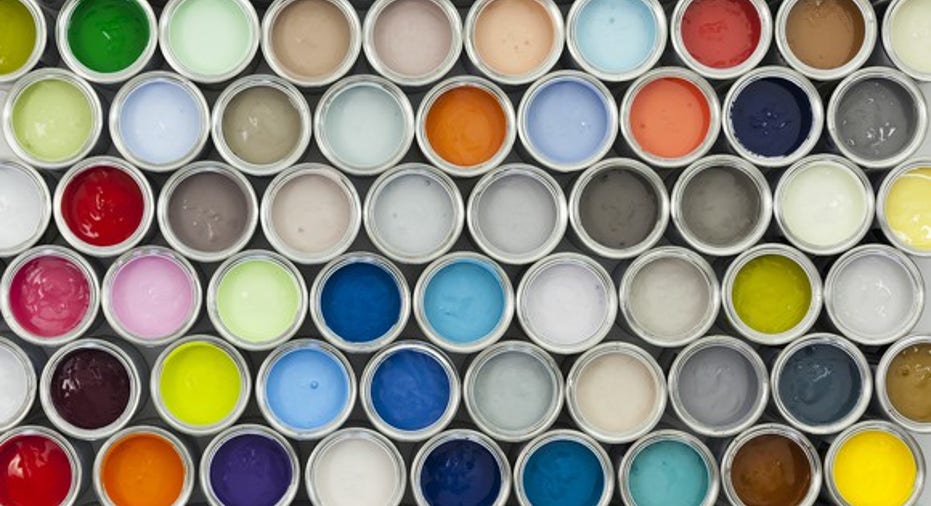 What happened
Shares of paint giant Sherwin-Williams Co (NYSE: SHW) popped 13% according to data provided by S&P Global Market Intelligenceafter the company reported much better than expected fourth quarter performance. And the company may be moving closer to getting the Valspar acquisition approved.
So what
Revenue for the quarter jumped 7% to $2.78 billion, and earnings rose slightly to $203 million. But when you exclude items like costs associated with the Valspar acquisition earnings were $2.34 per share, easily topping guidance of $2.13 to $2.23 per share. And for 2017 management expects earnings to increase from $11.99 per share to $13.00 to $13.20 per share.
Image source: Getty Images.
On the Valspar front, management said it was likely divestitures would be needed, although the specifics were unclear. Management said revenues associated with divested businesses would be less than $650 million.
Now what
The paint business continues to perform well, and if the Valspar deal is closed Sherwin-Williams will be able to lower costs and raise prices, expanding margins. And in a business with very few large competitors and a steady demand for customers, Sherwin-Williams looks well prepared for the future. Shares are expensive at 23 times forward earnings, but given the competitive dynamics in paint I think it's worth paying a premium for the stock today.
10 stocks we like better than Sherwin-WilliamsWhen investing geniuses David and Tom Gardner have a stock tip, it can pay to listen. After all, the newsletter they have run for over a decade, Motley Fool Stock Advisor, has tripled the market.*
David and Tom just revealed what they believe are the 10 best stocks for investors to buy right now... and Sherwin-Williams wasn't one of them! That's right -- they think these 10 stocks are even better buys.
Click here to learn about these picks!
*Stock Advisor returns as of February 6, 2017
Travis Hoium has no position in any stocks mentioned. The Motley Fool recommends Sherwin-Williams. The Motley Fool has a disclosure policy.