Sherwin Williams Co. Drops and Starwood Hotels Soars as Stocks Rise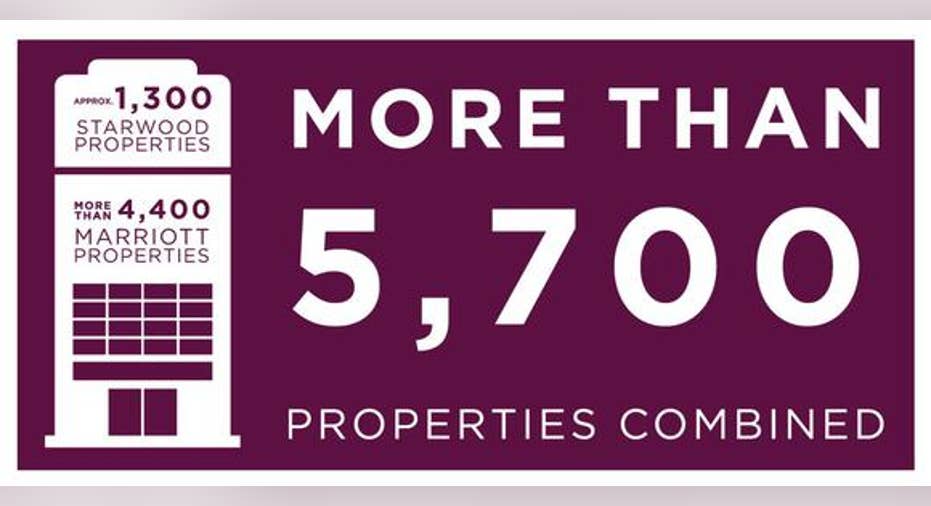 The stock market kept up its winning streak on Monday as the Dow Jones Industrial Average climbed further into positive territory on the year with a gain of 22 points, or 0.1%. The S&P 500 rose 2 points, for a 0.1% uptick.
Meanwhile, merger news generated big price swings in shares of Sherwin Williams (NYSE: SHW) and Starwood Hotels (NYSE: HOT), which are each now involved in potential buyouts valued at over $10 billion.
Sherwin Williams' $11 billion splurgePaint giant Sherwin Williams fell 5% after it announced a deal to acquire rival Valspar for $113 per share in cash, or $11.3 billion. The agreement provides a quick payday to Valspar shareholders as the price is 28% above the stock's previous all-time high.
Image source: Sherwin Williams.
In exchange for a cash payout that's a whopping 45% of its market capitalization, Sherwin Williams will own a profitable paint business with almost $5 billion of annual sales. The deal quickly accomplishes management's goal of extending SHW's reach overseas, as well. After closing, 24% of revenue will come from markets outside of the U.S., compared to 16% last year.
"The combination expands our brandportfolio and customer relationships in North America, significantly strengthens our Global Finishes business, and extends our capabilities into new geographies and applications," Sherwin Williams CEO John Morikis said in a press release.
Executives said they plan to take advantage of low interest term loans and bonds to fund the entire purchase, which will bring its debt level up to $13 billion from $2 billion as of Dec. 31. At half its market cap, that's no small amount of leverage. But management believes they can rapidly retire those liabilities by keeping capital expenditures low, holding back on stock repurchases, and devoting a significant portion of free cash flow toward the debt over the next few years.
The new bid for Starwood Hotels Starwood Hotels was the best-performing stock on the S&P 500 today, jumping 10% after it accepted a sweetened buyout offer from rival Marriott . The hotel chain last week attracted another bidder for its 1,300 owned and managed properties around the world and used the extra leverage to win a few key concessions from Marriott over the weekend.
The updated merger agreement now values Starwood at $85 per share, compared to the new $81 per share offer from a third party that made headlines last week. That boosted price also far exceeds the $71 per share from the hotel chain's initial deal with Marriott. In addition, Marriott is now paying a higher percentage of the consideration in cash: $3.6 billion is set to go to directly Starwood shareholders at closing, or $21 per share, while the remaining $10 billion will be delivered in stock in the combined company.
Image source: Marriott.
"Marriott's revised offer provides the highest value to our shareholders through longterm upside potential from shared synergies and ownership in one of the world's most respected companies," Starwood chairman Bruce Duncan said in a press release.
While it's still possible another offer could come in and kick this bidding process into another round, it's unlikely at this point. The new agreement contains a $450 million fee that Starwood would have to pay Marriott in the event it decides to walk away from the merger at this point, which significantly raises the financial bar required for any rival bidder to make a competitive offer.
The article Sherwin Williams Co. Drops and Starwood Hotels Soars as Stocks Rise originally appeared on Fool.com.
Demitrios Kalogeropoulos owns shares of Sherwin-Williams. The Motley Fool recommends Marriott International and Sherwin-Williams. Try any of our Foolish newsletter services free for 30 days. We Fools may not all hold the same opinions, but we all believe that considering a diverse range of insights makes us better investors. The Motley Fool has a disclosure policy.
Copyright 1995 - 2016 The Motley Fool, LLC. All rights reserved. The Motley Fool has a disclosure policy.