She Oversaw Obamacare's Implementation. Now She Has a Chilling Forecast Regarding Its Future.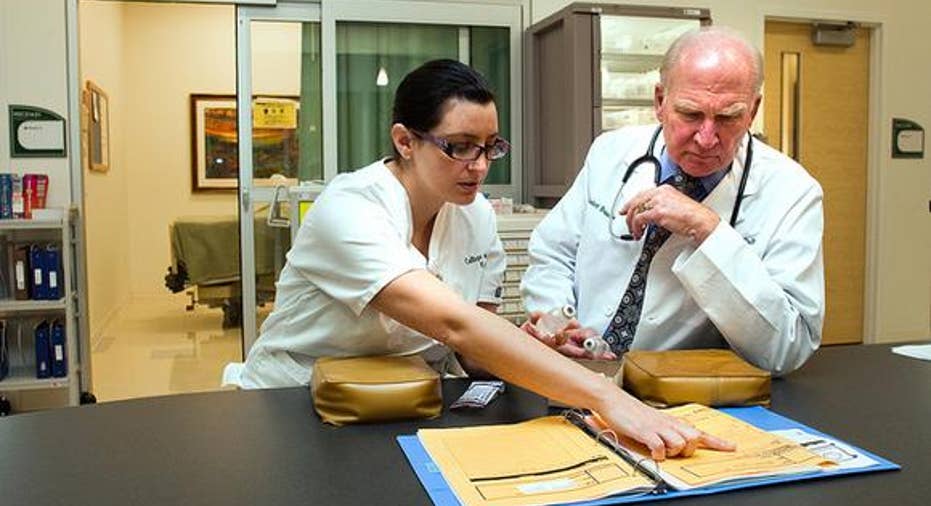 Image source: White House on Flickr.
On paper, the Affordable Care Act, which you probably know better as Obamacare, looks to be chugging right along in spite of naysayers. By the end of the 2016 enrollment period, according to the Centers for Medicare and Medicaid Services, about 12.7 million people had enrolled, including more than 9.6 million through the federally run HealthCare.gov and 3.1 million through the one dozen states operating their own marketplace exchanges.
More importantly, the rate of uninsured adults in the U.S. continues to fall. Gallup-Healthways' latest Well-Being Index on uninsured rates showed a drop of 90 basis points in the first quarter of 2016 to 11% from 11.9% in Q4 2015, the lowest reading since the duo began tracking this statistic in 2008. A lower uninsured rate would suggest that hospitals and physicians are writing off fewer services rendered as uncollectable, and that insurers are spreading their medical expenses over a greater percentage of the population.
Things aren't what they appear But dig below the headline numbers and things aren't exactly going according to plan. How do we know? Look no further than the white flag that the nation's largest health insurer,UnitedHealth Group , has been waving for the better part of six months. UnitedHealth, which actually operates in nearly two-thirds of all U.S. markets, has predicted it could lose $500 million on its individual Obamacare plans in 2016 and recently announced that it's planning to exit the vast majority of exchanges come 2017. UnitedHealth CEO Stephen Hemsley has blamed higher medical utilization rates for Obamacare members, as well as the ease of switching plans, for his company's Obamacare woes.
Image source: National Cancer Institute.
It's pretty scary thinking about the largest healthcare provider being unable to turn a profit in most states. But it's an entirely different story when the data suggests this isn't just a UnitedHealth problem. A huge study released by the Blue Cross Blue Shield Association recently analyzed the medical claims of millions of Obamacare and employer-based members and found that Obamacare members are 22% costlier than employer-based members. Obamacare enrollees also tend to be sicker, coming with a host of chronic or expensive-to-treat conditions.
However, comments from Marilyn Tavenner, the head of the Centers for Medicare and Medicaid Services in late 2013 and early 2014 when Obamacare was initially rolling out, imply the worst may be yet to come.
This former Obamacare head has a chilling warning Tavenner, who is now the president and CEO of America's Health Insurance Plans, the insurance industry's premier lobbying group, had this to say in an interview with MorningConsult.com:
Marilyn Tavenner. Image source: Wikipedia Commons.
Even scarier is that Tavenner doesn't see just one problem pushing premium prices substantially higher next year -- she sees a confluence of factors. This would suggest that overcoming these obstacles isn't going to be easy.
First, Tavenner suggests that medical cost increases are expected to be passed along to the consumer, as per the norm. The cost for everything from office visits to complex surgeries is on the rise, so there's not much that can be done here to ebb this common cause of premium inflation.
Prescription drug price inflation is a far bigger problem. A lack of a universal health plan, long periods of patent exclusivity, high demand for pharmaceutical products in the U.S., and the speed with which approved drugs can be brought to pharmacy shelves are all reasons why prescription drug costs could continue soaring in 2017 and future years. Insurers will likely have to increase premiums to account for what could be a high single-digit percentage increase in prescription drug costs in 2017.
Tavenner also hit on the point that restructuring the insurance market hasn't paid benefits as expected. New regulations requiring Obamacare insurers to provide plans with a host of minimum benefits, as well as being unable to deny benefits to people with pre-existing conditions, has left insurers exposed to adverse selection. In plainer terms, it means sicker people who'd been shut out of the insurance system previously have flooded in, and not enough healthier individuals have enrolled.
Finally, Tavenner cautioned that the turbulence can be expected because insurers "sit in the three-R world." What Tavenner is alluding to are two programs that are set to end in 2017: the reinsurance program that provided payments to plans that enroll higher-cost members, and the risk corridor, which acted like a modern day Robin Hood by taking excessive profits from top-performing insurers and giving them to Obamacare insurers losing excessive amounts of money. Without the risk corridor, new entrants could be discouraged, since they'd be responsible for covering the entirety of their losses. The third "r," risk adjustment, will remain in place to distribute capital from plans with low-risk enrollees to those with high-risk.
Is she right?What matters is whether or not Tavenner is right. I suspect that while some of her concerns may be a bit overstated, many of her worries are probably spot on.
Image source: COD Newsroom via Flickr.
Probably the biggest component Tavenner overlooked in her argument is that roughly 85% of Obamacare enrollees receive subsidies from HealthCare.gov or their state's marketplace exchange. Consumers receiving subsidies are far less likely to be adversely affected by significant premium price hikes. In fact, whereas premium prices in 2016 rose by 8% overall, consumers who receive subsidies and plan-shopped as opposed to auto-enrolled only saw increases of 4%. This could mean that a mere 15% of Obamacare shoppers, or about 1.9 million based on 2016's enrollment figures, could be left exposed to much higher premiums next year. (Of course, that 15% would argue that this is an enormous concern.)
Other aspects of Tavenner's argument bring up concerns regarding the market structure being reformed to facilitate enrollment (but having only minimal success). It's true that 12.7 million people have enrolled, but we've also seen far fewer younger adults enroll than initially expected. The reason? I'd suggest that the individual mandate -- the actionable component of Obamacare that requires people to buy health insurance or pay a tax penalty -- isn't doing its job. Even with penalties in 2016 that could average close to $1,000, the cost of simply not buying health insurance is still well below the cost of paying for a full year of health insurance. The incentive simply isn't there for younger, healthier adults to enroll.
Another factor not brought up by Tavenner, but one that could easily be included as a serious concern, is that the Office of the Insurance Commissioner (OIC) in each state has had little success in curbing premium price hike requests. State OICs are designed to keep insurers from requesting double-digit percentage premium price hikes without justification; the problem is the vast majority of requests are fully justified, since many insurers are losing money. We've seen UnitedHealth announce that it's pulling out of most of the markets it's operating in due to losses, and more than half of all approved Obamacare healthcare cooperatives closed up shop in 2016 because of excessive losses. Clearly these pricing curbs aren't working as expected.
Does this mean Obamacare's doomed? It's hard to tell at this point given that subsidies are protecting a large percentage of enrollees from the full force of premium price hikes. But I'd opine that the program is clearly not as well off as the headline numbers suggest.
The article She Oversaw Obamacare's Implementation. Now She Has a Chilling Forecast Regarding Its Future. originally appeared on Fool.com.
Sean Williamshas no material interest in any companies mentioned in this article. You can follow him on CAPS under the screen nameTMFUltraLong, track every pick he makes under the screen name TrackUltraLong, and check him out on Twitter, where he goes by the handle@TMFUltraLong.The Motley Fool recommends UnitedHealth Group. Try any of our Foolish newsletter services free for 30 days. We Fools may not all hold the same opinions, but we all believe that considering a diverse range of insights makes us better investors. The Motley Fool has a disclosure policy.
Copyright 1995 - 2016 The Motley Fool, LLC. All rights reserved. The Motley Fool has a disclosure policy.