Shares of Time Inc. Sink 15% After Rough First Quarter and Dividend Cut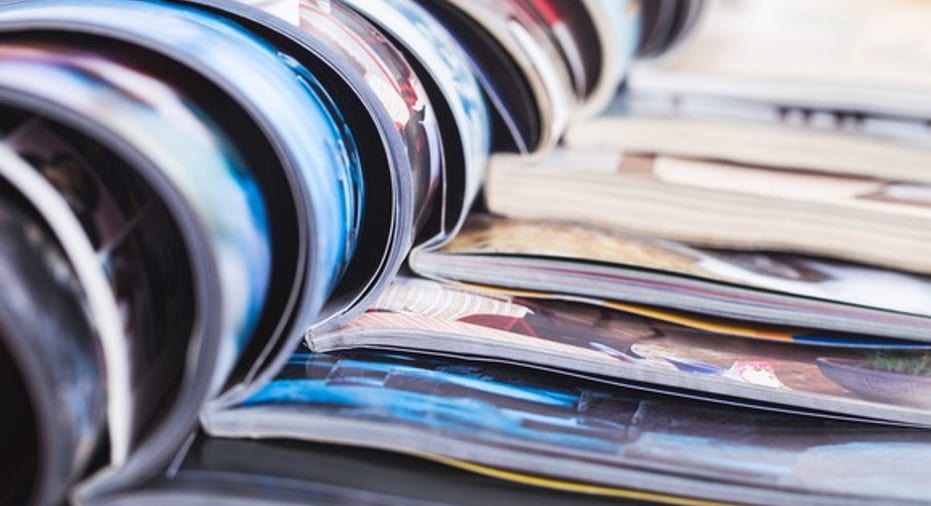 What happened?
Shares of Time Inc. (NYSE: TIME), the owner of Time, People, and Sports Illustrated, among other notable magazines and digital brands, are plunging over 10% yet again after the company announced a worse-than-expected first-quarter result and that its dividend would be slashed. The stock has shed 30% of its value over the past three months.
So what
Starting from the company's top line, revenue fell 8% to $636 million, down from the prior year's $690 million, which was below analysts' estimates calling for $641.7 million, per Thomson Reuters. Time's total revenue declined despite a 32% increase in digital ad sales from $90 million to $119 million. The increased digital ad revenue simply wasn't enough to offset a 21% decline in print ad revenue, from $270 million down to $212 million in the first quarter, and a 14% decline in circulation revenue from $238 million down to $205 million, among other factors.
Image source: Getty Images.
On the bottom line, the story had even fewer bright spots than its revenue. Last year, Time posted a net loss of $10 million, which widened to a loss of $28 million during the first quarter. Adjusted for one-time items, the loss came out to $0.18 per share, which was worse than analysts' estimates of $0.15 per share.
Then, to make matters worse, management announced it would cut its quarterly dividend from $0.19 per share down to $0.04 per share in hopes that the move would help shore up its balance sheet.
Now what
This isn't the first brutal day for Time investors over the past month, and while the company has some incredibly valuable and recognizable brands and content, its digital business simply isn't strong enough to offset the new reality that print advertising is dying. Don't count the company out just yet, but don't expect any near-term solutions.
10 stocks we like better than TimeWhen investing geniuses David and Tom Gardner have a stock tip, it can pay to listen. After all, the newsletter they have run for over a decade, Motley Fool Stock Advisor, has tripled the market.*
David and Tom just revealed what they believe are the 10 best stocks for investors to buy right now...and Time wasn't one of them! That's right -- they think these 10 stocks are even better buys.
Click here to learn about these picks!
*Stock Advisor returns as of May 1, 2017.
Daniel Miller has no position in any stocks mentioned. The Motley Fool has no position in any of the stocks mentioned. The Motley Fool has a disclosure policy.