Shares of Textainer Group Holdings Dropped 21% in November -- Here's Why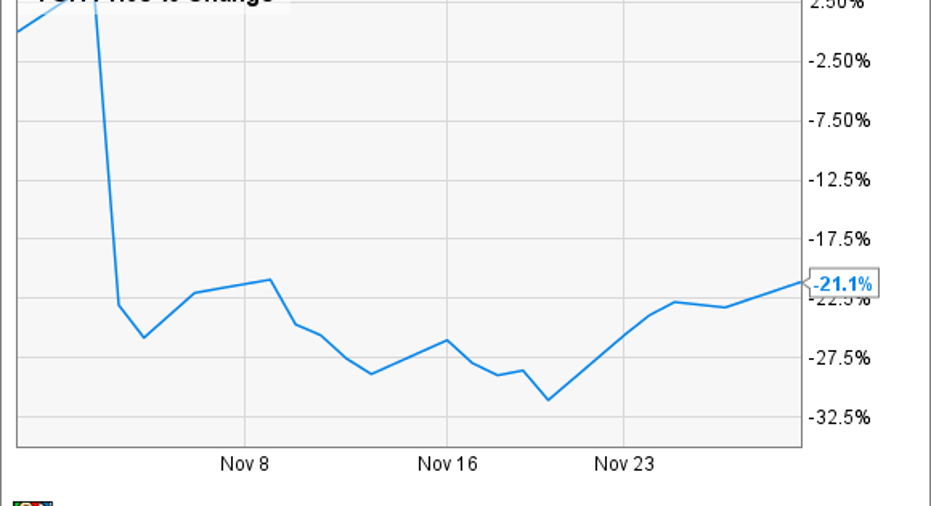 What: Shares of Textainer Group Holdings declined 21% in the month of November following a weak earnings report and a dividend cut.
So what: Textainer's results earlier this month showed that there are some pretty strong headwinds facing the company right now. Revenue from all four of its business segments declined, and adjusted net income for the quarter was down more than two-thirds compared to this time last year. Slowing economic growth has led the company to project flat demand in containers through the rest of the year and no significant pickup in demand until after the second quarter of 2016.
The other reason investors headed to the exits so quickly was that the company also announced a 49% cut to its dividend payout. While a weaker operating environment was part of that decision, it wasn't the only factor. As management said during its conference call, it was planning on taking some of the cash saved from the distribution cut to repurchase the company's stock. With shares trading at their lowest rates since 2010, that may be a more effective method of deploying that cash.
Now what: Textainer has developed a reputation as a company that generates strong returns on capital, but any commodity business is subject to boom and bust periods. While investors may not have liked the idea of exchanging dividend payouts for share repurchases, it may be a move that shareholders will look back on and applaud. For anyone with the stomach and patience for a cyclical business, Textainer may be worth looking at today.
The article Shares of Textainer Group Holdings Dropped 21% in November -- Here's Why originally appeared on Fool.com.
Tyler Crowe owns shares of Textainer Group.You can follow him at Fool.comor on Twitter@TylerCroweFool. The Motley Fool owns shares of and recommends Textainer Group. Try any of our Foolish newsletter services free for 30 days. We Fools may not all hold the same opinions, but we all believe that considering a diverse range of insights makes us better investors. The Motley Fool has a disclosure policy.
Copyright 1995 - 2015 The Motley Fool, LLC. All rights reserved. The Motley Fool has a disclosure policy.