Shares of Sunoco LP Spiked in December Thanks to Some Debt Wiggle Room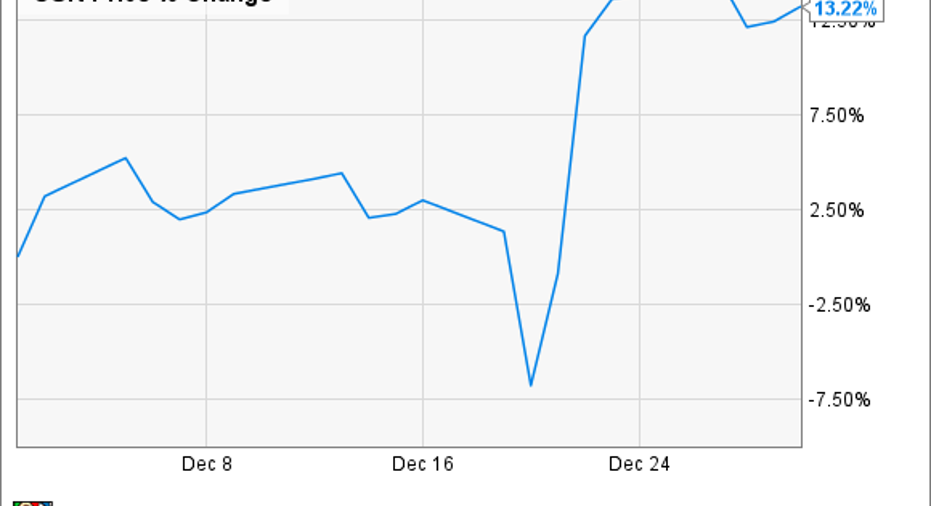 Image source: Getty Images.
What happened?
Shares of fuel wholesale and retail marketer Sunoco LP (NYSE: SUN) gained 13% in December. The increase mostly came after the company announced that it had renegotiated its debt covenants with its creditors.
So what?
Sunoco was looking like a prototypical case of too much, too soon. The company had a great business with its network of filling stations and wholesale distribution that provided steady cash flows and decent margins. The issue is that the market for filling stations in the U.S. is a mature, but fragmented, market. So the opportunity for growth is going to come from making acquisitions.
In 2016, the company did this rather frequently. Not only did it receive a drop down of assets valued at $2.2 billion from its parent company Energy Transfer Partners (NYSE: ETP), but it also completed four other acquisitions that totaled more than $300 million (the price of one acquisition was undisclosed).Many of these deals were ultimately fueled with debt, and as a result the company was starting to push its debt levels at or beyond its covenants with creditors.
That's why Wall Street cheered when the company announced it had reached a deal that would increase the covenants related to its funded debt to EBITDA ratio. As per the agreement, its funded debt to EBITDA levels will be raised to 6.75x until the end of 2017 and will have to step down based on the following schedule.
6.50x at 3/31/2018,
6.25x at 6/30/2018,
6.00x at 9/30/2018,
5.75x at 12/31/2018,
5.50x at3/31/2019and thereafter
Now what?
This is some much needed medicine for Sunoco. Not only will it give the company some temporary relief from breaking covenants today, it will force the company into being more prudent about its balance sheet in the future. Although, you could also argue that it isn't a great vote of confidence in management that it has to have its creditors tell it how to manage its finances.
With today's debt load, a distribution so high that it can't really issue equity, and a stable but little room for growth cash flow, it's going to take time for Sunoco to right the ship. For investors, there is no rush to jump into shares now because these debt issues need to be settled.
10 stocks we like better than Sunoco When investing geniuses David and Tom Gardner have a stock tip, it can pay to listen. After all, the newsletter they have run for over a decade, Motley Fool Stock Advisor, has tripled the market.*
David and Tom just revealed what they believe are the 10 best stocks for investors to buy right now... and Sunoco wasn't one of them! That's right -- they think these 10 stocks are even better buys.
Click here to learn about these picks!
*Stock Advisor returns as of January 4, 2017
Tyler Crowe has no position in any stocks mentioned.You can follow himat Fool.comor on Twitter@TylerCroweFool.
The Motley Fool has no position in any of the stocks mentioned. The Motley Fool has a disclosure policy.