Shares of Regeneron Pharmaceuticals, Inc. Struggled in March -- Here's Why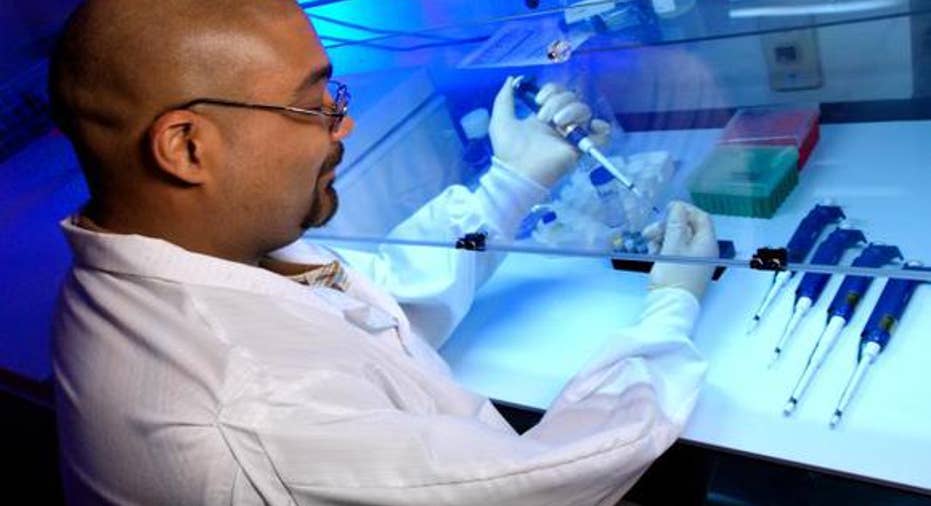 Image source: Regeneron Pharmaceuticals.
What: Shares of Regeneron Pharmaceuticals , a biopharmaceutical company focused on the development of therapies to treat a variety of chronic diseases, dipped 12% in March based on data from S&P Global Market Intelligence. The reason behind Regeneron's disappointing month likely boils down to two catalysts.
So what: The biggest issue for Regeneron came mid-month when a U.S. District Court ruled against Regeneron and its partner Sanofi , finding that two of Amgen's patents for competing PCSK9 inhibitor Repatha are indeed valid. Regeneron and Sanofi had been looking for a judgment that would have invalidated Amgen's two patents and, presumably, would have given Regeneron's and Sanofi's own PCSK9 inhibitor Praluent the upper hand. Although Regeneron and Sanofi will appeal the decision, this was a disappointing blow for the duo.
Image source: Centers for Disease Control and Prevention.
The other issue for Regeneron (and we might as well lump in Sanofi as well) is that U.S. lawmakers are digging their heels in when it comes to dealing with high-priced drugs. The ongoing probe of Valeant Pharmaceuticals'pricing practices could serve as a warning to all drug developers that the therapeutic value of medicines could take more precedence. I mention this because Praluent prices out at $14,600 on an annual basis, which is substantially higher than other LDL-cholesterol-lowering medicines (save for Repatha at $14,100). Translation: Praluent could find its price under pressure in the near-term.
Now what: Then again, Regeneron also had a very respectable news month in other aspects.
For example, on March 11, Regeneron and Sanofi announced that their phase 3 monotherapy study, known as SARIL-RA-MONARCH, met both its primary and secondary endpoints in a head-to-head study against AbbVie's Humira in patients with active rheumatoid arthritis. Their experimental drug sarilumab was superior to Humira in improving signs and symptoms of RA, while meeting secondary endpoints involving physical function.
Also, if we step forward into April, we witnessed positive data from Regeneron and Sanofi regarding two phase 3 studies (LIBERTY AD SOLO 1 and SOLO 2) of dupilumab as a treatment for inadequately controlled moderate-to-severe atopic dermatitis. This was the first time a systemic therapy had demonstrated success in treating moderate-to-severe cases of atopic dermatitis, and thus lends hope that dupilumab could be a promising treatment for patients, as well as a profitable drug for the duo.
Although it's been a topsy-turvy past few months for Regeneron, growth investors looking for a drug developer that could still hold a few long-term surprises would be wise to give Regeneron a closer look. Its forward P/E of 26 might throw traditional value models out the window, but it's fully capable of growing its top-line by 15% to 20% for many years to come, possibly making it well worth its current price.
The article Shares of Regeneron Pharmaceuticals, Inc. Struggled in March -- Here's Why originally appeared on Fool.com.
Sean Williamshas no material interest in any companies mentioned in this article. You can follow him on CAPS under the screen nameTMFUltraLong, track every pick he makes under the screen name TrackUltraLong, and check him out on Twitter, where he goes by the handle@TMFUltraLong.The Motley Fool owns shares of and recommends Valeant Pharmaceuticals. It also recommends Regeneron Pharmaceuticals. Try any of our Foolish newsletter services free for 30 days. We Fools may not all hold the same opinions, but we all believe that considering a diverse range of insights makes us better investors. The Motley Fool has a disclosure policy.
Copyright 1995 - 2016 The Motley Fool, LLC. All rights reserved. The Motley Fool has a disclosure policy.