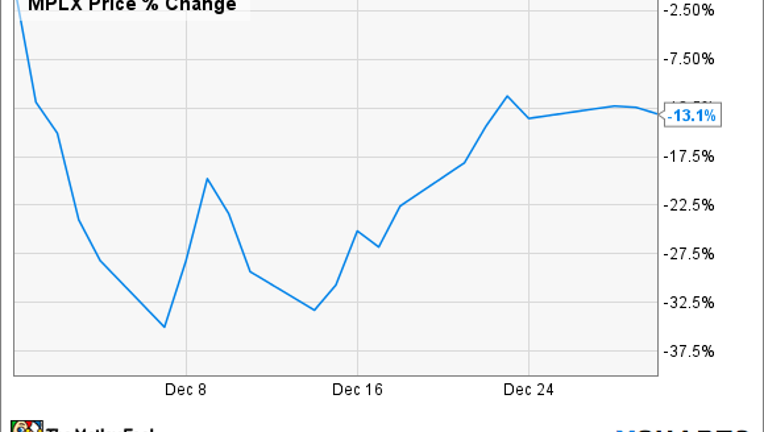 What: Shares of MPLX LP declined more than 13% in December. The largest culprit for the decline was the completion of the acquisition of MarkWest, which was approved at the beginning of the month. After that, shares simply couldn't gain back those big losses.
So what: The acquisition of MarkWest Energy Partners was a big and bold move by MPLX. The $15.6 billion deal was supposed to create one of the largest MLPs by market capitalization, but ever since the deal was announced, shares of both companies have fallen precipitously, with MPLX shares having declined more than 44%.
The big fear here is that MPLX is biting off more than it can chew. At the time of the deal, MPLX was less than half the size of MarkWest. Granted, MPLX has strong financial support from its general partner Marathon Petroleum that greatly reduces financial risk, but mounting concerns about midstream companies growing at rapid clips have caused many investors to shy away from MPLX's very, very ambitious growth plans.
Source: Marathon Petroleum investor presentation.
The need for these projects may be there, but the biggest question will be if MPLX can find enough access to cheap capital to actualy execute on this plan. As share prices have declined and dividend yields have increased, there is less incentive to go to the equity market to fund growth, and an over-reliance on debt to fund growth can lead to disaster.
Now what: Even after the MarkWest deal, MPLX's current financial situation still looks pretty good. Its debt to EBITDA ratio is on the low end of the industry averages, and it's covering its current distribution rates with a decent amount of extra cash left over to fund projects. Still, with share prices down and banks likely becoming more discerning about what they lend out to midstream companies, it's entirely possible MPLX will need to revise its growth plans.
For now, it's probably best to sit tight and see what management has to say in the coming quarters.
The article Shares of MPLX LP Declined More Than 13% in December Following MarkWest Merger originally appeared on Fool.com.
Tyler Crowe has no position in any stocks mentioned.You can follow him at Fool.comor on Twitter@TylerCroweFool. The Motley Fool has no position in any of the stocks mentioned. Try any of our Foolish newsletter services free for 30 days. We Fools may not all hold the same opinions, but we all believe that considering a diverse range of insights makes us better investors. The Motley Fool has a disclosure policy.
Copyright 1995 - 2016 The Motley Fool, LLC. All rights reserved. The Motley Fool has a disclosure policy.