Shares of KapStone Paper Drop 13% After Disappointing First-Quarter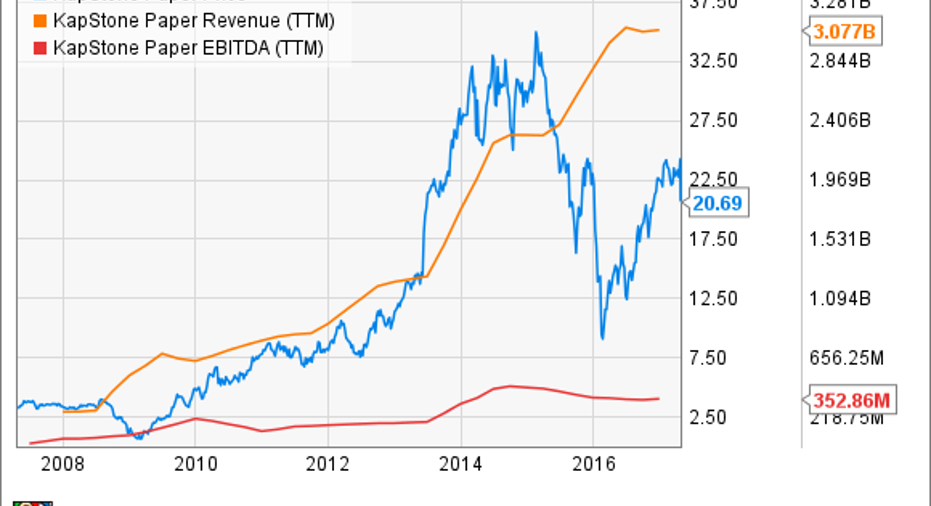 What happened?
Shares of KapStone Paper and Packaging Corp. (NYSE: KS), a producer of unbleached kraft paper, corrugated packaging products, and other products, were down 13.4% as of 1:05 p.m. EST after investors digested the company's first-quarter results.
So what
It's not surprising investors are selling the stock today, as the Q1 results were pretty depressed across the board. Though net sales actually increased 4% to $766 million, that missed analysts' consensus estimate for $779 million. And that was essentially the only year-over-year increase that KapStone posted in its major metrics.
Year over year, adjusted-EBITDA declined 9% and adjusted net income fell a staggering 32%. Adjusted earnings per share checked in at $0.15, which was a 35% decline from last year's $0.23 per share, and below consensus estimates predicting for $0.22 per share.
Despite the brutal bottom-line declines, management tried its best to put a positive spin on the results. As President and CEOMatt Kaplan, stated in a press release:
Image source: Getty Images.
Now what
In fairness to KapStone, its distribution business is entering the seasonally strong portion of its year. While that won't help it relative to analysts' estimates, it will be critical to proving to investors that the company can continue improving its top-line revenue as it has over the past decade.
Thursday's 13%-plus decline seems justified, even if management believes the second half of the year will be much stronger. Add in the fact the company's debt-to-EBITDA leverage ratio was nearly 4 at the end of the first-quarter -- albeit, with no principal payments due until 2019 -- and you have a risky stock that could head even lower if the business hits any speed bumps in the next few quarters.
10 stocks we like better than KapStone Paper & PackagingWhen investing geniuses David and Tom Gardner have a stock tip, it can pay to listen. After all, the newsletter they have run for over a decade, Motley Fool Stock Advisor, has tripled the market.*
David and Tom just revealed what they believe are the 10 best stocks for investors to buy right now... and KapStone Paper & Packaging wasn't one of them! That's right -- they think these 10 stocks are even better buys.
Click here to learn about these picks!
*Stock Advisor returns as of April 3, 2017
Daniel Miller has no position in any stocks mentioned. The Motley Fool has no position in any of the stocks mentioned. The Motley Fool has a disclosure policy.