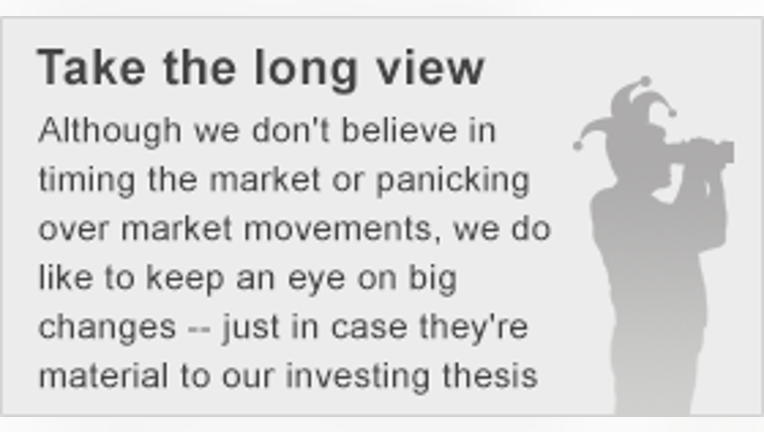 What: Shares of Helix Energy Solutions are up 16% in morning trading as the company posted better-than-expected results for the fourth quarter.
So What: After stripping out one-time charges and impairments, Helix posted a per share loss of ($0.03), which was much better than the ($0.09) per share loss that was expected by consensus analyst expectations compiled by S&P Capital IQ. To add to the good vibes, Helix also posted better-than-expected revenue -- $157 million -- and EBITDA -- $34.1 million.
The true bottom line looked a bit worse, though, as the company realized $503 million in pre-tax charges for asset impairments, goodwill writedowns, and foreign currency effects.
Now what: Like so many other oil services companies, the oil market has landed some pretty hard punches on Helix. One thing the company does have going for it, though, is that Helix's offerings in well intervention and robotics services can be used for maintenance and repair of existing wells rather than a large concentration on new exploration and development. While producers may be willing to push back some of this work to save cash, it will still be done at today's evenlower prices.
This means Helix will likely still have work in the coming years no matter what the price of oil is today, and today's earnings results are a reflection of that. While one decent earnings showing isn't enough to sway a decision about owning shares of Helix, it does suggest the company has the legs to survive this downturn without as much pain as some of its peers.
The article Shares of Helix Energy Solutions Surge on Better-Than-Expected Earnings originally appeared on Fool.com.
Tyler Crowe has no position in any stocks mentioned.You can follow him at Fool.comor on Twitter@TylerCroweFool. The Motley Fool has no position in any of the stocks mentioned. Try any of our Foolish newsletter services free for 30 days. We Fools may not all hold the same opinions, but we all believe that considering a diverse range of insights makes us better investors. The Motley Fool has a disclosure policy.
Copyright 1995 - 2016 The Motley Fool, LLC. All rights reserved. The Motley Fool has a disclosure policy.