Shares of Energy Transfer Equity Gained Big in November, but Its Subsidiaries Sure Didn't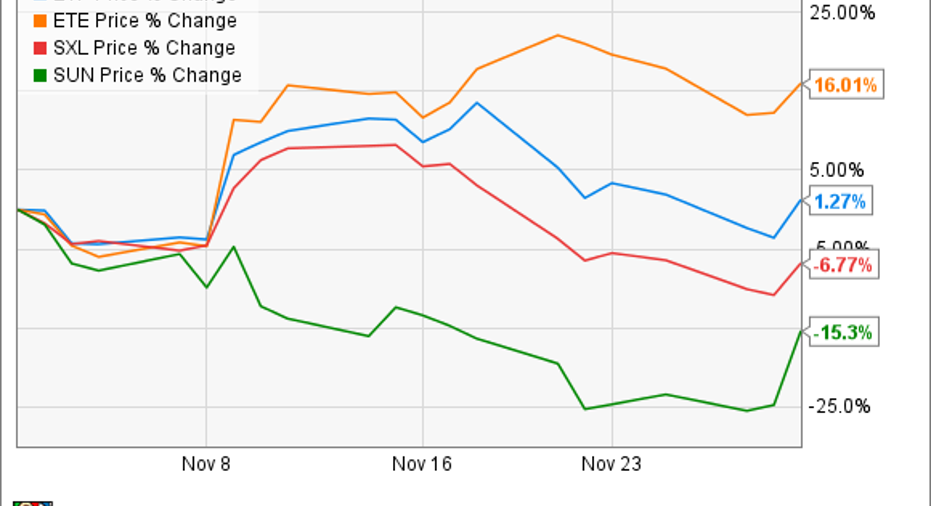 Image source: Getty Images.
What happened?
Shares of Energy Transfer Equity (NYSE: ETE) gained a little more than 16% in November. The two big reasons for this gain was the election of Donald Trump and the impacts Wall Street seems to think it will have on the U.S. oil and gas industry, and the other being the announcement that it was consolidating two of its subsidiaries as Sunoco Logistics Partners (NYSE: SXL) will acquire Energy Transfer Partners (NYSE: ETP). It's also worth mentioning that the third entity in the Energy Transfer universe, Sunoco LP (NYSE: SUN) dropped 11% last month.
So what?
The election of Donald Trump and the impacts that it may have on the oil and gas industry have been pretty well covered in the past month. The gist of it is that less restrictions on the industry will lead to more production. Energy Transfer and its subsidiaries of pipelines and processing facilities could benefit as more infrastructure is needed to satisfy that need. However, until we see some concrete policies get implemented, it's hard to say exactly what kind of impact this will have on the company long term.
The thing that investors should really care about is the Nov. 21st announcement that Sunoco Logistics Partners will acquire Energy Transfer Partners. There are multiple reasons why this deal is taking place, but the biggest reason is that Energy Transfer was at a point where it would struggle to meet its distribution to its investors. Sunoco Logistics is in much better financial shape, and the combination of the two will stave off any deeper financial concerns.
The reason that the two subsidiaries weren't too keen on the deal is that, for Sunoco Logistics Partners, it is taking on a more indebted company. For Energy Transfer Partners, the offer price was at a discount to the price they say it was announced. Energy Transfer Equity, however, benefits from having its two entities sharing the financial load and preventing one from significant debt troubles. Also, since Energy Transfer Equity receives incentive distribution rights from the two companies, a payout cut would have much more adversely impacted the parent company.
Sunoco LP was largely left out of all of this, but the company has enough troubles of its own. The company did post decent third quarter results in November, but there are still concerns that the company's debt load is a little too much to handle and its distribution growth plans may be a little too ambitious considering its path to growth has to come mostly via acquisition. Unless we see a significant improvement of its financial position, then a cut to its payout is a very real threat that would be a drag on all of these entities. After all, Sunoco LP is a subsidiary of Energy Transfer Partners and not of Energy Transfer Equity.
Now what?
If all of these things weren't enough of a headache, there is also the added issue that the Army Corps of Engineers has rejected an easement to allow for Energy Transfer Partners and Sunoco Logistics Partners Dakota Access Pipeline to cross underLake Oahe in North Dakota. From an investors standpoint, this is an important project, but only one of several projects. The more pressing issue is that Energy Transfer Partners is basically using the strength of Sunoco Logistics Partners to keep it from taking more drastic measures to shore up its balance sheet.
Hopefully, over time, these moves will make for a better investment. Until we start to see some quarterly earnings results that show improved finances and an ability to maintain its payout to investors, it's probably a good idea to shy away from these stocks.
10 stocks we like better than Energy Transfer Equity When investing geniuses David and Tom Gardner have a stock tip, it can pay to listen. After all, the newsletter they have run for over a decade, Motley Fool Stock Advisor, has tripled the market.*
David and Tom just revealed what they believe are the 10 best stocks for investors to buy right now... and Energy Transfer Equity wasn't one of them! That's right -- they think these 10 stocks are even better buys.
Click here to learn about these picks!
*Stock Advisor returns as of Nov. 7, 2016
Tyler Crowe has no position in any stocks mentioned.You can follow him at Fool.comor on Twitter@TylerCroweFool.
The Motley Fool has no position in any of the stocks mentioned. Try any of our Foolish newsletter services free for 30 days. We Fools may not all hold the same opinions, but we all believe that considering a diverse range of insights makes us better investors. The Motley Fool has a disclosure policy.