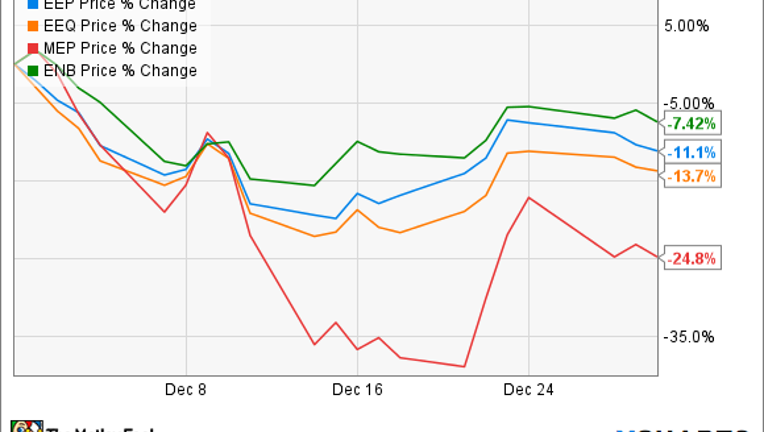 What: Shares of Enbridge Energy Partners declined more than 11% in December mostly due to weakness in the midstream sector in general. Similarly, two other subsidiaries of the larger Enbridge -- Enbridge Energy Management and Midcoast Energy Partners -- also declined 13.7% and 24.8%, respectively.
So What: So much of the decline in midstream oil and gas companies in recent weeks had to do with investors getting nervous that these companies had put themselves at too much credit risk with their huge piles of debt and the realization that these companies are not completely immune to low oil and gas prices.
This is hitting Enbridge Energy Partners especially hard because it is one of the companies that is just barely hanging onto an investment grade credit rating on its debt. Back in June, Moody's downgraded Enbridge Energy Partner's stock to Baa3, just a couple notches above investment grade. While Enbridge Energy Partners itself is in relatively decent financial standing, it's the parent company that looks a little shaky. Without strong sponsor support from Enbridge, it will be harder to grow at the partnership level.
Another aspect that is impacting Enbridge Energy Partners is that it is the parent of Midcoast Energy Partners. A majority of Midcoast's assets are natural gas gathering pipelines in Texas and Oklahoma, which puts them at risk of seeing lower volumes over the next year as gas production around its assets is expected to decline. In a recent analyst note from Credit Suisse, gathering volumes for Midcoast will decline by 8% in 2016 and potentially more in the coming years.
With exposure to lower volumes and a system that isn't well protected with fee-based contracts, Midcoast could see declining EBITDA without some help in the form of new assets from Enbridge Energy Partners.
Now What: Enbridge Energy Partners seems to be stuck in the middle of two situations that look less appealing. Midcoast Energy Partners is likely going to need to have some assets dropped down to it to increase EBITDA, but its share price decline means that it will be harder to fund those transactions. Also, any midstream company that doesn't have an absolutely solid balance sheet is going to get viewed with a little skepticism.
While both of these things could just be temporary setbacks that equate to nothing, it may be worth holding off on taking any action with any stock under the Enbridge name until we see some of the moves needed to improve these two situations.
The article Shares of Enbridge Energy Partners Declined 11% in December, Here's Why originally appeared on Fool.com.
Tyler Crowe has no position in any stocks mentioned.You can follow him at Fool.comor on Twitter@TylerCroweFool.The Motley Fool recommends Enbridge Energy Partners. Try any of our Foolish newsletter services free for 30 days. We Fools may not all hold the same opinions, but we all believe that considering a diverse range of insights makes us better investors. The Motley Fool has a disclosure policy.
Copyright 1995 - 2016 The Motley Fool, LLC. All rights reserved. The Motley Fool has a disclosure policy.