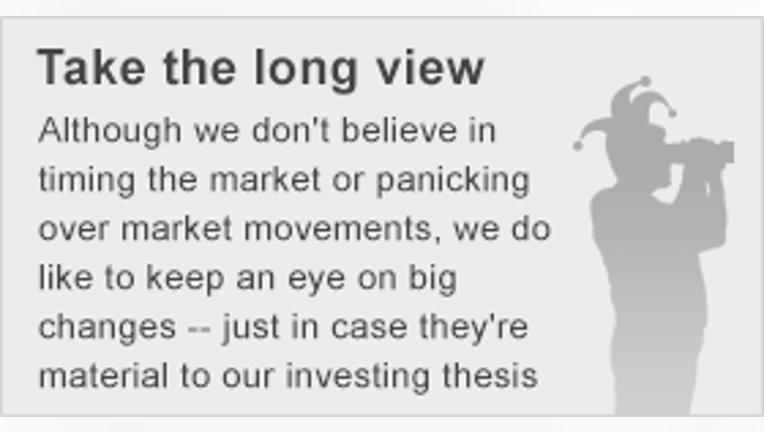 Image source: Chespeake Energy corporate website
What: Shares of Chesapeake Energy are up 23% at the end of trading today, thanks to a boost from oil prices and the announcement that it wasn't included in the indictment charges against its former CEO, Aubrey McClendon.
So what: Thanks to a boost in oil prices that has West Texas Intermediate hovering close to $35 a barrel for the first time in a couple of months, it appears that the market is getting a little more hopeful that higher oil and gas prices will help to pull highly indebted oil and gas producers such as Chesapeake out of the doldrums. It may be a little early to say that oil prices at this level are enough to keep Chesapeake afloat, but it's a start.
Another aspect that's probably helping Chesapeake's stock is that it wasn't named in the charges brought against McClendon that he had actively participated in a scheme to suppress the contract rates for land leases in Oklahoma. Company executives have said that they have been cooperating with the Department of Justice about the indictment.
On a related note, McClendon died today in a car crash.
Now what: The reality with buying and selling shares of oil and gas producers is that those same gains from today can just as easily be wiped out if oil prices head the wrong direction tomorrow, and so investors probably shouldn't read too much into today's price change. Until the company can get a sustained, higher oil price and pay down its debt, Chesapeake will continue to be a very speculative stock that's probably best to avoid.
The article Shares of Chesapeake Energy Surge 23% Today Thanks to Oil Prices and No Court Date originally appeared on Fool.com.
Tyler Crowe has no position in any stocks mentioned.You can follow him at Fool.comor on Twitter@TylerCroweFool.The Motley Fool has no position in any of the stocks mentioned. Try any of our Foolish newsletter services free for 30 days. We Fools may not all hold the same opinions, but we all believe that considering a diverse range of insights makes us better investors. The Motley Fool has a disclosure policy.
Copyright 1995 - 2016 The Motley Fool, LLC. All rights reserved. The Motley Fool has a disclosure policy.