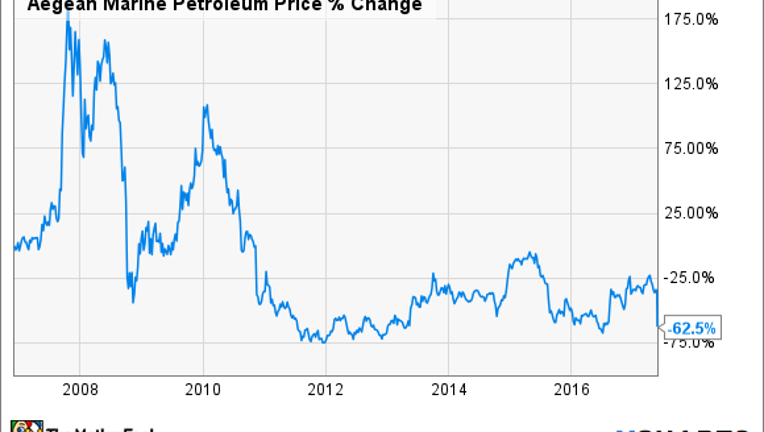 What happened
Shares of Aegean Marine Petroleum Network (NYSE: ANW) are down 10% as of 11:45 a.m. EDT today. This drop comes on the heels of yesterday's epic sell-offfollowing incredibly disappointing earnings results.
So what
Practically nothing has changed about the company since that dismal earnings report. No additional downgrades or stock price target revisions or company announcements have been made. So today's decline is just a continuation of yesterday's pullback as more and more people come to to the realization that this company's stock has not been a long-term wealth creator.
Image source: Getty Images.
One item that is quite deceptive about the company's results is revenue growth -- it doesn't necessarily reflect improving operations. Since the company sells fuels and other petroleum products, revenue and cost for goods sold can swing wildly from quarter to quarter based on commodity prices. From an operations standpoint, it's a business with a razor-thin margin. In the past quarter, gross profit margin was a paltry 5.3%.
When that is the case, management has to be incredibly focused on keeping costs to a bare minimum. In this past quarter, selling and distribution costs and net financing costs increased $6.5 million, and that was enough of a change to send net income down significantly.
Now what
Aegean Marine Petroleum Network is a hard stock to get behind; the company functions like a land-based fuel distributor, with the added complexity of using marine vessels to deliver the product. It's extremely sensitive to commodity prices and has been anything but a wealth creator over time.
This past quarter was a reminder of how challenging it is to make a buck in this business, and how Aegean hasn't been good at it. There is a reason the stock is down yet again today, and investors should avoid any temptation to buy on the dip.
10 stocks we like better than Aegean Marine Petroleum NetworkWhen investing geniuses David and Tom Gardner have a stock tip, it can pay to listen. After all, the newsletter they have run for over a decade, Motley Fool Stock Advisor, has tripled the market.*
David and Tom just revealed what they believe are the 10 best stocks for investors to buy right now... and Aegean Marine Petroleum Network wasn't one of them! That's right -- they think these 10 stocks are even better buys.
Click here to learn about these picks!
*Stock Advisor returns as of May 1, 2017
Tyler Crowe has no position in any stocks mentioned. The Motley Fool has no position in any of the stocks mentioned. The Motley Fool has a disclosure policy.