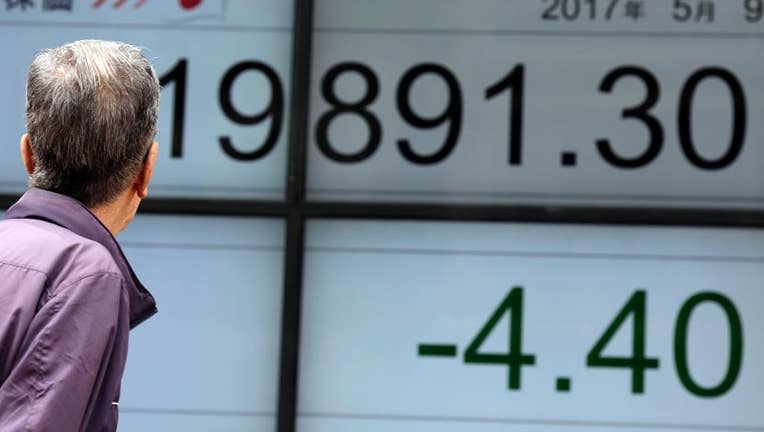 Shares were mixed in Asia on Tuesday as South Korean voters cast ballots for a new president. The Shanghai benchmark lost ground on news of further tightening of market oversight by regulators.
KEEPING SCORE: Japan's Nikkei 225 index edged 0.3 percent lower to 19,843.00 and the Shanghai Composite index was 0.1 percent lower at 3,075.71. Australia's S&P ASX 200 lost 0.5 percent to 5,839.90 after a report of weak retail sales data. Hong Kong's Hang Seng index gained 0.5 percent to 24,711.23, while shares in Taiwan and Southeast Asia were mostly lower.
SOUTH KOREA ELECTION: South Korea's markets were closed Tuesday for the presidential election. On Monday, the benchmark Kospi rallied 2.3 percent on expectations the vote will help ease uncertainties surrounding an influence peddling scandal that led to former President Park Geun-hye's impeachment. While the policy stances of the leading candidates are similar, "the filling of the political vacuum could go a long way to benefiting the economy," Jingyi Pan of IG said in a commentary.
CHINA REGULATORS: New guidelines issued by the China Banking Regulatory Commission on management of loan collateral suggest a further tightening of oversight amid complaints over abuses and excess lending.
WALL STREET: Trading was calm and investors were turing their attention to strong earnings reports following the French presidential election. The Standard & Poor's 500 index ended flat at 2,399.38, up by just 0.09 points. The Dow Jones industrial average likewise edged up a fraction of a percent, adding 5.34 points to 21,012.28. The Nasdaq composite rose 1.90 points, or less than 0.1 percent, to 6,102.66.
THE QUOTE: "Corporate earnings have been phenomenal, the best quarter in five years," said Phil Orlando, chief equity strategist at Federated Investors. "The earnings recession that was about seven or eight quarters long is definitively behind us. It's over."
CURRENCIES: The euro fell to $1.0906 from $1.0925 on Monday. The dollar rose to 113.46 Japanese yen from 113.25 yen. The British pound slipped to $1.2936 from $1.2939.
ENERGY: Benchmark U.S. crude shed 8 cents to $46.35 in electronic trading on the New York Mercantile Exchange. It settled at $46.43 per barrel on Monday. Brent crude, the international standard, lost 13 cents to $49.21 a barrel.
___
AP Business Writer Stan Choe in New York contributed to this report.