Shares fall in Europe, Asia as Italy crisis lingers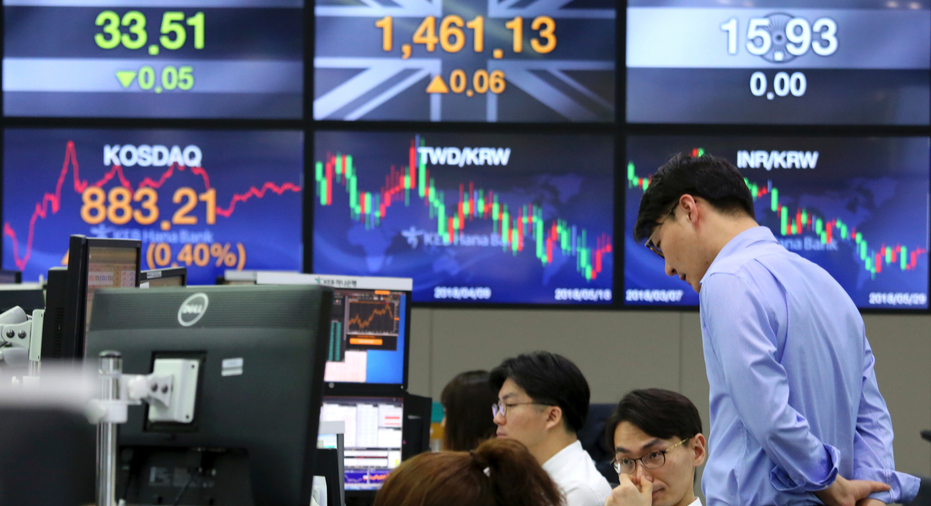 Shares were lower in Europe and Asia on Tuesday as investor confidence was undermined by political uncertainty in Italy. U.S. markets were poised to reopen lower after a holiday.
KEEPING SCORE: Britain's FTSE 100 sank 1.3 percent to 7,633.28 and France's CAC 40 slumped 1.6 percent to 5,417.16. Germany's DAX tumbled 1.6 percent to 12,655.21. Wall Street was due for a weak start, with S&P futures down 0.8 percent and Dow futures also retreating 0.8 percent.
ANALYST'S TAKE: "Italian politics dominated overnight as the geographical divide between northern Europe wealth and Southern Europe economic struggles plays out in the emotionally charged Italian political front," said Stephen Innes of OANDA. "Things appear to be moving in a positive tangent in North Korea, and given the all the noise this ruckus has created over the past fortnight, global markets are happy to see this summit happen."
ITALIAN POLITICS: Italy's president vetoed a euroskeptic candidate for economy minister proposed by leaders of two populist parties that were trying to form a government. President Sergio Mattarella said Sunday he was refusing to appoint Paolo Savona, whose policies could rattle nervous markets and further inflate the country's staggering debt load. Instead, he named an economist, Carlo Cottarelli, to lead the country until new elections. While avoiding a populist government that investors had worried about, the move means more political uncertainty.
NORTH KOREA: Diplomacy accelerated Tuesday ahead of a potential summit between President Donald Trump and North Korean leader Kim Jong Un as a team of American diplomats involved in preparatory discussions left a Seoul hotel, possibly to continue talks with their North Korean counterparts. In Beijing, South Korea's Yonhap news agency reported that senior North Korean official Kim Yong Chol planned to head to the United States. He would be the most senior North Korean official to visit the United States in 18 years.
ASIA'S DAY: Japan's Nikkei 225 fell 0.6 percent to finish at 22,358.43 while South Korea's Kospi lost 0.9 percent to 2,457.25. Hong Kong's Hang Seng index plunged 1 percent to 30,484.58. The Shanghai Composite Index retreated 0.5 percent to 3,120.46. Australia's S&P/ASX 200 added 0.2 percent to 6,013.60. Stocks in Taiwan and the Philippines were lower. Most Southeast Asian markets were closed for holidays.
ENERGY: Benchmark U.S. crude plunged $1.31, or 1.9 percent, to $66.57 per barrel in electronic trading on the New York Mercantile Exchange. The contract settled at $67.88 per barrel, down $2.83, on Monday and dropped 4 percent on Friday, battered by reports that OPEC countries and Russia could start pumping more oil soon. Brent crude, used to price international oils, added 25 cents to $75.57 per barrel in London.
CURRENCIES: The dollar slipped to 108.90 yen from 109.42 yen while the euro fell to $1.1548 from $1.1624.