Shake Shack's Disappointing Quarter Shouldn't Come As a Shock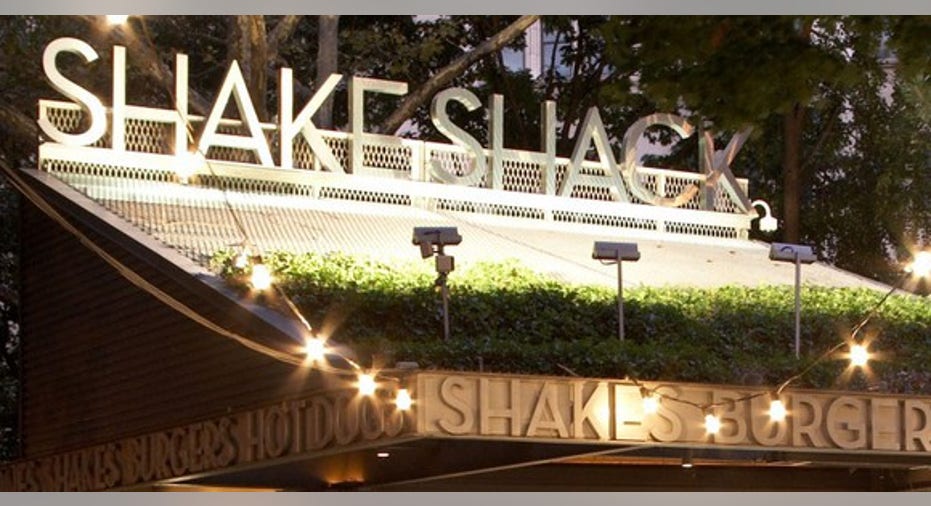 The market first reacted with shock to the drop in same-store sales at Shake Shack (NYSE: SHAK), then shrugged it off and sent its stock higher. Banking instead on the restaurant's growth potential, investors are betting the better burger chain will be able to grow its way out of a slump.
While there are anomalies with Shake Shack's comparables, or what it calls same-Shack sales, investors really shouldn't ignore them. They might not be the best metric by which to gauge a company's health, but when looked at over time, they do provide a trend line, and for Shake Shack, that trend appears worrisome.
Image source: Shake Shack.
An industry shakeout
Shake Shack is still in its growth phase. Having gone public in 2015 with 63 restaurants in nine countries, the better burger chain has grown to 127 locations globally, 86 of which are based in the U.S. and company-owned.
The restaurant chain uses a unique definition to calculate comparable sales. Whereas most companies base comps on stores open for 12 or 13 months, Shake Shack waits a full two years before including them in the equation. That's because when a new Shake shack opens, there's often huge demand for its burgers -- it's not unheard of for lines to stretch around the block with customers waiting to get in -- but then it peters out to a more normalized level. The restaurant tries to avoid skewing the results in either direction by waiting for a location to hit an operating norm before including it.
That's smart and gives investors a better picture, but the numbers can still be volatile because there are comparatively few restaurants still counted toward same-Shack sales. Of the 127 total restaurants in operation in the first quarter, only 32 of them are used to measure the metric, just 12 more than it had last year. Yet, as pointed out before, the trend should still be a cause for concern because same-Shack sales that had been slowing from before it went public have now turned negative.
Image source: Shake Shack.
Where's the beef?
In 2012, Shake Shack notched comps growth north of 7% but watched it drop to under 6% the next year, and decrease to around 3% in 2014. The following year, it spiked to 13%, but even management acknowledged it was due to its IPO creating interest in the chain, and it wasn't sustainable. Last year, that number fell to 4%, and now in the first quarter, comps have turned negative, falling 2.5%. Management says for the full year, they should be flat.
Yet there's little likelihood the situation is going to improve. Shake Shack has been expanding rapidly, opening 13 new restaurants in the first quarter, seven of which were company-owned, with plans to open as many as 24 new company-owned locations for the full year. But the better burger space is over-saturated with Five Guys, The Habit, In-n-Out, Smashburger, and more all competing for limited dollars, and they've all begun scaling back their openings.
Additionally, the fast-casual dining space in which these high-end burger joints operate is experiencing a particularly harsh slowdown. According to the Black Box Intelligence Report, restaurants saw same-store sales decline 1.6% during the first quarter of 2017, with customer traffic down 3.6%, making it the fifth straight quarter comps fell. Notably, fast-casual chains fared even worse, lagging the industry in six of the past eight weeks. That's borne out by Shake Shack's own traffic numbers, which fell 3.4% for the period, and had it not been for price hikes, its comps numbers would have been worse.
Image source: Shake Shack.
A need for speed
Only by opening more restaurants can Shake Shack hope to keep its revenues growing, but store annual unit volumes (AUV) are falling as well. Last year, company-owned restaurants generated nearly $5 million annually, but it is targeting AUVs of just $3.3 million, which is even less than the $3.4 million generated by those it licenses.
Despite Shake Shack's internal metrics slowing along with the broader restaurant industry, its stock still trades at 70 times earnings and nearly 60 times next year's estimates. That means even though shares go for only little more than their IPO price, Shake Shack's stock remains highly overvalued.
The declines it experienced were easy to see coming, though investors continue to ignore the warnings. They might not shrug off the coming drop in sales the next time Shake Shack reports earnings.
10 stocks we like better than Shake ShackWhen investing geniuses David and Tom Gardner have a stock tip, it can pay to listen. After all, the newsletter they have run for over a decade, Motley Fool Stock Advisor, has tripled the market.*
David and Tom just revealed what they believe are the 10 best stocks for investors to buy right now...and Shake Shack wasn't one of them! That's right -- they think these 10 stocks are even better buys.
Click here to learn about these picks!
*Stock Advisor returns as of May 1, 2017.
Rich Duprey has no position in any stocks mentioned. The Motley Fool is short Shake Shack. The Motley Fool has a disclosure policy.