Shake Shack Wants You to Pucker Up This Summer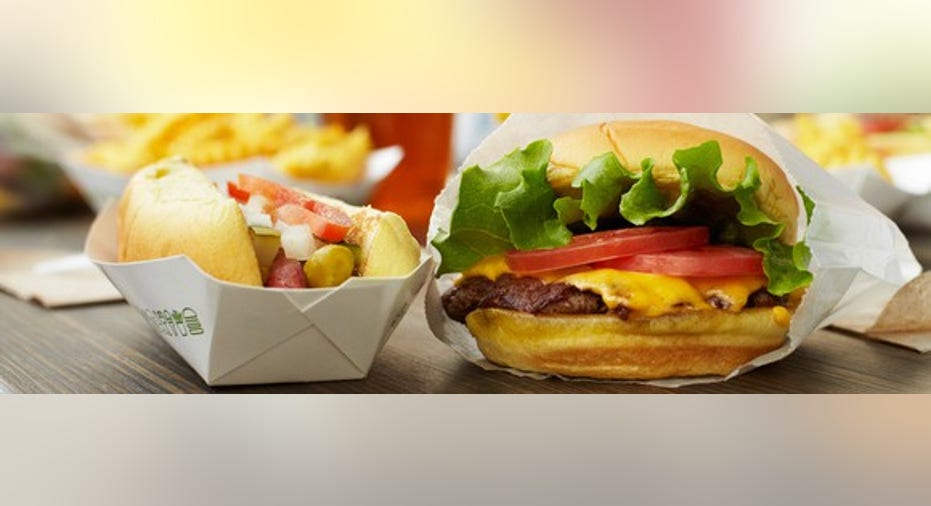 A lot of eateries are rolling out seasonal menu additions to cool off patrons this summer, andShake Shack isn't any different. It is introducing a pair of beverages on Friday with a citrus kick, according to industry watcher Nation's Restaurant News.
The first item is Raspberry Limeade, which true to its name is a sweetened raspberry-flavored limeade. It will be available through the end of September. Folks looking for something with more of a kick to it can go with the new Shack Shandy. It's a 50/50 blend of Shackmeister Ale -- the exclusive brew made for Shack Shack by Brooklyn Brewery -- and its homemade lemonade. It will be available through Sept. 5.
Shake Shack sells more beverages than the typical burger joint, but that has typically been the handiwork of its frozen custard milkshakes. However, a thick shake doesn't seem to fill the summertime desire for a thirst-quenching drink -- and that's where Raspberry Limeade and Shake Shandy slip into the seasonal narrative.
Image source: Shake Shack.
Flipping more than just burgers
Shake Shack's on a roll, financially speaking. Revenue in its latest quarter soared 43% since the prior year, as brisk expansion and healthy store-level results continue to be the norm. Comparable-restaurant sales rose 9.9% during the first quarter, and that followed a 13.3% spike last year.
The chain is making the most of its growth, expanding margins as it realizes economies of scale as its store count explodes. Operating earnings, adjusted EBITDA, and its ultimate profit all outpaced Shake Shack's 43% top-line spurt. Adjusted earnings actually more than doubled, once again trouncing Wall Street income estimates.
Shake Shack has routinely blasted through analyst profit targets in its brief life as a public company, but the stock is actually trading a lot closer to its all-time lows than its initial highs. Valuation concerns have weighed on the stock that is trading a lot higher than its late 2014 IPO price of $21, but it has surrendered 62% of its value since peaking 13 months ago.
It's hard to wonder how Shake Shack could be performing any better. Comps, sales, and profits have consistently exceeded expectations. It's also not afraid to keep trying new things. This year alone we've seen the introduction of the menuwideningChick'n Shackfried chicken sandwich and its first restaurant on the West Coast. The two new drinks hitting the menu Friday may not be game changers, but it's proof that once again Shake Shack is trying to milk more money out of its growing base of eateries. It's doing it right, and eventually the market will come around to rewarding its tortured stockholders.
The article Shake Shack Wants You to Pucker Up This Summer originally appeared on Fool.com.
Rick Munarriz owns shares of Shake Shack. The Motley Fool has no position in any of the stocks mentioned. Try any of our Foolish newsletter services free for 30 days. We Fools may not all hold the same opinions, but we all believe that considering a diverse range of insights makes us better investors. The Motley Fool has a disclosure policy.
Copyright 1995 - 2016 The Motley Fool, LLC. All rights reserved. The Motley Fool has a disclosure policy.