Several rescued from swollen waterways as record-breaking rains hit dry Southern California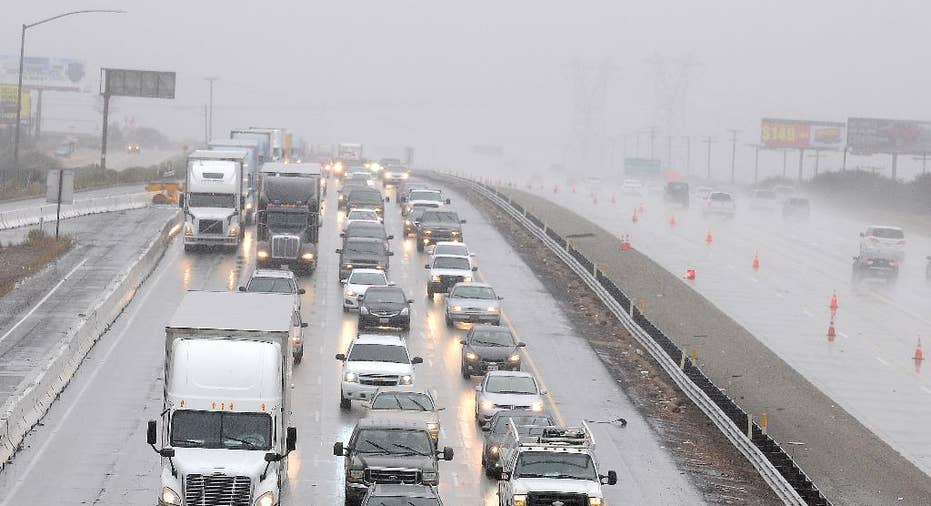 A record-breaking storm slammed parched Southern California on Tuesday, cutting off power to thousands, jamming traffic during the morning commute and stranding some people in surging waterways.
Downtown Los Angeles saw a staggering 2.38 inches, breaking a record for rainfall for the date and marking the second-wettest 24-hour period on record for September, National Weather Service meteorologist Robbie Munroe said.
Swift-water rescue crews plucked three people and a dog from tree branches as the Los Angeles River quickly swelled from its usual trickle to a raging torrent.
"Me and my dog, we got caught by the rising waters. We had to climb up a tree to wait it out," said David Quinones, a homeless man who lives in an encampment along the riverbank just north of downtown. "We were just kind of clinging on for dear life."
Quinones told KABC-TV that he and his dog were doing OK, and he was going back to the river to check on his camp.
In northeastern Los Angeles County, two people were rescued from a swollen creek near Asuza. In nearby San Gabriel, two homes were red-tagged after their foundations eroded when a concrete retaining wall collapsed along a wash near a construction site. No injuries were reported.
The storm grew after a low-pressure system from the northwest part of the state combined with the remnants of former Hurricane Linda, which formed Sept. 6 in the Pacific Ocean off Mexico and later dissipated off Baja California.
In neighboring Arizona, the monsoon brought punishing wind and driving rain to the Phoenix area Monday night. Trees and utility poles fell, knocking out power to 18,000 customers, and the Veterans Affairs hospital was damaged. The facility was closed to new admissions, and some patients were relocated.
The main pulse of the Southern California storm hit overnight, then tapered off at midmorning.
Traffic backed up following spinouts and fender benders on several slick freeways. Flooding shut down Interstate 710 southeast of downtown. Westbound Interstate 210 in Pasadena was expected to be closed for several hours after a big rig overturned and blocked all lanes, California Highway Patrol Officer Monica Posada said. Nobody was hurt.
Gutters overflowed and floodwaters rushed down residential streets throughout greater Los Angeles, stalling cars in intersections. At least 130 elderly people were evacuated after water came through the roof of a three-story assisted-living apartment building in West Hollywood, according to county fire officials.
Widespread power outages were reported. Southern California Edison said 11,600 of its customers, mostly in Los Angeles County and to the east in San Bernardino County remained without electricity early Tuesday afternoon.
Earlier, the Los Angeles Department of Water and Power said its crews were working to restore electricity to about 8,200 customers.
The weather service issued a flood advisory for Los Angeles County as rain fell at a rate of a third of an inch an hour in some areas. It also warned that the downpours raised the possibility of debris flows near recent wildfire burn scars.
The wet weather was not expected to relieve the state's record drought but could be a harbinger of El Nino, the ocean-warming phenomenon that may bring heavy rain to Southern California this winter, Munroe said.
"El Nino increases your odds for getting more energetic storms, but you can't really attribute it to any specific storm," he said. "But a rainfall like this means we're heading in the right direction."
The storm stretched east into inland desert regions and south to Orange and San Diego counties.
The rain offered a brief respite from hot and dry conditions, as temperatures dropped into the 70s in some areas. Temperatures were expected to spike again, and humidity will drop by Wednesday, forecasters said.
In Los Angeles, the rain gave electrician Jerry Valens, 38, the day off from work at an outdoor construction site.
"Yesterday we were digging ditches, and today we were supposed to run cables," he said. "I bet those ditches are full of water now!"
He said the storm likely would mean more digging Wednesday, but he didn't care. "Bring on the rain! I'm sick of all this drought," he said.
___
Associated Press writers John Antczak and Amy Taxin contributed to this report.