Setbacks Aside, Amazon Has its Sights Set on Groceries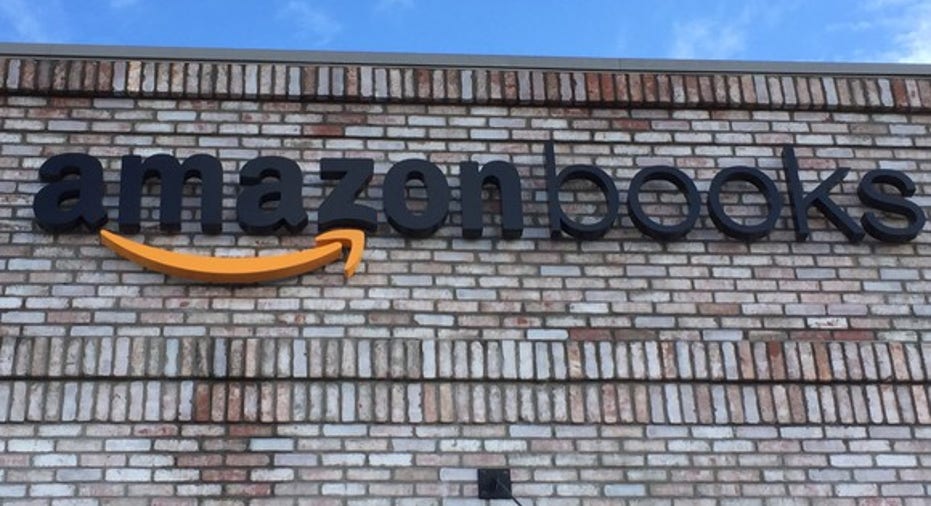 Amazon.com, Inc. (NASDAQ: AMZN), the worldwide leader in e-commerce, initiated a fundamental shift in the way people shop. With its massive catalog of products and free two-day (or faster) shipping for Prime members, more than 50% of consumers look to its website first when searching for an item.
The company that disrupted brick and mortar now has its sights set on revolutionizing the grocery shopping experience by marrying artificial intelligence (AI) with convenience.
Image source: Amazon.com, Inc.
AI-infused shopping
In December 2016, the company announced Amazon Go, an AI-infused shopping experience, which combines computer vision, deep learning, and data fused from multiple sensors. Customers enter the store using the Go app and shop as usual. The sensors automatically detect what a customer has taken from (or returned to) the shelves and items are automatically added to a running virtual register tape. Shortly after the customer leaves the store, their Amazon account is charged and a receipt is sent. This video from Amazon describes the process in more detail:
During Amazon's February 2017 conference call, Chief Financial Officer Brian Olsavsky stated:
This technology could ultimately eliminate the need for checkout lines and improve the consumer experience.
These advances, however, are not without challenges. The concept store, which was due to open by the end of this month, has been delayed as a result of technical difficulties. The system had problems when more than 20 customers were in the store at once or if they were moving too quickly. There were also complications detecting items that had been moved from a designated place on the shelf. Real world shopping conditions appear to have overwhelmed the nascent system, at least for now.
A "market" of convenience
This isn't Amazon's first foray into the crowded grocery segment. It previously introduced AmazonFresh delivery service exclusively for subscribers to its Prime membership program. Members can order grocery items online including household goods, produce, meats, and fish and have the order delivered to their home at a designated time. The original subscription fee of $299 per year was lowered late last year to $14.99 per month. GeekWire is reporting that Amazon has plans to expand on its Fresh concept by opening drive-up AmazonFresh Pickup locations in Seattle. Customers would park in a designated spot at the location within a specified 15-minute window and the order would be delivered to their car.
Amazon has been gradually adding technology that simplifies the buying process. In March 2015, the company launched the Dash Button, which customers can use to order certain common household items with the press of a button. Frequently used products such as bathroom tissue, laundry detergent, dog food, coffee, and diapers top the list of available items.
AmazonBooks in San Diego. Image source: Author.
Foolish final thoughts
Bookstores famously became the first casualties to fall to the e-commerce juggernaut, though independent bookstores have been making a comeback in recent years. In an ironic twist, Amazon has opened several of its own bookstores as part of a wider strategy, as those locations also act as a showcase for its electronic products.
Time will tell if its experiment with grocery stores will be a limited skirmish or an all-out assault on the $800 billion dollar grocery industry. The company appears to be testing the concept and taking a measured approach to its entry into grocery. AmazonFresh is still only available in about 20 citiessince opening its first location in Seattle in 2007.
While there have been setbacks, it's clear Amazon wants in on groceries, and legacy retail chains should keep an eye on what the serial disruptor is cooking up.
10 stocks we like better than AmazonWhen investing geniuses David and Tom Gardner have a stock tip, it can pay to listen. After all, the newsletter they have run for over a decade, Motley Fool Stock Advisor, has tripled the market.*
David and Tom just revealed what they believe are the 10 best stocks for investors to buy right now... and Amazon wasn't one of them! That's right -- they think these 10 stocks are even better buys.
Click here to learn about these picks!
*Stock Advisor returns as of February 6, 2017
Danny Vena owns shares of Amazon. The Motley Fool owns shares of and recommends Amazon and Moody's. The Motley Fool has a disclosure policy.