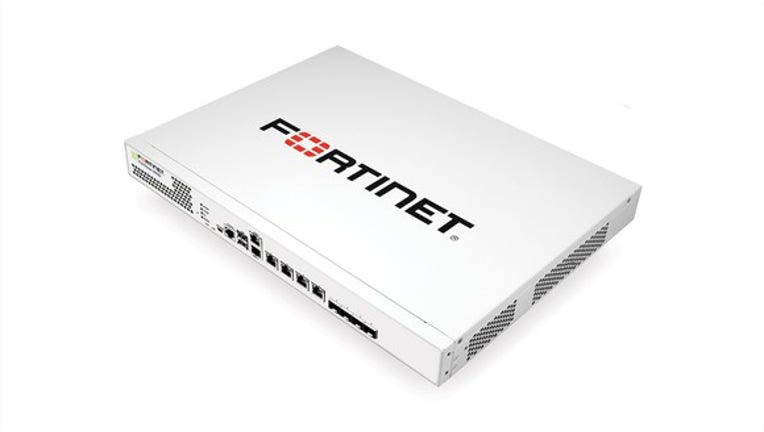 Cybersecurity company Fortinet (NASDAQ: FTNT) reported its first-quarter results after the market closed on April 27. Revenue grew by nearly 20%, driven by solid service sales growth, and both earnings and free cash flow grew even faster. The company's guidance calls for similar growth in the second quarter and in 2017, driven in part by its success winning larger deals. Here's what investors need to know about Fortinet's first-quarter results.
Fortinet results: The raw numbers
| Metric | Q1 2017 | Q1 2016 | Year-Over-Year Change |
| --- | --- | --- | --- |
| Revenue | $340.6 million | $284.6 million | 19.7% |
| Net income | $10.7 million | $2.1 million | 410% |
| Non-GAAP EPS | $0.17 | $0.12 | 41.7% |
Data source: Fortinet.
Image source: Fortinet.
What happened with Fortinet this quarter?
Service revenue grew much faster than product revenue, accounting for a growing share of the company's total sales.
Fortinet generated service revenue of $205.3 million, up 28% year over year. Product revenue of $135.3 million was up just 9% year over year.
Billings rose 22% year over year to $403.4 million. Billings is defined as revenue plus the sequential change in deferred revenue.
Deferred revenue soared 31% over the past year to $1.1 billion.
Fortinet generated $129.7 million of cash from operations and $116.2 million of free cash flow. Free cash flow was up 65% compared to the prior-year period.
The company ended the quarter with cash, cash equivalents, and investments totaling $1.44 billion.
Fortinet provided the following guidance for the second quarter and the full year:
Second-quarter revenue is expected to be between $357 million and $363 million, 16% year-over-year growth at the midpoint. Billings expected between $425 million and $432 million, 15% year-over-year growth at the midpoint.
Second-quarter non-GAAP EPS is expected to be between $0.19 and $0.20, up from $0.14 in the prior-year period.
Full-year revenue is expected to be between $1.770 billion and $1.792 billion, up 18% year over year at the midpoint. Billings expected between $1.485 billion and $1.495 billion, up 17% year over year at the midpoint.
Full-year non-GAAP EPS is expected to be between $0.89 and $0.90, compared with $0.73 in 2016.
What management had to say
Fortinet founder, Chairman, and CEO Ken Xie commented on the quarter: "In the first quarter,Fortinetdelivered billings and revenue growth that exceeded our guidance and continued to outgrow the market. The Fortinet Security Fabric is gaining significant traction with customers, as demonstrated by the strength in large, multi-product deals and our continued expansion into the largest enterprises around the world."
Fortinet signed 76 deals valued over $500,000 during the first quarter, up from 58 deals during the first quarter of 2016. A full 573 deals valued over $100,000 were signed during the quarter, up from 478 one year ago.
During the company's conference call, CFO Andrew Del Matto described one major deal signed during the quarter: "In another first quarter deal, Fortinet is being deployed in a large European financial institution, whose incumbent security solution was not scalable, powerful, or manageable enough to respond to its growing business and larger attack footprint. The customer chose Fortinet Security Fabric for our ability to provide internal segmentation and advanced threat protection in the context of a scalable, well-orchestrated, high-performance solution."
Looking forward
Fortinet put together a solid quarter, with double-digit revenue and billings growth along with major increases in earnings and free cash flow. Sales and marketing costs grew by 16.6% year over year, slower than revenue, and gross margin expanded due to the shift toward services.
Cybersecurity is a market that should continue to grow briskly for the foreseeable future; IDC predicts more than 8% annual growth over the next five years. Fortinet expects to grow faster than the market, as it's doing now, and its success winning larger deals is a good sign that its suite of products and services is gaining traction.
10 stocks we like better than FortinetWhen investing geniuses David and Tom Gardner have a stock tip, it can pay to listen. After all, the newsletter they have run for over a decade, Motley Fool Stock Advisor, has tripled the market.*
David and Tom just revealed what they believe are the 10 best stocks for investors to buy right now... and Fortinet wasn't one of them! That's right -- they think these 10 stocks are even better buys.
Click here to learn about these picks!
*Stock Advisor returns as of May 1, 2017
Timothy Green has no position in any stocks mentioned. The Motley Fool recommends Fortinet. The Motley Fool has a disclosure policy.