SeaWorld says park attendance fell 2 percent in 2nd quarter, but backs its annual forecast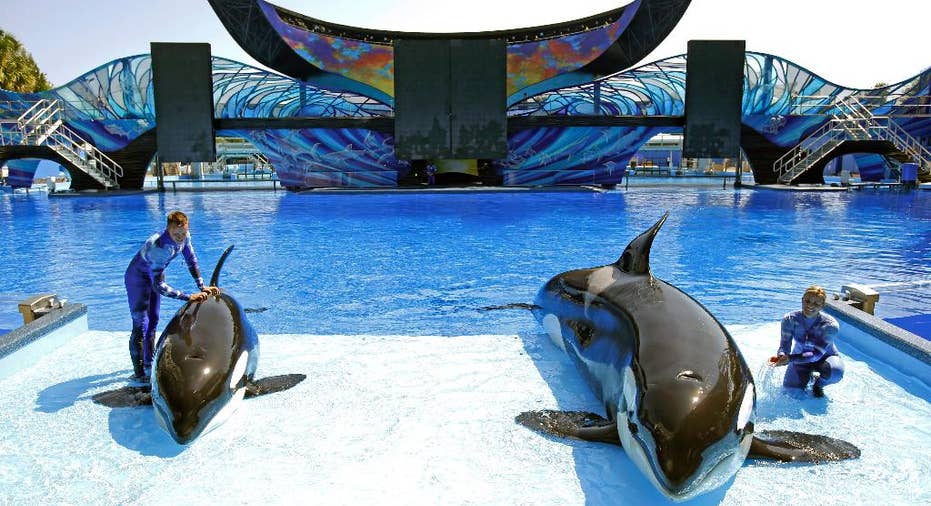 SeaWorld says its theme park attendance is still falling as animal activists protest the company's treatment of whales, but the company says some of its parks are doing better as it prepares to launch a pair of new roller coasters.
The company also maintained its annual outlook, and its shares rose more than 4 percent.
SeaWorld has been trying to recover from the 2013 documentary film "Blackfish" that suggested its treatment of captive orcas provokes violent behavior. Park attendance dropped after the release of the documentary and the company's stock has fallen 50 percent over the last two years.
The company says attendance at the original Sea World, in San Diego, is still hurting. Legislators in California have proposed banning performances featuring orcas, which has kept criticism of SeaWorld in the news. The company says business in its Florida parks was better in the second quarter and says the biggest problem at those locations is tough competition, not fallout from "Blackfish." Its overall attendance fell about 2 percent.
New President and CEO Joel Manby said in May that competing theme parks in Orlando have done a better job of adding exciting attractions. The company is preparing a shark-themed roller coaster at SeaWorld Orlando and an Egypt-themed coaster at Busch Gardens Tampa. Both are scheduled to open in 2016.
A year ago the company also said it will build new, larger orca environments at its parks. The first such tank will be in San Diego and it will open to the public in 2018.
SeaWorld Entertainment Inc. runs 11 theme parks, including three SeaWorld locations and two Busch Gardens parks. Its second-quarter profit and revenue both fell short of expectations. On top of the hit to its reputation, SeaWorld said heavy rain in Texas and earlier Spring Break vacations hurt attendance at its parks.
Comcast Corp. said revenue from its Universal theme parks climbed 26 percent in the second quarter. The main reason was strong performance for "The Wizarding World of Harry Potter - Diagon Alley" in Orlando. The Walt Disney Co. also said theme park attendance improved in its latest quarter.
The Themed Entertainment Association says attendance at Universal Studios and Disney's Magic Kingdom improved last year while SeaWorld Orlando attendance fell 8 percent and attendance at Busch Gardens Tampa edged up 1 percent. SeaWorld said those numbers were only estimates and not as reliable as its own figures, but it said overall attendance fell 4 percent for the year.
Despite the disappointing second-quarter results, the company repeated its guidance for earnings before interest, taxes, depreciation and amortization, a measure of how profitable a company's operations are.
Shares of SeaWorld Entertainment Inc. added 74 cents to close at $18.14.
The company reported a second-quarter profit of $5.8 million, or 7 cents per share, down from $37.4 million a year earlier. Excluding one-time costs and gains, SeaWorld said it earned 22 cents per share. Its revenue fell to $391.6 million
Zacks Investment Research says analysts expected net income of 40 cents per share and $397 million in revenue.
_____
Elements of this story were generated by Automated Insights (http://automatedinsights.com/ap) using data from Zacks Investment Research. Access a Zacks stock report on SEAS at http://www.zacks.com/ap/SEAS
_____
Keywords: SeaWorld, Earnings Report