Sears Holdings Stock Soared 26% on Friday, but the Company Is Still Doomed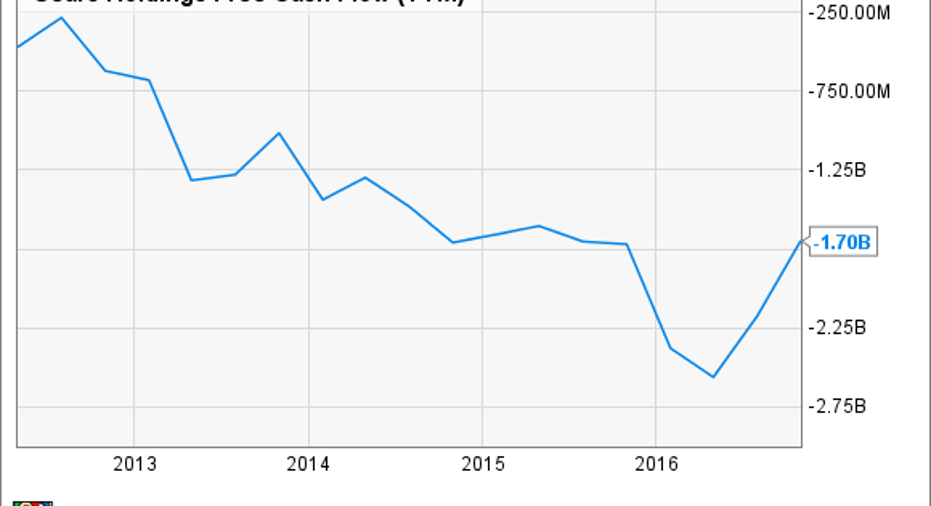 Shares of beleagueredSears Holdings (NASDAQ: SHLD) skyrocketed on Friday, after the company revealed its latest turnaround initiatives. Sears' plans to cut costs and sell off various assets to raise cash have made investors slightly more hopeful about the company's turnaround prospects.
Nevertheless, this news doesn't really change the fundamental picture. The parent company of the Sears department-store chain is bleeding cash at an alarming rate, and its customer base is evaporating. That's a major reason that even after Friday's big gain, Sears Holdings stock is down a whopping 25% year to date. In the long run, it's probably heading for zero.
Sears Holdings YTD stock performance; data by YCharts.
Sears Holdings' losses continue
Before Friday, Sears Holdings shares had lost nearly half of their value since early January, primarily because of a dreadful holiday sales update. Comparable-store sales fell 12%-13% for Sears Holdings during the November-December period. Poor sales results from rival department-store chains, includingJ.C. Penney (NYSE: JCP), didn't help, either.
The year-over-year declines seem to have slowed in January. For the full fourth quarter, comp sales fell 10.3% year over year, consisting of an 8% drop at Kmart and a 12.3% plunge at Sears.
Despite these steep sales declines, management expects earnings to improve year over year in Q4. Adjusted earnings before interest, taxes, depreciation, and amortization (EBITDA) will be a loss of about $61 million, compared with an adjusted EBITDA loss of $137 million a year earlier.
Sears reduced its losses last quarter, but not by much. Image source: Sears.
That may be "better," but it's still not good. Sears Holdings' adjusted EBITDA figure excludes expenses such as pension costs, interest, and the cost of long-term capital investments. Additionally, the fourth quarter is seasonally the strongest for retailers. For the full 2016 fiscal year, Sears Holdings' adjusted EBITDA loss will exceed $800 million.
For comparison, J.C. Penney hasn't reported a full-year profit since 2011. (It may have gotten back in the black in fiscal 2016, though, depending on its performance last month.) Yet it still posted positive adjusted EBITDA of $280 million and $715 million in the 2014 and 2015 fiscal years, respectively. J.C. Penney's adjusted EBITDA probably reached $1 billion in fiscal 2016.
Cash flow -- which is a more important metric for a cash-strapped company like Sears Holdings -- presents an even gloomier picture. Free cash flow has been negative for more than five years, and in the past year alone Sears has burned $1.7 billion.
Sears Holdings Free Cash Flow (TTM), data by YCharts.
More cost cuts coming
In conjunction with its sales update last month, Sears Holdings announced plans to reduce its losses by closing 150 underperforming stores. Around the same time, it sold the Craftsman tool brand to Stanley Black & Decker, obtained $1 billion in new financing, and created a new committee of the board of directors to sell off more than $1 billion of real estate.
Since then, Sears has sold seven properties for a total of $72.5 million. The company also recently announced a program to reduce costs by $1 billion this year, although it didn't provide much in the way of details.
However, Sears still faces two main problems. First, while cost cuts can help reduce losses in the short term, they can potentially contribute to further sales declines by negatively affecting the customer experience.
Second, even $1 billion of cost cuts wouldn't come close to getting Sears out of its current hole. Based on the company's recent rate of sales declines, it needs to cut costs by more than $500 million each year just to stay at the same level of profitability, let alone addressing its $1.7 billion of annual cash burn.
The coming availability of Craftsman tools at popular home-improvement stores such asThe Home Depot will drive further sales pressure for Sears. The addition of appliance sections in about half of J.C. Penney's stores is another notable headwind.
Small likelihood of success
Sears Holdings chief Eddie Lampert has done a remarkable job over the past five years in buying time for a turnaround. However, the company hasn't made any progress on the turnaround itself.
Sears still has enough assets to muddle on for another two or three years if Lampert plays his cards right. However, with sales declining at a furious pace and customers turning away from Sears and Kmart, no amount of cost cutting is likely to return the company to profitability. Eventually, it will run out of assets to sell -- and when that happens, Sears and Kmart are likely to vanish for good.
10 stocks we like better than Sears HoldingsWhen investing geniuses David and Tom Gardner have a stock tip, it can pay to listen. After all, the newsletter they have run for over a decade, Motley Fool Stock Advisor, has tripled the market.*
David and Tom just revealed what they believe are the 10 best stocks for investors to buy right now... and Sears Holdings wasn't one of them! That's right -- they think these 10 stocks are even better buys.
Click here to learn about these picks!
*Stock Advisor returns as of February 6, 2017
Adam Levine-Weinberg owns shares of J.C. Penney. The Motley Fool recommends Home Depot. The Motley Fool has a disclosure policy.