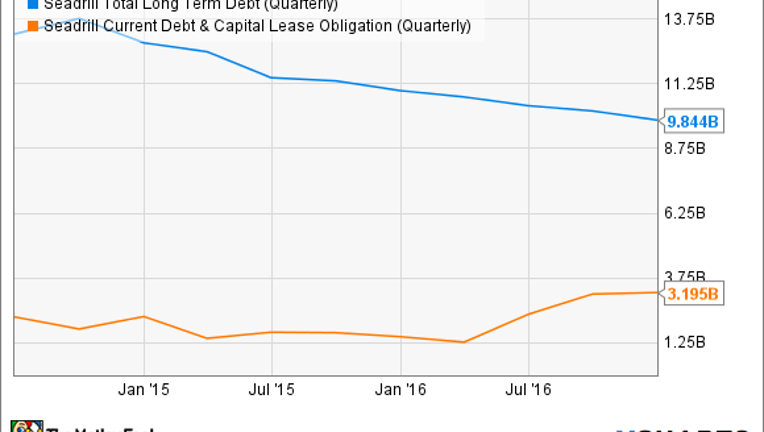 Shares of offshore drillerSeadrill Ltd(NYSE: SDRL) have fallen from "things are bad but there's still hope" levels to penny stock territory in the past few days.This is what happens when a company issues a press release with the following two sentences:
This could be what holding those Seadrill shares will do. Image source: Getty Images.
Frankly, there's nothing good to be found in that statement. The reality is, most Seadrill investors should probably have moved on long ago. Let's take a closer look at what's happened, and what investors should expect going forward.
When past success of debt progress creates false hope
Seadrill has become a case of what happens when great assets but too much leverage collide with a generation-worst operating environment. For a few years now, Seadrill's management has worked very hard to de-leverage the company's balance sheet, and it has made some progress. From its peak, Seadrill has reduced its total long-term debt by about one-third.
Unfortunately, the company still has $10 billion in debt, with nearly one-third of that coming due in less than a year.
SDRL Total Long Term Debt (Quarterly) data by YCharts.
However, the company has been working hard to reach an agreement with both bankers and bondholders to renegotiate much of its remaining debt, and it has had some success in buying time. Over the past 18 months, management has been able to get creditors to extend the maturity dates on $2.4 billion in revolving credit facilities three separate times.
And while this has been a positive, since it's given management more time to work on a deal, it has also likely created false hope that common shareholders would come out of things fine.
Fredriksen is no savior
Company founder John Fredriksen still holds more than 20% of Seadrill's common equity. Furthermore, there have been rumors over the past year that he was willing to lend up to $1 billion in cash to the company as part of a wider debt deal with its creditors and bankers. The combination of these two things has likely convinced many Seadrill investors that Fredriksen would make sure common shareholders were, if not kept whole, at least not completely wiped out.
However, in recent weeks, it has become clear that's far from a promise, with Fredriksen already having started up a new offshore drilling holding company and acquired some assets at bargain-bin prices. To put it bluntly, Fredriksen may have already decided that his best path forward with his money is to take advantage of the downturn to acquire newbuild vessels at rock-bottom prices, versus trying to salvage value from Seadrill's lenders.
Where things stand today
According to Seadrill's April 4 release, the company was able to push its nearest-term debt maturities to August. This means the company isn't likely to default on its debt anytime soon, and that management will continue to negotiate with its bankers and bondholders to hammer out a deal.
Still, investors are probably making a mistake to continue holding shares in any hopes of a deal that saves common shareholders. At best, current shares may retain a small percentage of the company, with existing debt holders taking the lion's share of equity in exchange. At worst, the company doesn't reach an agreement, files for chapter 11, and whatever agreement emerges leaves current shareholders with nothing.
At this point, holding shares is truly little more than hope. And hope's not a very strong investment thesis.
10 stocks we like better than SeadrillWhen investing geniuses David and Tom Gardner have a stock tip, it can pay to listen. After all, the newsletter they have run for over a decade, Motley Fool Stock Advisor, has tripled the market.*
David and Tom just revealed what they believe are the 10 best stocks for investors to buy right now...and Seadrill wasn't one of them! That's right -- they think these 10 stocks are even better buys.
Click here to learn about these picks!
*Stock Advisor returns as of April 3, 2017.
Jason Hall owns shares of Seadrill. (Author's note: Due to disclosure requirements, I will not be selling as it would limit my ability to cover Seadrill in a timely manner.)Jason Hall has the following options: long July 2017 $3 calls on Seadrill. The Motley Fool has no position in any of the stocks mentioned. The Motley Fool has a disclosure policy.