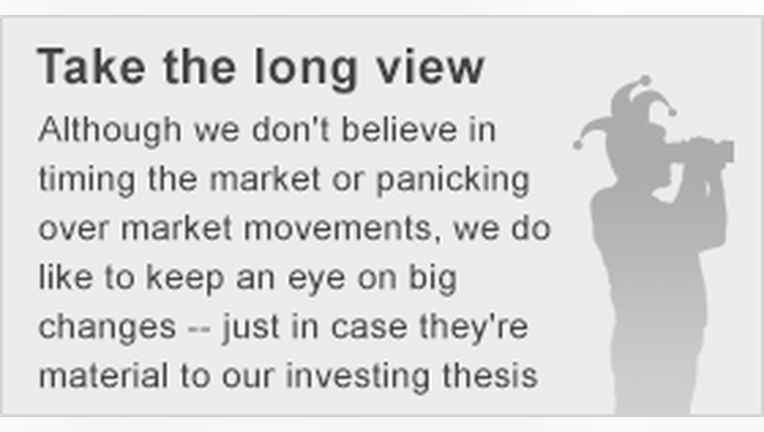 Seadrill is quickly running out of backlog. Image source: Seadrill.
What:Shares of offshore drillerSeadrill Ltd. are up big on May 25, climbing 11.2% by 1:15 p.m. EDT. This is a nice bounce for the company's stock on a light news day but with earnings coming up.
So what:Oil prices are also up slightly, with both Brent and West Texas Intermediate above $49, but the big driver is almost certainly speculation ahead of the company's earnings report, which will be released before market open on May 26.
Now what:Tomorrow's earnings release isn't irrelevant, but investors in Seadrill -- along with any other offshore drilling company -- need to recognize that tomorrow's financial results will be the product of drilling contracts signed years ago, not anything that's happened in recent months.
In other words, even if Seadrill's revenue and earnings results come in better than analyst estimates, it won't change the big problem that the company faces, namely incredibly weak demand for new exploration work offshore.
A perfect example of this? The recent news thatStatoil ASAhad terminated a drilling contract with Seadrill for work in the North Atlantic, and would pay the company $61 million not to drill for the next six months. When offshore producers are willing to pay a company tonotdrill, that's a pretty clear sign that the offshore market is far from a recovery.
Bottom line: Tomorrow's results matter inasmuch as they demonstrate that the company is continuing to drive down its expenses and maintain cash, but the biggest concern investors should have is whether the company has a large percentage of its fleet with contracts expired or expiring and producers aren't exactly lining up to put them back to work.
In other words, what matters most with Seadrill isn't how much business it tells us it did last quarter, but what management is doing to position the company to ride out an offshore market that continues to deteriorate. Offshore will eventually recover, but Seadrill must survive the downturn, and that's what matters most right now.
The article Seadrill Ltd. Stock Is Up 11% Before Earnings: Here's What Investors Need to Understand originally appeared on Fool.com.
Jason Hall owns shares of Seadrill. The Motley Fool recommends Seadrill. Try any of our Foolish newsletter services free for 30 days. We Fools may not all hold the same opinions, but we all believe that considering a diverse range of insights makes us better investors. The Motley Fool has a disclosure policy.
Copyright 1995 - 2016 The Motley Fool, LLC. All rights reserved. The Motley Fool has a disclosure policy.