Scrappy Venezuela newspaper drops print edition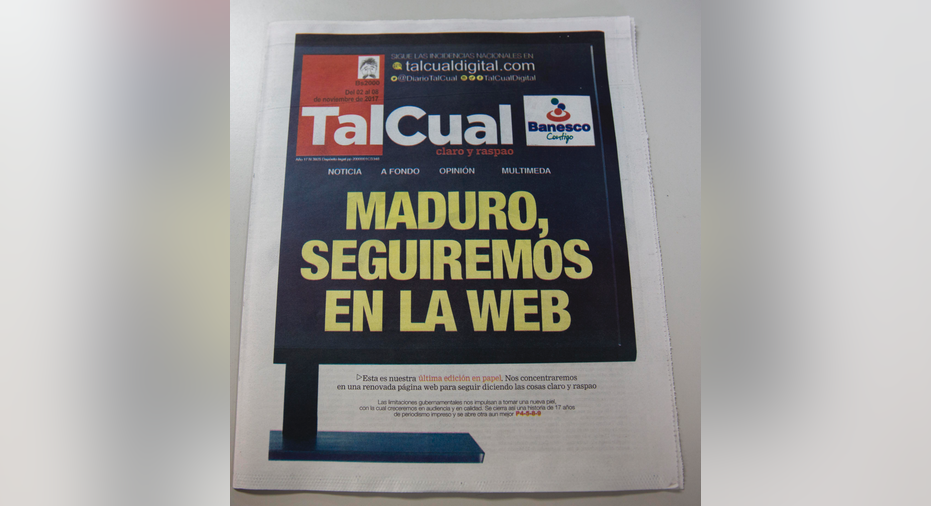 A scrappy, independent newspaper in Venezuela that never shied from fights with the country's powerful socialist leaders circulated its last print edition Thursday, but its staff of reporters and editors aren't declaring defeat.
Launched in 2000 by a former leftist guerrilla fighter, Tal Cual will continue to tell stories of the country's tumultuous times as an internet-only publication.
It's 26-year-old editor, Luisa Quintero, said she views the changing platform as a reinvention — not a step backward.
"This country doesn't give us time to mourn," Quintero said. "We won't have paper, but we're going to keep working."
Newspapers around the world have faltered in recent years under economic stress and declining advertising revenue. The problem is compounded in Venezuela, a country beset by triple-digit inflation.
The newspaper said its move to a digital format is driven by the scarcity of newsprint controlled by the Venezuelan government and the astronomical cost of importing paper on its shoestring budget.
Founding editor Teodor Petkoff is a former guerrilla fighter who later entered the government as the country's planning minister and ran for president. He launched Tal Cual by calling out political rival and charismatic former President Hugo Chavez with a front page headline: "Hola, Hugo."
At its height, Tal Cual circulated just 15,000 copies throughout the country, but it packed a punch.
The newspaper's edgy stories and cutting opinion pieces over the years have drawn blowback from the government, including a defamation lawsuit filed by Diosdado Cabello, then president of the National Assembly, which was later dropped.
Now age 85 and in poor health, Petkoff has stepped away from daily operations of the newspaper, but the editorial content remains unrelenting.
The front page of Thursday's final print edition sent a message on a black backdrop to current President Nicolas Maduro, saying: "MADURO, WE'LL CONTINUE ON THE WEB."
Gloria Villamizar, 54, has been on staff since the paper launched. She lamented its third major format shift — from a daily print publication to a weekly circular and now digital-only. But Villamizar, director of the opinion section, said that she and her colleagues aren't letting down their guard.
"Either way, we will be telling the stories," she said.