Sasol Holds Up Well in Energy's Plunge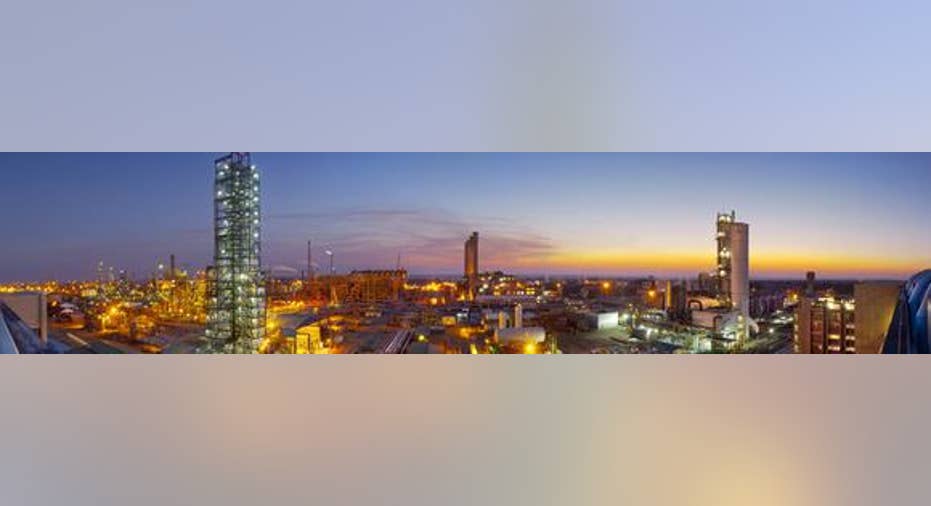 Image source: Sasol.
Falling prices for crude oil and other energy products have sent shock waves across the globe, and South African energy company Sasol hasn't been immune from the impact of cheaper energy. Coming into the release of its results for the first half of its fiscal year, Sasol had lost as much as half its value since early 2015, but investors were hoping that a recent rebound in the energy market could translate to better performance from the stock. Sasol's results were actually better than many had anticipated, showing the resiliency that the company has had even in a challenging environment. Let's take a closer look at how Sasol did and what's ahead for the synfuel specialist.
Sasol stays the courseSasol's fiscal first-half results showed the pressure that energy has had on its business. Revenue fell 15% in local-currency terms from the previous period, which was somewhat better than the 13% growth rate that most investors were expecting. Earnings topped the consensus forecast by between 2% and 5% as well, depending on whether you measure using GAAP rules or through Sasol's own headline earnings metric. Operating profits were cut in half in local-currency terms, but headline earnings fell just 24% despite a drop of almost twice that much in crude prices.
Looking at Sasol's business units, the mining segment posted operating profit growth of 5%, which it attributed to stable mining operations and the success of the company's Business Performance Enhancement Programme (BPEP) and Response Plan (RP) initiatives. Sasol managed to limit the increase in costs to below the inflation rate, and the weakness of the South African rand helped keep coal exports steady despite falling prices for the commodity when measured in dollar terms.
As you'd expect, though, Sasol's exploration and production unit had a tough time. Operating profit was down 31%, but record production levels helped minimize the drop from weak oil prices. The company managed to sustain its profit margins, and the weaker rand also supported Sasol's financial results to some extent.
Rather than lingering on weak financials, Sasol instead highlighted the operational successes it has enjoyed. Secunda Synfuels Operations production volumes were up 3%, and total production of liquid fuels in the energy segment was up 4%. Utilization rates of 90% remained strong at Sasol's ORYX facility. Sales volumes for the base chemicals segment were down 13%, but flat performance from the performance chemicals business was encouraging even though it reflected adjusted numbers from the shutdown of a North American ethylene plant.
CEO David Constable was happy with the success of the two key BPEP and RP initiatives. "The decisive actions taken to reposition Sasol," Constable said, "place the organization in a good position to maintain a strong operational performance despite the challenging and volatile energy landscape." The CEO also pointed to efforts to go even further in keeping capital levels up and risk levels down.
Can Sasol rebound?Sasol is bracing for what it called the "lower for much longer" oil price scenario. Although its initial response plan was intended to deal well with an environment in which oil prices remained in the $45 to $50 per barrel range, Sasol has committed to extending and expanding the program to deal with $30 per barrel oil. The company hopes that the end result will be a tripling of the anticipated sustainable cash cost savings from the program, putting Sasol in an even more competitive position going forward.
The stock didn't respond dramatically to the news, but it has rebounded alongside the price of crude. Even though the company's efforts to control costs and improve profitability will be vital in the long run, Sasol is likely to keep trading in lockstep with oil prices at least in the near future. Further gains in internal efficiency should reward patient investors in time.
The article Sasol Holds Up Well in Energy's Plunge originally appeared on Fool.com.
Dan Caplinger has no position in any stocks mentioned. The Motley Fool recommends Sasol. Try any of our Foolish newsletter services free for 30 days. We Fools may not all hold the same opinions, but we all believe that considering a diverse range of insights makes us better investors. The Motley Fool has a disclosure policy.
Copyright 1995 - 2016 The Motley Fool, LLC. All rights reserved. The Motley Fool has a disclosure policy.