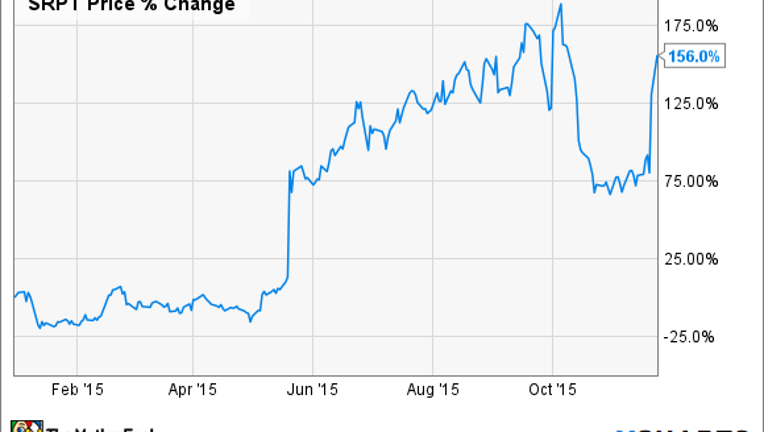 Source: Flickr via user FRANCE-ECONOMY-INDUSTRY-RESEARCH
Sarepta Therapeutics has undoubtedly recaptured its mojo in 2015, with this clinical-stage biotech stock climbing over 150%, according to data from S&P Capital IQ:
The stock's tremendous upward momentum has been powered by the forthcoming regulatory review of its experimental Duchenne muscular dystrophy, or DMD, treatment eteplirsen. According to the latest update from the company. the FDA has assigned aPrescription Drug User Fee Act (PDUFA) action date of Feb. 26, 2016 to the drug and granted it Priority Review status as well.
The other important wrinkle to this story is thatthe FDA's briefing documents for BioMarin's rival DMD therapy, drisapersen, seemed to spell doom for the drug's regulatory hopes in the short-term, or at least indicate that it would have trouble capturing market share in a head-to-head competition with eteplirsen due to its problematic safety profile.
With BioMarin's therapy apparently hampered by these outstanding safety issues -- along with its questionable efficacy profile -- some analysts think Sarepta's drug will be able to rapidly reach $500 million in peak sales, if approved. And stemming from this renewed optimism, the Street's median price target for Sarepta presently stands at around 30% higher than the stock's current price of $37.05.
The problem, though, is that eteplirsen's regulatory fate is far from certain. As most investors understand at this point, the drug has only completed a small midstage study that generated data from a grand total of 12 patients.
So. there is a real risk that Sarepta's stock could get clobbered -- yet again -- as a result of another regulatory setback. If history is any guide, for example, Sarepta would probably tumble by 70% or more from its current price if eteplirsen is rejected by the FDA.
While I'm perfectly content to let others speculate about eteplirsen's chances for approval, I do think investors may want to consider taking one of two steps right now to reduce their downside risk potential on this speculative biotech stock.
1. Lock in some profits by selling a portion of your position.Given that Sarepta has more than doubled since the start of the year, there's a good chance many shareholders are staring at some pretty hefty gains at this point. As such, there's little reason to risk everything by holding the entirety of your position heading into a binary event where the outcome is anything but certain. By selling half of your holdings now -- or at least enough to cover your original investment, you'll ensure that you'll walk away with a profit and still be able to participate in any additional upside moving forward. After all, the stock is already bumping up against its 52-week highs, meaning that it may not be able to move much higher until -- and unless -- eteplirsen is approved.2. If you are unwilling to sell even a single share, protect yourself by hedging.For investors that are feeling lucky and are brave enough to hold everything through the eteplirsen regulatory decision, I think you'd be wise to buy some insurance in the form of deep out-of-the-money Put options here. Because the stock has been leaping higher in the last few sessions, Put options in general have been falling in a big way and are therefore a great way to hedge your long position in case disaster strikes. In short, you can pick up some insurance on the cheap to soften the blow if this stock does end up imploding in the wake of a negative regulatory outcome.
Key takeawaysI know it's tempting to try to maximize your profits on a red hot stock like Sarepta that seems like it'll never stop shooting higher. But discretion is most definitely the better part of valor in this case. You don't want to be staring at your portfolio in February wishing you had taken some money off the table or at least hedged the position. After all, there's no way to tell how this regulatory event is going to play out, but you can be smart about how you approach it.
The article Sarepta Therapeutics: Discretion Is the Better Part of Valor originally appeared on Fool.com.
George Budwell has no position in any stocks mentioned. The Motley Fool recommends BioMarin Pharmaceutical. Try any of our Foolish newsletter services free for 30 days. We Fools may not all hold the same opinions, but we all believe that considering a diverse range of insights makes us better investors. The Motley Fool has a disclosure policy.
Copyright 1995 - 2015 The Motley Fool, LLC. All rights reserved. The Motley Fool has a disclosure policy.