Sanofi's Bid for Medivation Is Too Low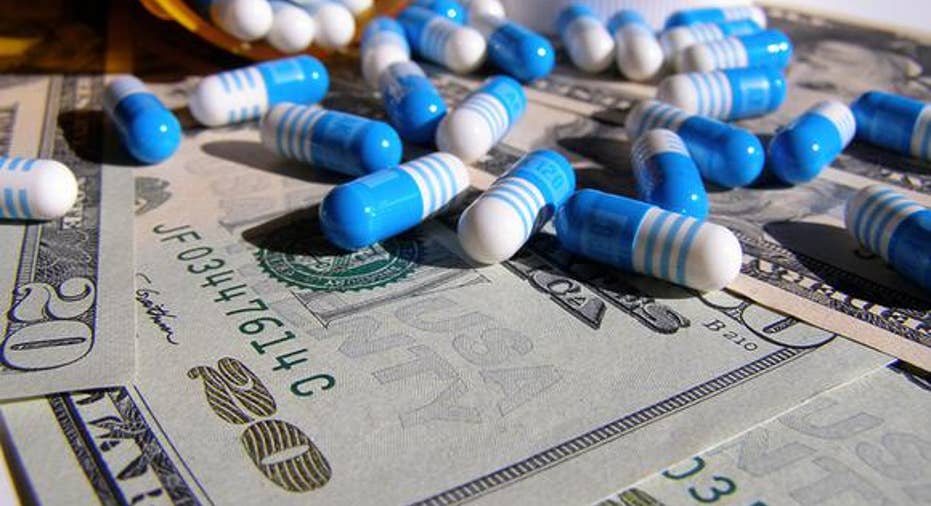 Image source: Flickr user StockMonkeys.com.
After waiting for weeks for a reply to its M&A offer, drug giant Sanofi has gone public with a $9.3 billion bid to acquire mid-cap cancer drugmaker Medivation. Sanofi's purchase price is substantially higher than the "volume weighted average share price" at which Medivation was trading prior to M&A rumors emerging, but it's not nearly a big enough offer to get this deal done.
What's up for grabsMedivation and partner Astellas market the top-selling prostate cancer drug Xtandi. Xtandi won FDA approval for use in the post-chemotherapy metastatic prostate cancer setting in 2012, and it quickly displaced Johnson & Johnson's Zytiga in that setting. In 2014, the FDA expanded Xtandi's label to include pre-chemotherapy patients, and the drug has since been winning away share from J&J in that indication, too. As a result, Medivation and Astellas' are racking up sales from Xtandi at more than a $2 billion annualized clip.
Xtandi's success, though, may only be the beginning. Studies are under way to expand Xtandi's use even earlier in prostate cancer treatment, which may lead to the drug being used in significantly more patients. Additionally, Xtandi is being evaluated in late-stage trials as a therapy for breast cancer.
Specifically, positive mid-stage results in triple negative breast cancer patients with a specific genetic makeup are expected to lead to a confirmatory phase 3 trial beginning later this year. Results from another Xtandi breast cancer trial should read out in the coming year, and if results are positive, then a phase 3 trial could be coming in that indication, too.
In addition to Xtandi, Medivation is also working on two other intriguing compounds.
Last year, the company acquired a phase 3 PARP inhibitor, talazoparib. Talazoparib is being evaluated as a treatment to prevent breast cancer cells from repairing themselves once they've been damaged by other anti-cancer treatments. Data for Talazoparib should be available within the coming year.
Medivation also owns pidilizumab, a drug under development for use in blood cancers such as diffuse large B cell lymphoma. Pidilizumab was previously thought to be a PD-L1 inhibitor, but its precise mechanism of action is now unknown. If pidiluzumab's trials are successful, it could offer a unique new approach within this indication.
Why Sanofi wants itSanofi got a new CEO early last year, and last fall, the company told investors it was committed to rebuilding a leadership position in cancer treatment.
Image source: Sanofi.
To deliver on that commitment, Sanofi reached out to Medivation's CEO David Hung in March to discuss a deal, but Hung flat-out refused to negotiate, according to Sanofi. In response, Sanofi prepped and delivered a $9.3 billion all-cash bid to Medivation's board in April.
Medivation has yet to respond to that bid, but if Medivation does eventually come to the negotiating table, Sanofi will likely have to considerably increase its offer to get this deal done. Fortunately for Medivation investors, it may be willing to do that. After all, Xtandi and the other drugs in Medivation's mid- to late-stage pipeline would allow Sanofi's expansion into oncology to hit the ground running.
Tying it togetherAs much as Sanofi may want to buy Medivation, Sanofi is far from the only company looking to expand into cancer treatment. The market for cancer medicine is massive, and it's growing as aging baby boomers live longer. That fact has everyone from Gilead Sciences to Novartis angling for market share.
Given Medivation already markets a global top-seller, it's already profitable, and it has plenty of cash, so its management can afford to be patient. For that reason, I imagine the board will be busy entertaining a number of suitors over the coming weeks.
The article Sanofi's Bid for Medivation Is Too Low originally appeared on Fool.com.
Todd Campbell owns shares of Gilead Sciences and Medivation,. Todd owns E.B. Capital Markets, LLC. E.B. Capital's clients may have positions in the companies mentioned. The Motley Fool owns shares of and recommends Gilead Sciences and Johnson & Johnson. Try any of our Foolish newsletter services free for 30 days. We Fools may not all hold the same opinions, but we all believe that considering a diverse range of insights makes us better investors. The Motley Fool has a disclosure policy.
Copyright 1995 - 2016 The Motley Fool, LLC. All rights reserved. The Motley Fool has a disclosure policy.