Sanctioned Russian oligarch linked to Cohen has vast US ties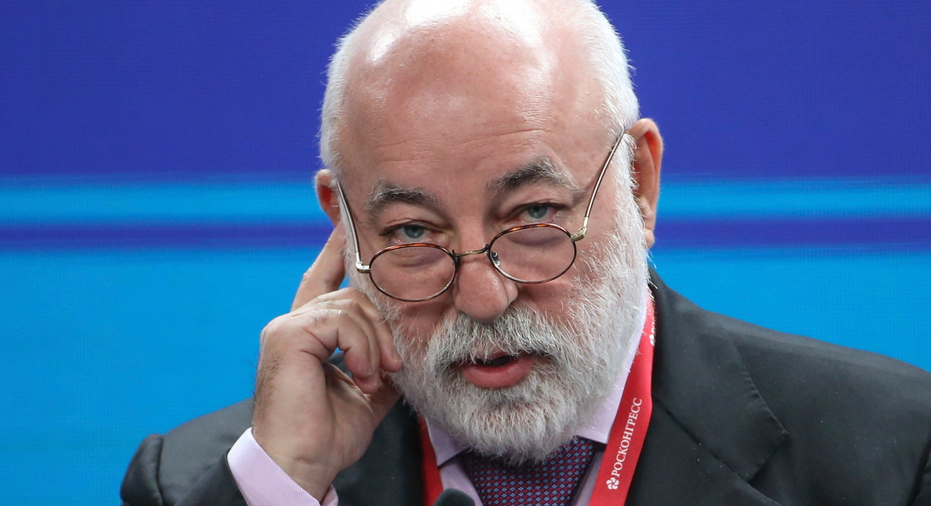 Long before Viktor Vekselberg was tied to a scandal over the president and a porn star, the Russian oligarch had been positioning himself to extend his influence in the United States.
Working closely with an American cousin who heads the New York investment management Columbus Nova, Vekselberg backed a $1.6 million lobbying campaign to aid Russian interests in Washington. His cousin Andrew Intrater served as CEO of a Vekselberg company on that project, and the two men have collaborated on numerous other investments as Columbus Nova managed Vekselberg's extensive holdings.
In early 2017, shortly before Donald Trump's presidential inauguration, Intrater hired Trump's personal attorney, Michael Cohen, as a consultant.
Now, Intrater's investment firm is wrestling with the fallout from financial sanctions the U.S. Treasury Department lodged in April against Vekselberg, one of a group of oligarchs tied to Russian President Vladimir Putin.
Columbus Nova has insisted it only managed Vekselberg's vast assets. But an Associated Press review of legal and securities filings shows that the cousins sometimes collaborated in a more deeply entwined business relationship than was previously known.
Spokesman for Columbus Nova have told the AP that the firm's business relationship with Vekselberg has been indefinitely halted by the sanctions, which targeted Russian oligarchs accused by Treasury of playing a "key role in advancing Russia's malign activities."
All Vekselberg assets in the U.S. are frozen and U.S. companies forbidden from doing business with him and his entities. The deadline to sever those relationships was June 4, but talks between Columbus Nova and the government are continuing, the firm's spokesmen said. A Treasury Department spokesman declined to comment.
The Columbus Nova spokesmen said the firm is also seeking permission from Treasury retrieve any assets entwined with Vekselberg's Renova Group, which the U.S. firm has described as "its biggest client."
Extricating Columbus Nova's holdings from Vekselberg's is not so simple. The sanctions apply to all assets in which Vekselberg has more than a 50 percent stake — including some investment funds managed by Columbus Nova in which the firm has an ownership interest, the spokesmen said. They discussed the matter on condition of anonymity because of the sensitivity of the ongoing discussions.
A Russian citizen who has had a U.S. green card and homes in New York and Connecticut, Vekselberg heads the Renova Group, a conglomerate encompassing metals, mining, tech and other assets that is based in Moscow.
He wields an estimated $13 billion fortune that supports Silicon Valley startups, programs at a California state park, a Western-themed resort amid the Joshua trees near Scottsdale, Arizona — and a loan to a Baptist church in Savannah, Georgia.
Vekselberg, 61, amassed much of his wealth in Russia. But he has used it to extend influence in the U.S.
One project is the Skolkovo Foundation, a Russian government-backed nonprofit aimed at winning U.S. and Western tech investment. Vekselberg has served as its president and secured cooperative deals with American tech barons like Cisco's John Chambers.
But in 2014, the FBI's Boston office warned the foundation "may be a means for the Russian government to access our nation's sensitive or classified research." Even before the Trump administration targeted Vekselberg and six other Russian oligarchs with financial sanctions, his opaque corporate structure, which includes an array of hard-to-trace shell companies, fell under scrutiny from special counsel Robert Mueller, according to several media reports.
Vekselberg's spokesman, Andrey Shtorkh, did not detail how the billionaire was addressing sanctions. Shtorkh stressed that Vekselberg did not create or control Columbus Nova and gave up his green card over a decade ago.
Media attention zeroed in on Vekselberg and Intrater in May when Michael Avenatti, the attorney for the adult film actress known as Stormy Daniels, released a memo claiming the cousins routed about $500,000 through Columbus Nova to a shell company set up by Cohen.
Avenatti claimed that just before the 2016 presidential election, Cohen used the same shell company, Essential Consultants LLC, to pay adult film star, Stephanie Clifford, $130,000 to keep silent about her allegation of a one-night stand with Trump a decade earlier.
Eleven days before Trump's inauguration last year, Vekselberg and Intrater jointly met with Cohen — one of several meetings between Trump intimates and high-level Russians during the 2016 campaign and transition. During the meeting, held in Cohen's office at Trump Tower, Vekselberg and Cohen discussed U.S-Russia affairs, said a person familiar with the meeting who spoke anonymously because he was not authorized to discuss the session.
In a statement on its website, Columbus Nova denied that Vekselberg played any role in its payments to Cohen.
Intrater's firm has handled Vekselberg's financial holdings for nearly two decades, company spokesmen said.
But as far back as 2000, Intrater also worked for Vekselberg as CEO of the Russian's Renova Group conglomerate. Between 2000 and 2004, the New York-based subsidiary, Renova Inc., commissioned a Washington lobbying firm to work for Vekselberg and Russian interests.
Shtorkh acknowledged the billionaire owns Renova Inc. According to a lobbying contract reviewed by AP and validated by Columbus Nova spokesmen, Intrater served as Renova Inc.'s CEO for at least three years while he built up his own investment firm.
The Columbus Nova spokesmen said Intrater took on his Renova Inc. role as a client service to Vekselberg.
----------
Burke reported from Menlo Park, California. Associated Press writers Nataliya Vasilyeva reported from Moscow and Raphael Satter reported from London.